Check Out Title Track From Neko Case's Impending "Hell-On" Album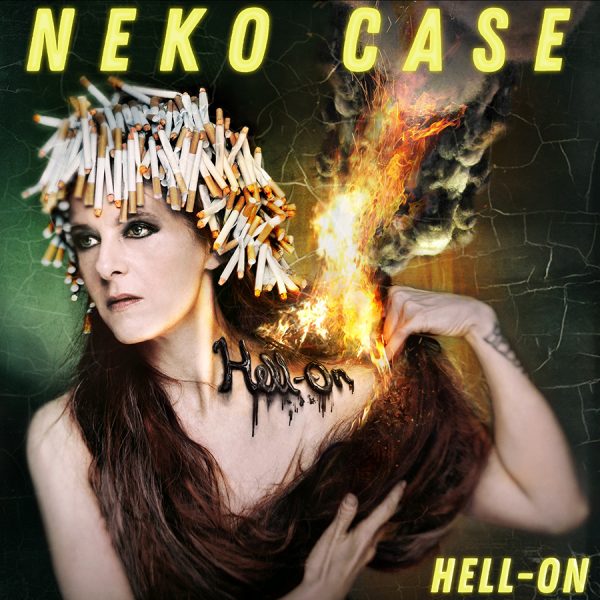 Long-time Lefort-fave Neko Case has unveiled the title-track of her impending new album, Hell-On, to be released June 1st by Anti-. You can read below the italicized precis of Ms. Case's new album, which can be pre-ordered HERE.  We can't wait!
As you will hear below, the new song is a musically-complex and beguiling affair filled with intelligence, pluck and poesy (see lyrics at bottom), all trademarks of Ms. Case, including the following inspirational verses:
"God is a lusty tire fire
Its bristles scrape and strike the stage
A rock, paper, scissors' rage
Have mercy on the natural world"
and:
"My voice is a fracture
For shinbone's lust
Pounding barefoot ground
It lifts you up and sits you just
Just at sorrow's waterline"
Ms. Case on the new album:
"My name is Neko Case. I am a music producer, songwriter, and musician. I just finished a record called Hell-On with a cast of talented musicians, techs, label folks, and friends.
"What I want you to know about me isn't too much, nor do I want to over talk it. What you take away on your own, as a listener is most important. I worked really hard and I was present for every second of this project. Producing a record is a huge task and there were times I was deep in the weeds, but that is normal for a record that takes a year plus. The weeds aren't so bad. There were a lot of break-through moments, belly-laughs, sleepless nights, and grubby, shiny jeans. In the end it was all worth it and I am so proud of how it turned out, and I am so grateful to have worked with such dedicated, giving artists to make it happen.
"There were a few challenges during the making of this record from small (scheduling difficulties, and occasional miscommunication) to large (my house burning down while I was overseas.) But none of them are the story of this recording, the songs are the story. They are my best self. They are everything I've worked for since I was a kid, whether I knew it or not. I write songs from a feeling of solidarity with folks who feel alone or isolated, I think I'm trying to comfort people in this way. It's not a forceful way rather 'no commitment necessary;' take it if you want it, take it as you can. My style is odd, I don't know what genre this is. I don't have a pretty voice or a trained voice, and I am constantly disappointed that I don't have a 'tough' voice, no matter how hard I practice, but it's mine, and for all its loud, heavy-handed, nasal, vibrato-less qualities I accept it. The closest sound I have found to compare it to is Bulgarian Folk singing. My Eastern ancestors could have been proud of me a century ago? I could have been a droning 'caller of wasps' perhaps? I just invented that job, I like the sound of it.
"The songs are who I believe myself to be and that will change, but for now that's how it is and I'm very satisfied with that."
Hell-On Tracklist:
Last Lion Of Albion
Halls of Sarah
Bad Luck
Curse of the I-5 Corridor
Gumball Blue
Dirty Diamond
Oracle Of The Maritime
Winnie
Sleep All Summer
My Uncle's Navy
Pitch Or Honey
Hell-On lyrics:
"God is not a contract or a guy
God is an unspecified tide
You cannot time its tables
It sets no glass or gables
God is a lusty tire fire
Its bristles scrape and strike the stage
A rock, paper, scissors' rage
Have mercy on the natural world
My voice is not the liquid waves
The perfect rings around a heron's legs
My voice is straight garroting wire
A stolen mile of fingerprints
Peeled the quiet from the dunes
Captured and re-spooled as ruin to be used
At a different time
My voice is a fracture
For shinbone's lust
Pounding barefoot ground
It lifts you up and sits you just
Just at sorrow's waterline
I drape you on tomorrow's plate
Fair as metal, marrow spilling
Not yours but mine
I'm an agent of the natural world
Don't you tell me I didn't warn you
That that's some gravity you ought not to play with
Don't you tell me I didn't warn you
That that's some gravity you ought not to play with
Nothing quite so poison as a promise
Nothing quite so poison as a promise
Nothing quite so poison as a promise
Nothing quite so poison as a promise
And me, I am not a mess
I am a wilderness, yes
The undiscovered continent for you to undress
But you'll not be my master
You're barely my guest
You don't have permission to take any pictures
Be careful of the natural world
Nature can't amend its ways
Boils along and then replays
Despite heartfelt springtimes of regret
The storms she still cries for days
Have mercy on the natural world"