Watch Brandi Carlile Killin' on Colbert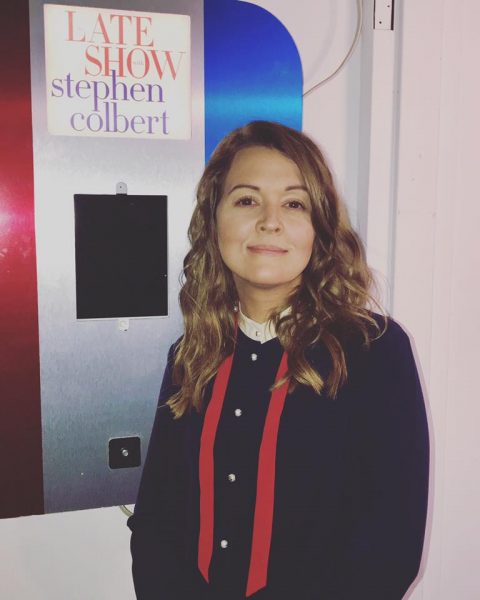 One of the loftiest highlights of last year's Hardly Strictly Bluegrass Festival was our long-time fave female singer-songwriter, Brandi Carlile. Carlile simply has the most powerful, yet nuanced, female voice we have ever heard perform live to match her sensational songwriting. Carlile tore the roof of Golden Gate Park at HSB, which is no small feat. You can watch her HSB set HERE.
To get a feel, watch Carlile's performances this week on Colbert's Late Show below, replete with superb string-section. First up is the The Joke off of her fantastic recent album, By the Way, I Forgive You.  The song is the lead single off the album, and Carlile wrote it in opposition to today's sociopolitical malaise. About the song, she told NPR "there are so many people feeling misrepresented. So many people feeling unloved.  Little girls who got so excited for the last election, and are dealing with the fallout. The song is just for people that feel under-represented, unloved or illegal."
The performances below have everything we want from music: passion, power, poetry (lyrics at bottom) and beauty. If you're short on time, just listen to Carlile's otherworldly vocals for 17 seconds at the 3:52 mark of The Joke or for five seconds at the 3:58 mark of Whatever You Do (a web-only video). Wow. The joke's on them! God bless Brandi Carlile! It's high-time Carlile becomes a household name across this land.
Go pick up By the Way, I Forgive You and catch her tour HERE.
The Joke:
"You're feeling nervous, aren't you, boy?
With your quiet voice and impeccable style
Don't ever let them steal your joy
And your gentle ways, to keep 'em from running wild
They can kick dirt in your face
Dress you down, and tell you that your place
Is in the middle, when they hate the way you shine
I see you tugging on your shirt
Trying to hide inside of it and hide how much it hurts
Let 'em laugh while they can
Let 'em spin, let 'em scatter in the wind
I have been to the movies, I've seen how it ends
And the joke's on them
You get discouraged, don't you, girl?
It's your brother's world for a while longer
We gotta dance with the devil on a river
To beat the stream
Call it living the dream, call it kicking the ladder
They come to kick dirt in your face
To call you weak and then displace you
After carrying your baby on your back across the desert
I saw your eyes behind your hair
And you're looking tired, but you don't look scared
Let 'em laugh while they can
Let 'em spin, let 'em scatter in the wind
I have been to the movies, I've seen how it ends
And the joke's on them
Let 'em laugh while they can
Let 'em spin, let 'em scatter in the wind
I have been to the movies, I've seen how it ends
And the joke's on them."
Whatever You Do:
"If I don't owe you a favor, you don't know me
I don't believe we've ever even met
If there's a God in heaven, you can show me
Then I guess I should admit I lost the bet
There are moments I could hold you forever
And there are moments that lasted way too long
There are days when I change with the weather
To hold you in place would be wrong
There's a road left behind me that I'd rather not speak of
And a hard one ahead of me, too
I love you, whatever you do
But I got a life to live, too
I never met a morning I could get through
With nothing on my breath to hold the night
And I never said I'm sorry, but I meant to
I never met a coward I don't like
There are reasons why a body stays in motion
But at the moment, only demons come to mind
There are days when I could walk into the ocean
With no one else but you to leave behind
There's a road left behind me that I'd rather not speak of
And a hard one ahead of me, too
I love you, whatever you do
But I got a life to live, too
There's a road left behind me that I'd rather not speak of
And a hard one ahead of me, too
I love you, whatever you do
But I got a life to live, too"