Watch The National Perform "Dark Side of the Gym" (with Dancers) on The Tonight Show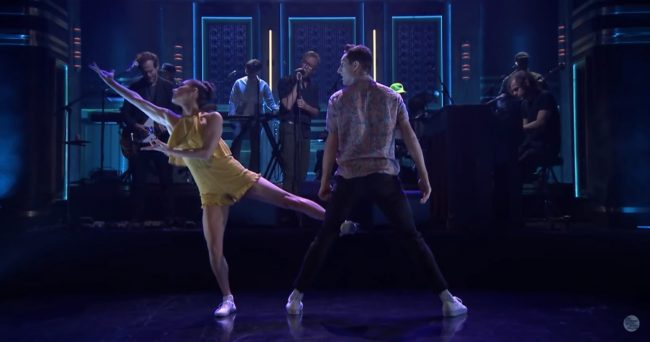 Last night ever-busy The National performed on The Tonight Show. We were wondering what/how they would play that would transfer well to the TV studio and format. We imagined lead-singer Matt Berninger's possible trademark singalong with the studio audience or some special accompanying singers such as Phoebe Bridgers, Cat Power or possibly Sharon Van Etten (more about her later today). What we didn't imagine is that the band would engage two dancers to gracefully lace their endearing Sleep Well Beast song Dark Side of the Gym.
True confession: without any judgment of the good souls who love and engage in the art-form, dance is easily our least favorite genre. We're not the best "dancers" (slow or otherwise). And we don't generally appreciate others dancing and especially anything even remotely in the "interpretive dance" realm. So when we heard about our favorite American band performing with dancers on The Tonight Show, we were prepared for copious eye-rolling and embarrassment on our and others' parts. But as you can see below, Justin Peck (New York City Ballet resident choreographer) and former Miami City Ballet principal dancer Patricia Delgado, added graceful, inventive dancing that coalesced perfectly with the song. Bravo!
In the meantime, the best live American band did what they do best (in, for them, a more contemplative and nuanced performance).
Check it out below.