Watch Broken Social Scene (with Feist, Jason Collett and La Force) Perform A Rapturous Set of New and Old Songs on "House of Strombo"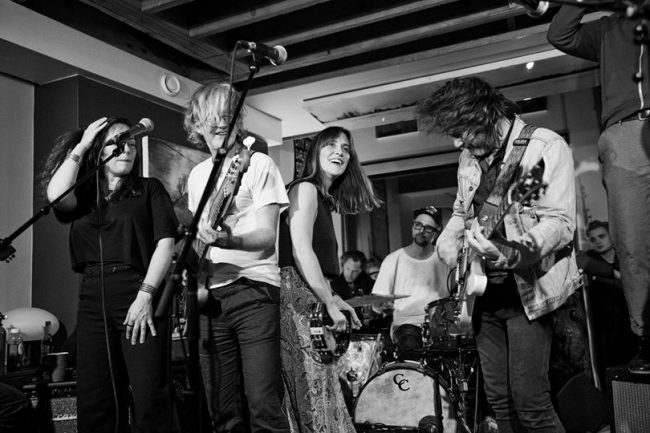 We learn something every day. House of Strombo? Who knew (forgive us Mr. Strombo)? But thankfully we now know. House of Strombo is self-described as "the home of the best records played in the best order, from the 1-2-3-4 to the 808's and beyond. Interviews, intimate sessions and full blown house concerts." And so it is. To back up their words, watch the session below and afterwards go HERE to see a recent House of Strombo session with the deservedly famed John Prine.
We arrived at House of Strombo thanks to the bountiful (in song and number) Broken Social Scene, one of our favorite bands of all-time. Check out below as the band (and all its illustrious members) perform an enthralling set featuring old favorites (Cause = Time–alone well worth your time–and Ibi Dreams of Pavement) and new songs (Can't Find My Heart and 1972). The democratic/unselfish band also takes time out to feature members Jason Collett (I'll Bring The Sun), Feist (Lover's Spit) and La Force (TBT) while band leaders Kevin Drew and Brendan Canning graciously kill (along with a cast of a thousand greats, including a new-to-us female horn player). Witness a trademark Canning-Kick, the righteous and riotous Pavement-stylee dishevelment on Ibi Dreams, the deft drumming by Justin Peroff (especially on new song Can't Find My Heart), Jason Collett's great song, and then that magic that Feist always does on Lover's Spit (and especially during its coda when Feist she crouches down to Ariel Engle and the two quietly harmonize beautifully to close).
What an ensemble! This made our week! Enjoy!