Watch Jenny Lewis's Superb Unplugged Set for The Current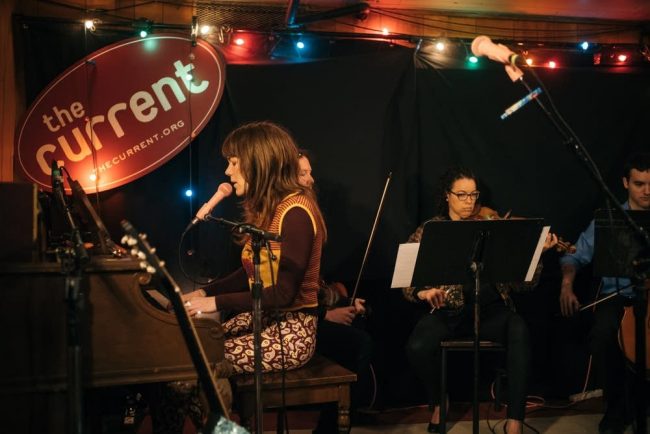 Excuse us, but we have gone down the rabbit hole and been deeply immersed in Jenny Lewis's new album, On The Line, a ten-furlong front-runner for Best Album of 2019 so far. Lewis's new album is stupendously well-crafted and, despite its sing-song melodies, manages to convey a wonderwall of hurt behind its Brill-building facade. Such has been the case with Lewis for over 20 years, beginning with her seminal band Rilo Kiley in 1998, but On The Line shows Lewis at the height of her artistry. Simply put, Lewis is one of the best songwriters and artists extant and deserves every accolade she receives. If you haven't, we recommend you immediately dive deep into On The Line and look out for her upcoming shows (including at San Luis Obispo's Fremont Theater on May 25th) HERE.
To get a feel for Lewis's manifold gifts, check out below the superb unplugged (mostly) performance by Lewis, band and string-players as captured by The Current days after the new album was released. Watch as Lewis commands attention throughout, performing and singing with the feel and vocal aplomb of the likes of Mitchell (Joni), Sinatra and [pick-a-totem-of-taste]. There is magic at every turn.
Lewis answers the set's opening bell wearing a boxer's robe and playing piano on a particularly moving Heads Gonna Roll, and then segues into knowing winks at the camera and plucked/pizzicato strings on the forlorn Wasted Youth. The loping arrangement and her phrasing on Party Clown are beguiling throughout. Red Bull & Hennessy benefits from her crystalline vocals (that high note at 18:58!), the downshifted mien, and guitarist Dylan Day's subtle, note-perfect accents.
As great as the songs are from On The Line, the tour de force here is her cover of Bob Dylan's Standing in the Doorway. With its Joni-like arrangement (circa Hejira/Hissing of Summer Lawns) and vocal- inflections, together with the letter-perfect support on violin, upright bass and guitar, the performance is breathtaking. Dylan Day's solo at the 24:00 mark (wow!) is magnificent in its skilled subtlety. Day even manages to out-channel "the channeler" himself (the other Daniel–Daniel Lanois, who produced the original version of the song for Dylan on Time Out of Mind). The set closes with a stunning, upbeat Rabbit Hole, featuring mostly finger-plucked strings and violin. Honestly, does it get any better?
We can't wait to catch Lewis and crew in May. Brava!