Chuck Prophet Releases Prophetable New Song "As High As Johnny Thunders"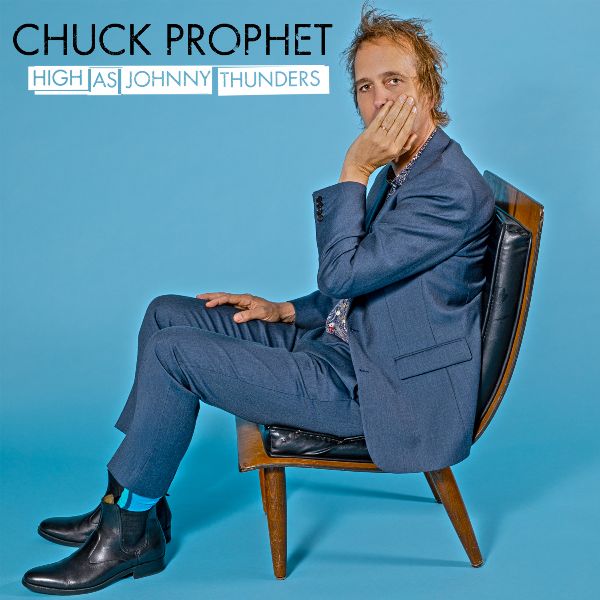 We have been fans of Chuck Prophet in his various guises (Green On Red, solo, with The Mission Express, etc.) for at least two lives. Simply put, Prophet is one of America's best songwriters and guitar-players, not to mention comedians. During those two lives, we haven't stopped dragging ourselves around to see Prophet perform wherever and whenever possible. Prophet has written some of the great gems of the American songbook, including No Other Love, Summertime Thing, Would You Love Me?, You Did (Bomp Shooby Doobie Bomp), Willie Mays Is Up To Bat, Castro Halloween, Wish Me Luck, etc.
Now comes the great news that Prophet has released another song to add to that hallowed list: As High As Johnny Thunders, which you can listen to at the usual sources HERE (the song was co-written with klipschutz). For those unaware, Johnny Thunders was a notoriously raucous member of The New York Dolls and The Heartbreakers who, among other things, gave the world another great song, You Can't Put Your Arms Around A Memory. before succumbing years later to overdose in 1991–hence Prophet's song's reference to "high as…."
As High As Johnny Thunders was recorded as part of Episode 3 of the show Sites & Sounds (sponsored by Southwest Airlines & Luck Reunion), which you can watch HERE . In the episode, Prophet takes on the role of San Francisco tour guide and takes musician Aaron Lee Tasjan to some of the best hidden spots in San Francisco, including The Make-Out Room concert venue where Prophet and cohorts perform the new song (at minute 25:00).
The song and episode are further evidence of Prophet's estimable powers as a songwriter, musician and comedian (if you don't believe us on the funny-front, do yourselves a favor and sign up for his great newsletter HERE).
Catch him if you can!