Our Benefactors–The Weakerthans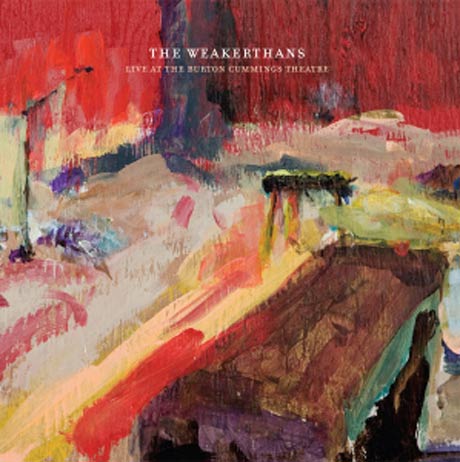 We were reminded of the great band, The Weakerthans, upon the release of their new live record, "Live at the Burton Cummings Theater."  Once again the band has shown they are stronger artistically than most bands on the planet.
We have been huge fans of this band for quite some time (thanks Matt).  Every record glimmers, glistens and gains your undivided attention.  John K. Samson writes songs with magnificent melodies and carefully crafted, complex lyrics, while the band stunningly supports and harmonizes.   The weight of the world is felt and lifted off in Samson's stories.  Amongst our faves of all time.
We caught them live finally several months ago at Downtown Brew in San Luis Obispo, and the long wait was more than worth it.  We brought others along who had never heard a single song of theirs before the show, but whose jaws dropped as they became instant fans and exclaimed, "How is it possible that this band is so phenomenal, and I've never even heard of them?"  Such is life in the modern era where Pro Tools and the internet have enabled the musical Niagara Falls into which we thrust our nets in search of impeccable specimens.
The new live record is a perfect place to witness one's knees weaken over the Weakerthans.  Listen below to the even-better-live delivery on one of their stunning achievements, Benediction, with heartstrung pedal steel from Stephen Carroll. This is a great song of self-examination and doubt.  Samson and Christine Fellow's acappela segment at 2:20 is rapturous, and begins one of the finest stanzas in all of modern music:
"Megaphones in helicopters squeal, "Hey, are you okay?" as searchlights circle where we lost our way. All our accidents went purposeful and fell, stripped of providence or any way to tell that our intentions were intangible and sweet. Sick with simple math and shy discoveries, piled up against our impending defeat."
(Yet another great song with saving-helicopter metaphors:  see our prior review of The Antlers' song, Wake.)
The Weakerthans–Benediction (live)
[audio:https://www.thelefortreport.com/blog/wp-content/uploads/20-Benediction.mp3|titles=20 Benediction]
Also take a good listen to a few of our other favorite Weakerthans songs from their studio records.
Time's Arrow includes these stunning verses:
"All the streets lie down, deserted in the darkest part of night, to lead you through the evening to the light. Pulled along in the tender grip of watches and ellipses. Small request. Could we please turn around?"
The Weakerthans–Times Arrow
[audio:https://www.thelefortreport.com/blog/wp-content/uploads/07-Times-Arrow.mp3|titles=07 Time's Arrow]
In the great Left and Leaving, Samson regally regales with these show-stopping lyrics of a relationship's demise:
"Someone choose who's left and who's leaving. Memory will rust and erode into lists of all that you gave me: some matches, a blanket, this pain in my chest, the best parts of Lonely, duct-tape and soldered wires, new words for old desires, and every birthday card I threw away. I wait in 4/4 time. Count yellow highway lines that you're relying on to lead you home."
[audio:https://www.thelefortreport.com/blog/wp-content/uploads/07-Left-Leaving.mp3|titles=07 Left & Leaving]
And in A New Name for Everything, Samson again leaves other lyricists to leap from their laptops:
"One more time, try. Stand with your hands in your pockets and stare at the smudge on a newspaper sky, and ask it to rain a new name for everything. Fire every phrase. They don't want to work for us anymore. Dot and Dash our days. Make your face the flag of a semaphore. All you won't show. The boxes you brought here and never unpacked are still patiently waiting to go. So put on those clothes you never grew into, and smile like you mean it for once. If you come back, bring a new name for everything."
[audio:https://www.thelefortreport.com/blog/wp-content/uploads/10-A-New-Name-For-Everything.mp3|titles=10 A New Name For Everything]
Please listen in and then go buy their new, stronger-than live record.