The Weakerthans' John K. Samson to Release Solo Album "Provincial"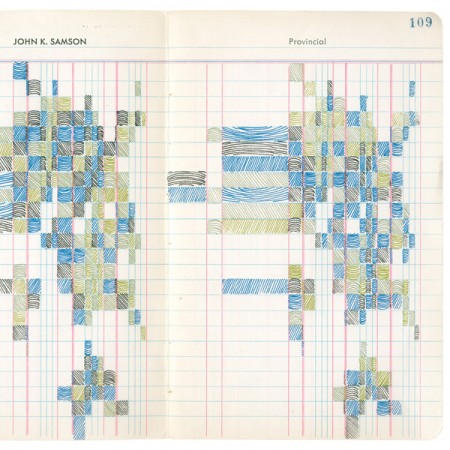 Let the notable new album releases in 2012 begin.  John K. Samson, singer-songwriter for one of our all-time favorite indie bands, The Weakerthans, will release his first full solo album, "Provincial," on January 24th via Epitaph/Anti Records and then tour behind the record in North America in March and April.  We can't wait.  Samson has written some of the most affecting songs ever, and his vocals never fail to evoke an emotional response from listeners.
Anti Records advises that "Provincial contains 12 musical vignettes united by a deep sense of place. They are hymns for the departed and rockers for the living, songs about dying villages, Icelandic longing, snowplows, broken glass, satellites, hockey skates, and staff room romances. In creating these sonic portraits, Samson talked to relatives, friends and strangers; he visited archives, a tuberculosis sanatorium turned RV Park and a forgotten cemetery."  You can also check out Provincial's "prairie roadmap" HERE.
On tour Samson will be backed by The Provincial Band, comprised of Shotgun Jimmie on guitar (Jimmie will also open the shows), Doug Friesen (Pete Elkas, Bidiniband) on electric and upright bass and Doug MacGregor (Constantines) on drums.  In addition to Provincial songs, Samson will perform some solo renditions of earlier material.
Check out a couple of great new songs from Provincial below, and make sure to catch Samson live on tour.
First up is Letter in Icelandic from the Ninette San, which is set in a tuberculosis sanatorium which existed in the small town of Ninette, Manitoba from 1915 to 1973. The lilting and moving lyrics are sung as a letter written by a fictional Icelandic immigrant patient residing in the San, to his brother back home in Riverton, Manitoba, sometime in the 1940s.  After, check out rocker, When I Write My Master's Thesis.
John K. Samson – Letter In Icelandic From The Ninette San by antirecords
John K. Samson – When I Write My Master's Thesis by antirecords
John K. Samson & The Provincial Band Tour Dates:
3/7 Kingston, ON at The Grad Club
3/8 Ottawa, ON at Mavericks Bar
3/9 Montreal, QC at La Sala Rossa
3/10 Boston, MA at Brighton Music Hall
3/11 Philadelphia, PA at Union Transfer
3/13 Washington DC at Black Cat
3/15 New York, NY at Bowery Ballroom
3/16 Pittsburgh, PA at Club Cafe
3/17 Buffalo, NY at Mohawk
3/18 Hamilton, ON at The Casbah
3/20 London, ON at The Aeolian Hall
3/21 Guelph, ON at E-Bar
3/22 Toronto, ON at Great Hall
3/27 Winnipeg, MB at West End Cultural Centre
3/28 Regina, SK at The Exchange
3/29 Edmonton, AB at The Royal Alberta Museum Theater
3/31 Vancouver, BC at The Biltmore
4/1 Seattle,WA at Tractor Tavern
4/2 Portland, OR at Doug Fir
4/5 San Diego, CA at The Casbah
4/6 Los Angeles, CA at The Troubadour
4/7 San Francisco, CA at Bottom of the Hill
4/8 Santa Cruz, CA at The Atrium
4/11 Bellingham, WA at The Shakedown
4/13 Calgary, AB at The Palomino
4/14 Saskatoon, SK at Amigos Cantina