The Meadowlands–The Wrens Flying High Back Then, But Now on Watch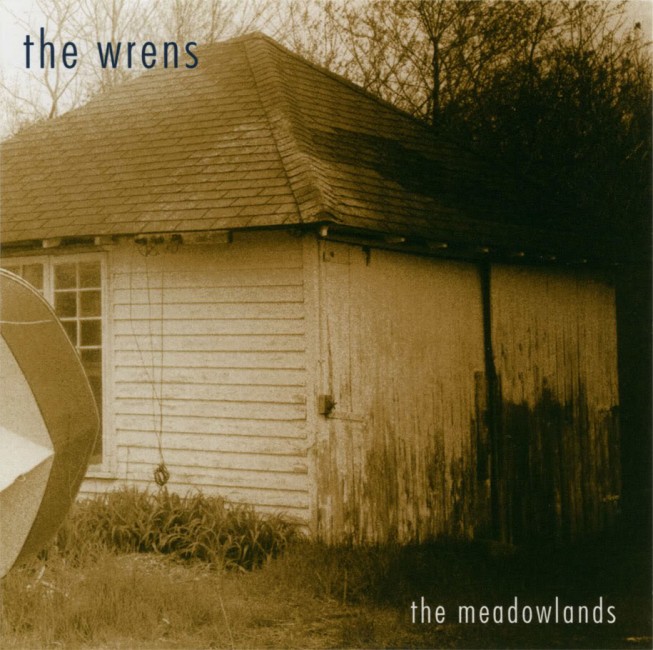 We don't know if it's possible given our (and lots of others') incessant warblings about this band, but in case you have not heard The Wrens and their 2003 record "The Meadowlands," we think it's high time.  We have played this record to exhaustion since we first discovered it in 2004 and never grow tired of it.  Every song (yes, every dang song–well maybe not that last one or two) is a mini-masterpiece.
The Wrens have a storied past.  They put out two records in the 1990s (the second, "Secaucus," in 1996) to justifiable critical raves, and then suffered serious record label setbacks and band difficulties, resulting in their follow-up, The Meadowlands, not being released until 2003.  And in the seven years since 2003 and now?  A couple of singles and compilation contributions, and that's it.   There have been some live shows and lots of rumors and innuendo regarding tracks being written and some cut (and a few actually released), but no new longplayer has been launched since The Meadowlands.  The wait became so interminable for some that in 2009 Magnet magazine established a Wren's Watch (a hilarious page).
(As an aside, the great Santa Barbara band, Buellton, has now exceeded the Wrens-esque delay in their follow-up to their star-spangled 2001 record, "Avenue of the Flags."  Beware Buellton:  we are seriously considering establishing the "Belated Buellton Bulletin" on these very pages.)
Suffice it to say there's a large indie community out there eagerly awaiting the next Wrens record.  And/or tour.  At some point both will happen, and we won't miss it.
In the meantime, check out a few seminal songs from The Meadowlands.
One of our favorite songs of all time is She Sends Kisses. While some find the lyrics of this song of lost-love too "emo," to those we would heartily recommend an urgent soul-implant.  Against appropriately mournful organ, at second :17 the doleful vocals enter, elegantly-harmonized.   The singer will "cue every memory at half-speeds" and then lists TMI details of the courtship (the well-wrought "hopes pinned to poses honed in men's room mirrors"–what dude hasn't?– being the least discomforting).  The title chorus is first heard, high and barely discernible, at 1:29, but the second time at 2:58 the singer wails in full.  After a series of key changes, the chorus is kicked up yet again at 4:55.  And the lyrics "she sends kisses in envelopes stamped w/ 'Hope & Hearts' – ripped right open" convey the pain.  A great song.
[audio:https://www.thelefortreport.com/blog/wp-content/uploads/03-She-Sends-Kisses.mp3|titles=03 She Sends Kisses]
One of our other favorites is This Boy is Exhausted, wherein the band voices its frustration with its struggles (analogized to "splitting rocks, cutting diamonds" for "8 years long").  But, set against a storming melody, we also hear of the intermittent epiphanies and the revival of their music that carries them on ("but then once a while we'll play a show then that makes it worthwhile," and "then Greg plugs in, a treble checking that says we might win").  Ultimately the sheer exhaustion is felt and heard in lead and harmony vocals alike, but with glimmers of hope.
The Wrens–This Boy is Exhausted
[audio:https://www.thelefortreport.com/blog/wp-content/uploads/04-This-Boy-Is-Exhausted.mp3|titles=04 This Boy Is Exhausted]
And in Happy a jilted lover (perhaps the same from She Sends Kisses) initially bemoans a love, but eventually sends vehement kiss-offs to the same girl.  The change in tone in this one song is stunning (it took Noah and the Whale an entire album to do the same in its highly-laudable "The First Days of Spring" earlier this year).   The change in lyrical tone is perfectly paralleled by the increasing tension of the band's music.  That tension builds throughout until the release at 4:27.
The Wrens–Happy
[audio:https://www.thelefortreport.com/blog/wp-content/uploads/02-Happy.mp3|titles=02 Happy]
What we miss about these Wrens is their phenomenal sense of dynamics and the ability in one song to capture so much.
Hey Wrens:  Please put the Wren Watch out of business and give us another masterwork soon.