Straight From the Horses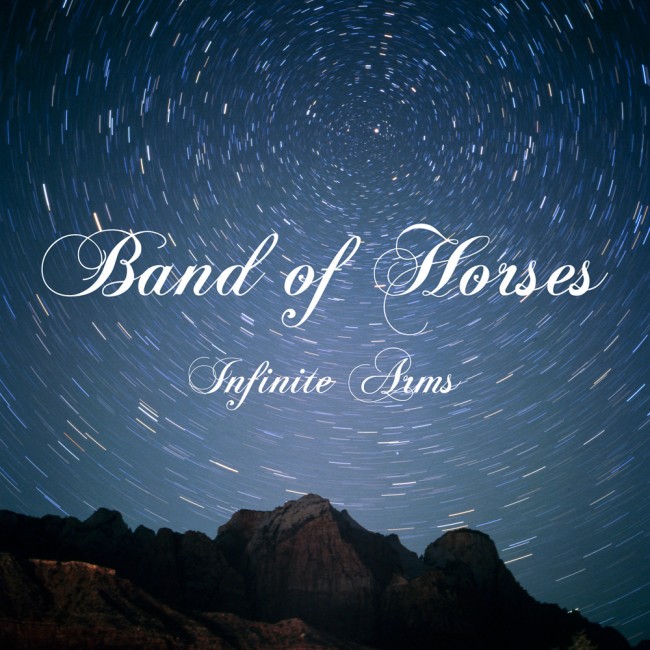 We will admit that we have fallen short.  Again.  Life shifted into vitesse-mode in the last month, and we neglected a muzzle-load of new music that was shot out in May.
On one of our favorite days of the year (May 18th), Band of Horses released their third record, "Infinite Arms."  Like their last record, "Cease to Begin," the new one took a while to grip us.  But now we can't escape its clutches or get it off the player.
We have been fans of this band from their beginning.  On the new release they have bolstered their sound and added even more harmonies, supplementing the normal guitar-driven, reverb-heavy lead vocals to great effect.  Though it's getting to be a bit cliched, we cannot get enough of this new epoch of harmony-heavy vocals (with allusions to the Beach Boys and other harmonic convergences), and the Band of Horses have favorably joined the fray.
While we lament the Horses' frequently tenebrous, homily-ridden lyrics, we admit that when combined with their oft-majestic music, the soulful effect is repeatedly breathtaking.
So check out Laredo and Older off the new one, and then a few of our favorites off of "Cease to Begin."
In Laredo, Ben Bridwell stakes out heartbreak and hope while the sound pays homage to Nada Surf:
"Gonna take a trip to Laredo
Gonna take a dip in the lake
Oh, I'm at a crossroads with myself
I don't got no one else"
Band of Horses–Laredo
[audio:https://www.thelefortreport.com/blog/wp-content/uploads/03-Laredo.mp3|titles=03 Laredo]
In Older, the band repeats the chorus five times, and the twangy-lament easily catches hold of your ears and heart:
"And after all my plans
They melt into the sand
Yeah you will be there on my mind through all
Don't want to understand why you never get older."
Band of Horses–Older
[audio:https://www.thelefortreport.com/blog/wp-content/uploads/09-Older.mp3|titles=09 Older]
From "Cease to Begin," check out Ode to LRC and its nostalgic slap at small-town life:
"The town is so small
How could anybody not
Look you in the eyes
Or wave as you drive by"
Band of Horses–Ode to LRC
[audio:https://www.thelefortreport.com/blog/wp-content/uploads/02-Ode-To-LRC1.mp3|titles=02 Ode To LRC]
On No One's Gonna Love You we hear in the repeated chorus a comforting voice from on high.
Band of Horses–No One's Gonna Love You
[audio:https://www.thelefortreport.com/blog/wp-content/uploads/03-No-Ones-Gonna-Love-You1.mp3|titles=03 No One's Gonna Love You]
And finally, on Detlef Schrempf, despite the red-herring title (former NBA basketball star from Germany), we like this proverb:
"So take it as a song or a lesson to learn
And sometime soon be better than you were
If you say you're gonna go, then be careful
And watch how you treat every living soul"
Band of Horses–Detlef Schrempf
[audio:https://www.thelefortreport.com/blog/wp-content/uploads/04-Detlef-Schrempf1.mp3|titles=04 Detlef Schrempf]
And here's the band performing Laredo on Letterman: