King Kong Up On Melancholy Hill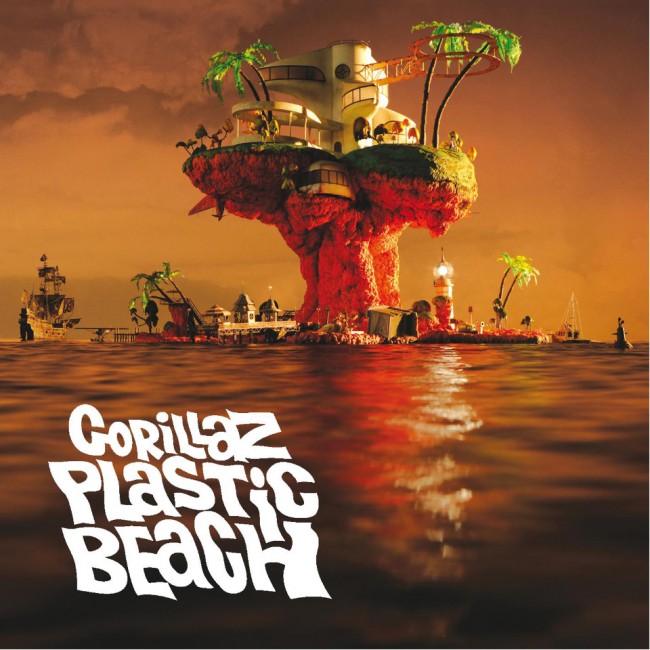 The Gorillaz' Damon Albarn is a pop genius.  He laid the foundation with the bountiful Blur and gave us some of the best songs written in the last 20 years (Song 2, Tender, etc.). Amidst the blur of Blur, Albarn struck out in the new millennium with Gorillaz, a cartoon/videogame "band" that has enabled Albarn to constantly substitute new "voices" for each of the band's cartoon members.  Albarn took a hiatus from the Gorillaz to birth the band, The Good, the Bad and The Queen, and then to reunite and tour with Blur.  But Albarn is back with the Gorillaz with a vengeance.
In the Gorillaz latest, "Plastic Beach," Albarn has reiterated that this band is not a joke or a hoax, but instead an animated, organic animal on which he intends to let his creative genius ride. On "Plastic Beach" Albarn has included in the mix such varied performers as Mos Def, Bobby Womack, the Clash's Mick Jones and Paul Simonon, Snoop (whatev), The Fall's Mark E. Smith, Little Dragon and De La Soul.  Great songs and performances abound.  Stylistically, Albarn and his crew delve deeper into  hip-hop and rap to go with the electronica, Krautrock, 80s-style synth-pop, and many others.  It took us a while to gauge this gargantuan effort, but we gradually got it.  Simply put:  "Plastic Beach" is  the Gorillaz' King Kong.  Highly recommended, so check out a few songs from "Plastic Beach" below.
The first song on anyone's list has to be On Melancholy Hill, with it's sonorous melody and delivery.  Albarn pays perfect homage to great 60's British balladeer, Scott Walker, while putting up a bit of a challenge to Albarn's contemporary, ex-Pulp member, Richard Hawley (more on his solo balladry another day).  The refrain "If you can't get what you want, then come with me" is particularly affecting.  It's a beaut.
Gorillaz–On Melancholy Hill
[audio:https://www.thelefortreport.com/blog/wp-content/uploads/10-Track-10.mp3|titles=10 Track 10]
Next up is the great Some Kind of Nature, co-written with and performed by the legendary Lou Reed.  We love the contrast and convergence of Reed's marvelous monotone with Albarn's mega-melodic chorus and verses, and especially (from 1:20 to 1:50, and again later) this magical verse:
"Some kind of nature (some kind of nature, some kind of soul)
Comes from one within us
Oh, Lord, forgive me (some kind of mixture, some kind of gold)
It's got to come and find us
All we are is dust"
Gorillaz–Some Kind of Nature
[audio:https://www.thelefortreport.com/blog/wp-content/uploads/09-Track-09.mp3|titles=09 Track 09]
We also love the completely affecting Broken, with it's electronic wooziness and melancholy.  The chorus ("Broken, our love, broken") follows two great stanzas, again with Scott Walker affectations:
"Distant stars
Come in black or red
I've seen their worlds
Inside my head
They connect
With the fall of man
They breathe you in
And dive as deep as they can"
Gorillaz–Broken
[audio:https://www.thelefortreport.com/blog/wp-content/uploads/11-Track-11.mp3|titles=11 Track 11]
And finally, Rhinestone Eyes is a mordant monster.
Gorillaz–Rhinestone Eyes
[audio:https://www.thelefortreport.com/blog/wp-content/uploads/04-Track-04.mp3|titles=04 Track 04]
There are many, many more great tracks (check out, in particular, Empire Ants, Superfast Jellyfish and the title track) on "Plastic Beach" so we encourage you to pick it up soon.  The pop bar has been set extremely high for 2010.