The Age of Odds–Sufjan Rolls the Techno Die and Comes Up Sevens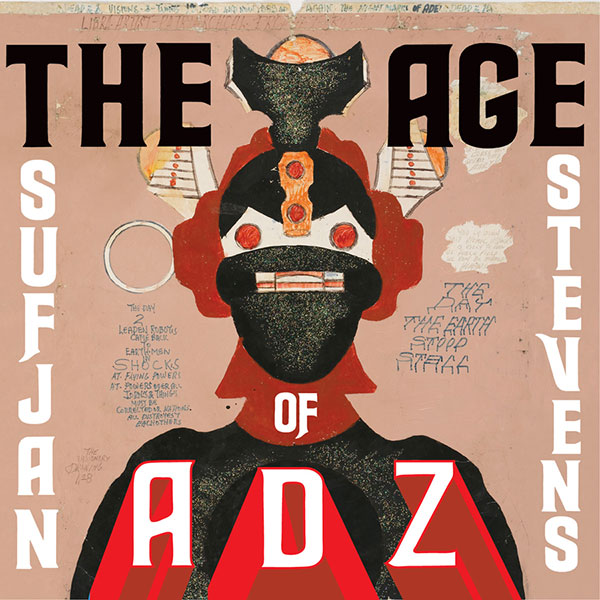 Sufjan Stevens has finally let us know what he's been doing for five years (well, other than those BQE orchestral maneuvers in the dark–pardon us while we Stravinsky, Janacek or Reich instead).
On October 12th, Stevens will officially release his new record, "The Age of Adz," though as of today the digital download is available on Asthmatic Kitty as a "pre-order."
After a few listens to this odds-on-favorite, we hear Stevens elevating and evolving yet again, and confirming his station as one of America's best songwriters. Yes long gone are the banjo and the whispered hush.  But in their rightful place we find a comparatively additive and adventurous sound, with marvelous machines, strings, horns aplenty, side-chaining and clips and pops.  And all coupled with riskier deliveries and deliverances. There's even (horrors!) a cuss word or two. But despite the hubris and hub-bub, we mostly just find more magisterial melodies and revelatory vocals and lyrics. Sufjan's back, folks, so let the confetti fall from the sky.
Check out the title track, The Age of Adz, and go out and buy what is likely one of the Top 5 (if not the top) records of the year.
Sufjan Stevens–The Age of Adz
We can't tell if it's the maker or the made, but the singer knows.  Gloria, Gloria. Glorious.
[audio:https://www.thelefortreport.com/blog/wp-content/uploads/03-Age-Of-Adz1.mp3|titles=03 Age Of Adz]