Les Shelleys–French Translation: Boundless Talent and Charm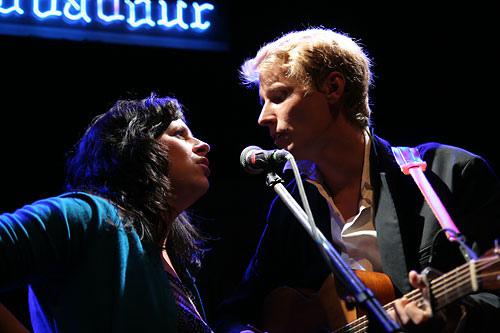 We caught up with Les Shelleys last night at Soho and were treated to an updated and energized delivery by the "old soul" duo of Tom Brosseau and Angela Correa.  The separated-at-birth harmonies remain from their prior visits, along with the obvious joy in playing together and Brosseau's always-apt guitar accompaniment (he does apropos minimalism as well as anybody in the business).  But what's new is a more emphatic and confident stage presence as a duo and Angie's winning hand-clap/body-slap percussion.
Les Shelleys had the crowd from the get-go. They played a rich set of songs that began with the medley of In My Time of Dying (Blind Willie Johnson)/One Old Woman Lord (Ain't No Lie), and then moved into sly 60s-kitsch with the winking Something Stupid (made famous by Frank and Nancy Sinatra).  Later, they went backwards in time with a playful take on the Andrews Sisters' calypso chestnut, Rum and Coca Cola, and then revisited the 60s again with Angie's lead on a cover of My World is Empty Without You (Holland-Dozier-Holland and made famous by The Supremes). But Les Shelleys also showed their more serious side to great effect with a stirring rendition of Bob Dylan's harrowing The Lonesome Death of Hattie Carroll.
For the grand finale, Tom and Angie eschewed the stage, mics and instruments, and came out into the middle of the crowd for a rousing, stomping, acappella version of the found-song, Green Room. With the crowd providing loud clapping rhythm, Tom and Angie supplied soaring vocals and contrapuntal/counterpoint clapping and stomping to propel the song and the audience further and, regretfully, to the end of their fine set.
Les Shelleys head off shortly for a tour in Europe and then will spend time penning songs to go into the studio with PJ Harvey/Eels/M.Ward producer, Jon Parrish, in May for their first record of originals.  We wish them great success and hope they return to Santa Barbara soon.  Don't miss 'em next time.
As for the headliners, The Weepies, their fans were enthralled, which was as it should be.
Our take:  the Weepies wept.
And we had to go.