Plants and Animals in La La Land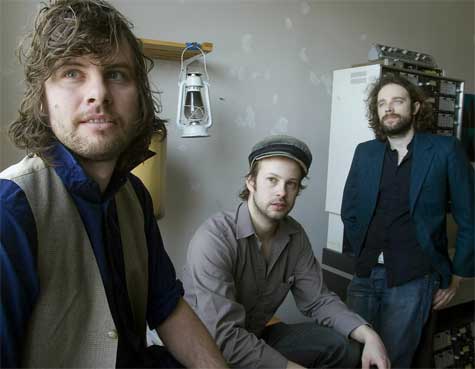 Will someone please check the water in Montreal?  What the heck is going on up there?  The number of fantastique bands and songwriters resident in Montreal is, how you say, formidable!  Is there a Montreal band alive that can resist penning statuesque anthems and stirring ballads?  Certainly not Plants and Animals.
We had heard a few cuts off of Plants and Animals' debut album, "Parc Avenue," with its more-acoustic themes.  Their debut had caused critics to forehead-slap themselves and wonder how they could have possibly missed the next pysch-folk greats.  Two years later (during that phenomenal May 2010 release deluge) , follow-up album "La La Land" was delivered in comparatively less prosaic, rock n' roll garb.  There are far fewer steel-stringed meanderings this time around.  Instead we hear echoes of fellow Montreal residents, Arcade Fire, on a track or two (Tom Cruz and Game Shows,) circa-70s' Rolling Stones moments (American Idol–replete with sax from that era), and other apt rock influences and permutations (including Grizzly Bear and Built to Spill).   Some have voiced disappointment in this trend, but we respect the evolutionary ways of the band and recognize the continued songwriting acumen and passion in their music.   There are lots of crunching guitar riffs and hooks aplenty, and though the indie gestalt is clear there are elements of what the band has referred to as "post-classic rock" or "barbecue rock."   "We made a conscious decision to make a rock record," says Matthew Woodley of Plants And Animals.   OK, done.  And done well.
Check out the great Tom Cruz and Kon Tiki below and then the band performing Game Shows and Undone Melody live on KEXP way below.
Plants and Animals–Tom Cruz
They kick it up a notch on this record opener.  The band has said:  "[Tom Cruz] was a song that came together in pieces; the title actually came before the lyrics.  We were super excited to be working again. We weren't even worried if we recorded anything, because we were just having fun. We felt this overwhelming, manic happiness and confidence. Our drummer titled that song as if we were Tom Cruise, hopping up and down on that couch on Oprah."
[audio:https://www.thelefortreport.com/blog/wp-content/uploads/01-Tom-Cruz.mp3|titles=01 Tom Cruz]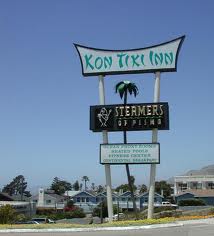 Plants and Animals–Kon Tiki
The band has said about Kon Tiki:  "Kon Tiki is a motel on a side of a cliff [in Pismo Beach for you Central Coasters] we stayed in between San Francisco and Los Angeles on a day off. The whole song is about hanging out there."  Imagine the song they could write if they stayed instead at the Madonna Inn or at Ventana.  Their next concept-record?
[audio:https://www.thelefortreport.com/blog/wp-content/uploads/05-Kon-Tiki.mp3|titles=05 Kon Tiki]
And check out the band in this KEXP video doing their song Game Shows, in which they roar like some Grizzly Bear, but with some great alternative embellishments.  Too bad we just missed them in LA.
And finally, check out their performance of Undone Melody

We love the slow build into anthem at 2:30.  We like the refrains:  "Something's coming, something's coming" and "All that you undo is all that you want to."  Simple, but powerful, while the song structure and delivery remind us some of Built to Spill.