The Walkmen–Walk, Don't Run, to Lisbon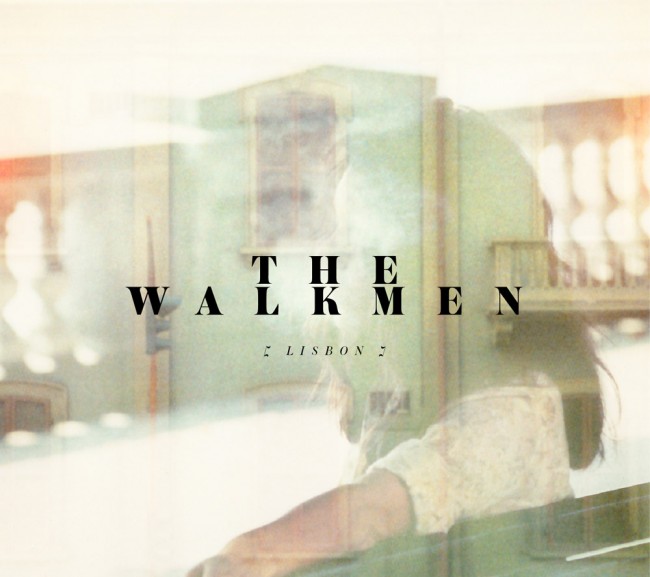 We were minding our business while watching Fallon's show in mid-September when up came The Walkmen and sucked us up against the screen.  We've loved the band's intensity and delivery over the years, but have appreciated the recent re-evaluation and evolution by the band that in 2008 resulted in the ravishing record, "You & Me," and has now rendered "Lisbon."
The Walkmen began ten years ago in Washington, D.C., moved on to New York, spread to Philadelphia and now also also occupy New Orleans.  With that geographical juggernaut and splintering, it's not a huge surprise that the group decided to gather, write and record in Lisbon, Portugal, and then dedicate the new record to that much-loved city.
We hear in the new album a move to an even more spare, reverb-soaked sound, but with hooks and subtleties aplenty.  Best known for dark, intense songs such as The Rat and In the New Year, "Lisbon" intermittently murmurs optimism and assurance within the band's usual tenebrous realism.
At its core, the band has always been built around singer Hamilton Leithauser's garbled, squalling vocals, Paul Maroon's sparkling guitar, Matt Barrick's swarming drums and assorted keyboard coloratura.  While these are all still well-represented on "Lisbon," we hear a more dynamic, incisive, elemental take on the sound.
Lisbon is amongst 2010's stalwart records and deserves the replay setting on your playlist.  We highlight some of our favorites off Lisbon below.
The band performed Angela Surf City on Fallon, and for good reason.  The song defines Lisbon's sound, though at its most aggressive.  It starts like a head-high day awaiting a big north swell, with Barrick's spare, martial drumming before the guitar ventures in vaguely Venture-ish and then adds Leithauser's quiet but tense vocals.  And then at the 54-second mark the chorus kicks in like a rogue wave, gargantuan and ferocious, with Barrick rattling thunderclap drums and Leithauser soaring on vocals.  The song ebbs and flows throughout, providing the most intense moments on the record.  We like the chorus and stanzas below.
"You took the high road
I couldn't find you, up there
You kept your jaw wired closed
I never noticed before
I used to see the signs
Now I dream of the time
I was holding onto you
For a lack of anything to do
Still the whitecaps roll away
Still your name rings true
Mine is yours, yours is yours
Life goes on, life goes on all around you
Let's go home happy again
Just take your head from your hands
Take up the cause, just once more
I never noticed before."
The Walkmen—Angela Surf City
[audio:https://www.thelefortreport.com/blog/wp-content/uploads/02-Angela-Surf-City.mp3|titles=02 Angela Surf City]
We also love Torch Song, with its shimmering opening guitar and forlorn, high-plains wail-of-a-vocal that eventually segues into a throwback, doo wop, torch-song motif that is alternately unsettling and comforting.  Like life.
The Walkmen—Torch Song

[audio:https://www.thelefortreport.com/blog/wp-content/uploads/09-Torch-Song.mp3|titles=09 Torch Song]
And below are some telling videos featuring Lisbon songs.
First up in the videos is album-opener, Juveniles. We love the lazy, jangling guitar and bass and the bouncing build of the song.  And what's not to like about the victorious resignation of which Leithauser sings?
"Oh country air
Is good for me
No matter who's side I'm on
Let these dead leaves
Dry in the sun
I'll be up and gone
There's a stranger outside
Oh Lord!
He's a wiser man than I
Oh Lord
I am a good man
By any count
And I see better things to come
Could she be right?
When she repeats
I am the lucky one
You're one of us
Or one of them!"
The Walkmen – Juveniles – Live at Governor's Island from Big Ass Lens on Vimeo.
And finally, Woe is Me starts out one-upping Vampire Weekend (a simpering signpost of a band by comparison) at their own game.  The difference ultimately is the vernacular and delivery of Leithauser.  He simply kills on this song, vocals and lyrics inclusive.  There is loss, and there is next.
"There's a girl that you should know
she was mine not so long ago
Had my number and we fell in love
She put me under and I got lost…
Woe is me
Woe is me
Hey do you want to walk with me?
By the trees and the factories.
Hey do you want to hop the fence?
In the sleepy red sunsets
Woe is me
Woe is me
Woe is me
Woe is me
Now the street light bright and pale
as we sip our ginger ale
I kiss you by the blinking signs
Don't be heavy, let's be light
On and on our merry way
On and on our merry way
On and on our merry way
On and on our merry way"
The Walkmen – Woe is Me – Live at Governor's Island from Big Ass Lens on Vimeo.
Lisbon was released after The Walkmen signed to the great independent label Fat Possum. The Oxford, Mississippi-based label, traditionally home to rootsier bands, has seen recent progression, signing Band of Horses, Andrew Bird and indie surf-punk phenom Wavves.  Go buy Lisbon and check out Fat Possum's other offerings here.