Iron & Wine at the Wiltern 1/26/11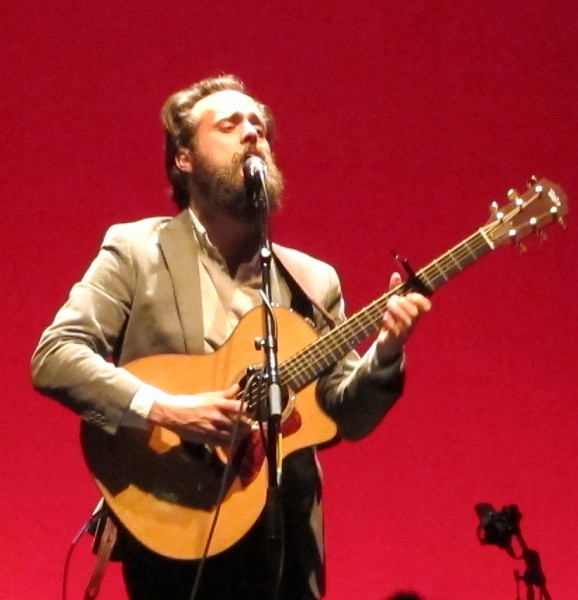 We rolled down the 101 on Wednesday to the Wiltern to take in Iron & Wine in concert for the first time.  Like many, we've been spirited away by this "band" since their first record ("The Creek Drank the Cradle") was released in 2002 on the prescient Sub Pop label.  Despite efforts to the contrary, we had never been able to catch Sam Beam and his entourage-of-one (or more) in a live setting until this night.  This was the second night of a sold-out, two-night stand at the Wiltern in LA, one of only two U.S. cities (NYC being the other) to be graced by the band before they head off to Europe to tour in support of their new record, "Kiss Each Other Clean."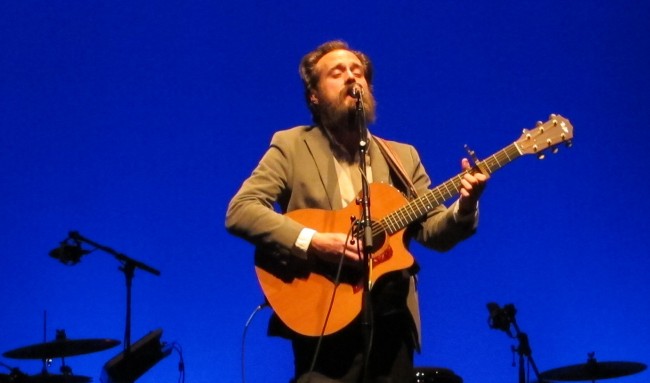 Like many in the audience (one of the most respectful, though ardent, audiences in recent memory), we were there to hear the songs performed live that have been burned into our minds and hearts from that first record forward–songs with carefully-crafted lyrics and hum-worthy melodies.   The original one-man-band of Sam Beam has grown since that first record from guy-and-guitar to legitimate large-band, and in large part the 11-member Iron & Wine did not disappoint at the Wiltern.  Beam and the band have evolved over time from hushed solo singing to a more dynamic and varied sound, that evolution beginning with the comparatively hi-fi second record, "Our Endless Numbered Days," then progressing further with 2007's varied and Waits-ian, "The Shepherd's Dog," and finally breaking more barriers with the new record, "Kiss Each Other Clean."  Though Iron & Wine throws in some serious twists and turns on the new record (Caribbean, Motown, 70's rock and dub reggae elements are added to the mix and embellished with horns and synths), Beam hasn't gone to Adz-ian extremes like Sufjan, and his lyrics, stories and vocals are largely still intimate, aching and haunting, filled as they are with romanticism and Biblical iconography.  We have marveled over the years at his ever-evocative lyrics, the art of which goes unabated on the new record (a few of our favorite Iron & Wine stanzas are set forth at the end of this post since they are worthy of reading if you haven't).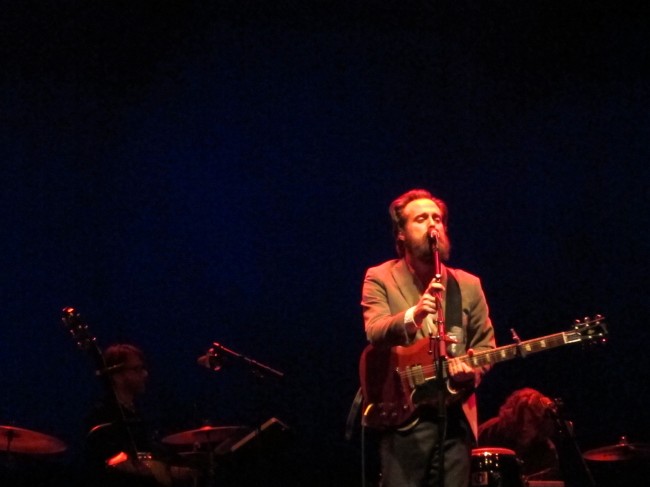 The band immediately drew the audience (including Scarlett Johannson–oh we are feeling so TMZ here at Lefort) in by starting off their set small, with just Beam on acoustic guitar, a mandolin/banjo player, a keyboard player, and backup vocals (the perfect Rosie Thomas and Marketa Irglova–the latter of Swell Seasons/Once film fame).  The small group matched the intimate opening sounds well as the audience sampled its first taste of Beam's valid vocals, including a newly-added high-howl-away-from-the-microphone effect that was striking and effective.  And we all leaned in to grasp our favorite lyrical moments and resonant storylines.
Beam began this small-group segment with a number of older songs, including He Lays in the Reins and crowd-favorite Naked as We Came (in which two lovers grapple with their inevitable mortality), before moving to the new album's Big Burned Hand and Godless Brothers of Love, and then returning to older songs Bird Stealing Bread and Teeth in the Grass. These older songs were given new arrangements which added complexity to the originals, all of which was well-received by the crowd.  But it was the lyrics and singing which drew us further in, with lyrics like the following from the new Big Burned Hand that rendered the audience rapt:
"When the arrogant goddess of love came to steal my shoes
She had a white-hot pistol and a homemade heart tattoo
Singing, 'one's to give and one's to take away,
But neither of them will keep you off your knees'
Her children bowed and bolted off the stage
While the lion and the lamb kept fighting for the shade tree."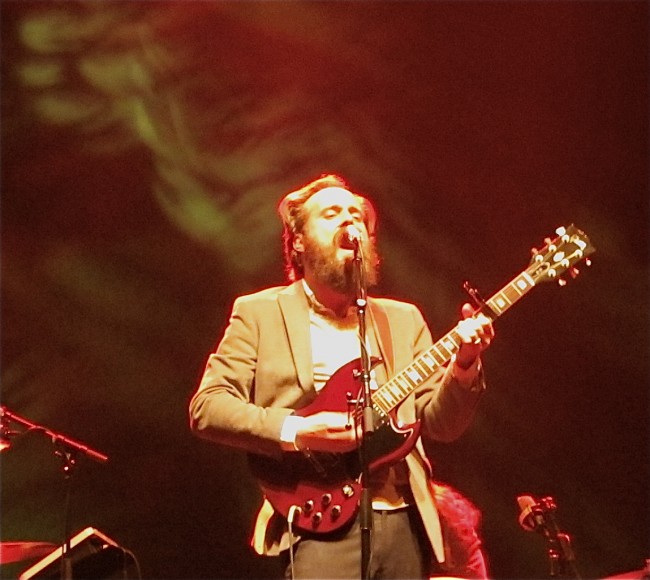 Throughout the evening, Sam was greeted by loud cheers mixed with good-natured heckling, and Beam deflected the heckling in a relaxed, ingratiating manner.  When Sam asked if the audience had attended the prior night's show, an audience member jokingly yelled out that Sam better do a better job, and Beam just smiled and reassured the audience that he'd try. He later commended the balcony for not being afraid of heights. When certain songs were called for from the audience Beam patiently grinned and said he didn't "want to let the cat out of the bag, just yet."  Throughout  he was conversational and clever, and in short order we all just wanted to buy him a glass of the red and have a good chat.  But after a while, as nice as he was, we grew somewhat tired of the banter and wished, given the breadth of his discography, that he had spent less time talking and more time singing more songs.  We admit being greedy.
At the end of the small-group segment,  we sensed that the crowd was drifting a bit despite the band's mesmerizing delivery on Teeth In The Grass.  Fortunately, Sam shored up the proceedings by adding to the band's ranks with a three-member horn section, bass and drums.  The crowd's interest renewed, Beam used the larger-band to great effect with a rousing reading of the new Tree By The River.  For better and worse, this was not the same old (Iron &) wine.  The big band brought some funk and 70s sounds to the proceedings and, get this, this Iron & Wine audience was seen to (gasp) dance and rock a bit.  The horns and drums, and altered arrangements, lent some new life to old favorites like "Boy With a Coin" and "Cinder and Smoke."  Fortunately, Beam is less mischievous and more-respectful of his fans than Dylan circa Rolling-Thunder-Revue, so the songs were still recognizable and hummable.  But if we had one particular complaint it is that the bigger sound dilutes some of the emotional wallop and confessional tone of the old stripped-down Iron & Wine settings.  Like seeing Sufjan this past Fall when he purposely left out his old banjo-and-hush songs, at times this night we yearned to just have Sam by his lonesome with solo guitar (perhaps with one background vocalist).  We understand, though, the need for artists to evolve and stave off the crushing boredom of singing the same song in the same fashion for the thousandth time.  So the old-school fans may have been somewhat disappointed by the big band, but in general we laud and respect the new tact from Iron & Wine.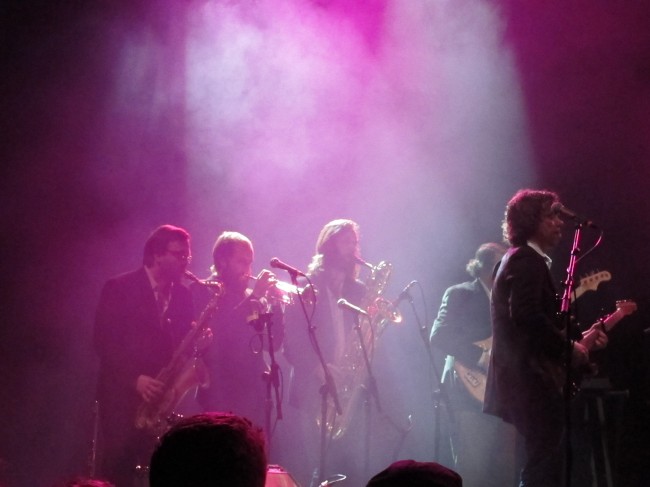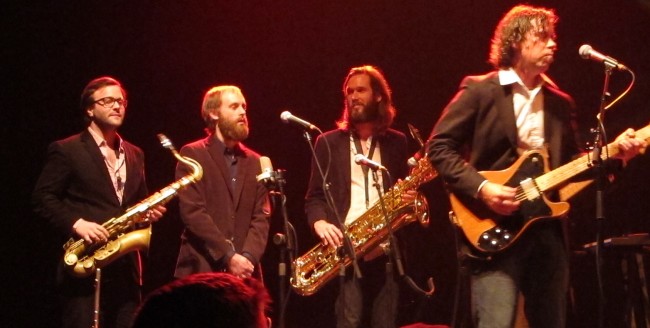 With all of these thoughts rumbling 'round our graying gray-matter, and Sam having apparently read our minds, for the encore Beam came back out solo with only his steel-stringed guitar and proceeded to overwhelm us with one of his finest songs, The Trapeze Swinger.  We've never heard such a quiet Wiltern crowd, and we all sat enthralled by the storyline and sheer poetry of this song.  Sam began appropriately plaintive, while singing his request to another that they "please remember me fondly." But in short order he gathered momentum in telling "that the pearly gates had some eloquent graffiti like 'We'll meet again' and 'Fuck the man,' and 'Tell my mother not to worry.'" Sam described the eloquent graffiti in earnest, giving one the sense that these pearly gates may have been tagged by those that were rebuffed from entry and intimating that we all are trapeze-ing between our own heavens and hells.  And so the audience trapezed with Beam throughout the near-nine minutes of this powerful song.
This was the Iron & Wine that we had come to hear in all its (his) glory.  A man, a guitar and some of the best songs ever written.  Done, Sam.  We will remember you and this evening fondly.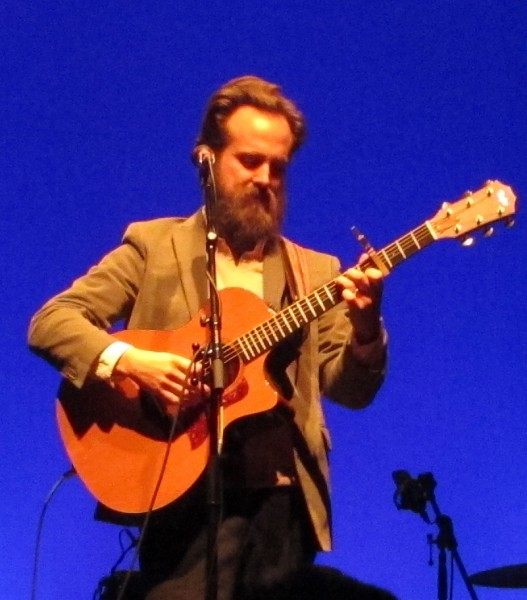 You can see the encore in all its glory at the link below, followed by a fine Austin City Limits version:
Also check out this intimate duet courtesy of the great Daytrotter:
http://www.daytrotter.com/vi/iron-and-wine-concert-video/1002675.html
Below is the band's set list, followed by a translation thereof, and our favorite stanzas.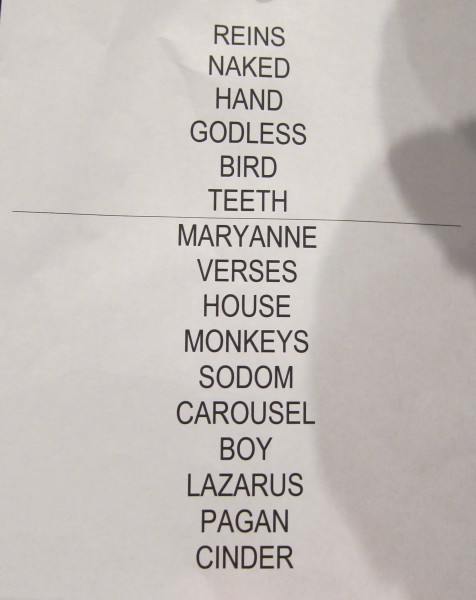 He Lays in the Reins
Naked as We Came
Big Burned Hand
Godless Brothers of Love
Bird Stealing Bread
Teeth in the Grass
Tree By the River
Love and Some Verses
House by the Sea
Monkeys Uptown
Sodom, South Georgia
Carousel
Boy With a Coin
Me and Lazarus
Pagan Angel and a Borrowed Car
Cinder and Smoke
Encore:
The Trapeze Swinger
Some of our favorite Iron & Wine stanzas:
Two Hungry Blackbirds
Spoke to a mother whose baby drowned
Gave me advice, or a rumor she once heard:
"Heaven's a distance, not a place,"
The Trapeze Swinger
But please, remember me fondly
I heard from someone you're still pretty
And then they went on to say
That the pearly gates
Had some eloquent graffiti
Like "We'll meet again" and "Fuck the man"
And "Tell my mother not to worry"
And angels with their great handshakes
Were always done in such a hurry
—
So please, remember me mistakenly
In the window of the tallest tower
Calling passers-by but much too high
To see the empty road at happy hour
Gleam and resonate, just like the gates
Around the holy kingdom
With words like "Lost and found" and "Don't look down"
And "Someone save temptation"

—
And please, remember me seldomly
In the car behind the carnival
My hand between your knees, you turned from me
And said, "The trapeze act was wonderful
But never meant to last", the clown that passed
Saw me just come up with anger
When it filled with circus dogs, the parking lot
Had an element of danger
Carousel
Almost home and got lost on our new street
While your grieving girls all died in their sleep so the dogs all went unfed
A great dream of bones all piled on the bed
And the cops couldn't care
When that crackhead built a boat
And said, "Please, before I go,
May our only honored bond
Be the kinship of the kids in the riot squad"
Lion's Mane
run like a race for family
when you hear like you're alone
the rusty gears of morning
and faceless, busy phones
we gladly run in circles
but the shape we meant to make is gone
and love is a tired symphony
you hum when you're awake
and love is a crying baby
mama warned you not to shake
and love's the best sensation
hiding in the lion's mane
so i'll clear the road, the gravel
and the thornbush in your path
that burns a scented oil
that i'll drip into your bath
the water's there to warm you
and the earth is warmer when you laugh
and love is the scene i render
when you catch me wide awake
and love is the dream you enter
though i shake & shake & shake you
and love's the best endeavor
waiting in the lion's mane
Upward Over the Mountain
mother don't worry, i killed the last snake that lived in the creek bed
mother don't worry, i've got some money i save for the weekend
mother remember being so stern with that girl who was with me?
mother remember the blink of an eye when i breathed through your body?
so may the sunrise bring hope where it once was forgotten
sons are like birds flying upward over the mountain
mother i made it up from the bruise of a floor of this prison
mother i lost it, all of the fear of the Lord i was given
mother forget me now that the creek drank the cradle you sang to
mother forgive me, i sold your car for the shoes that i gave you
so may the sunrise bring hope where it once was forgotten
sons are like birds flying upward over the mountain
mother don't worry, i've got a coat & some friends on the corner
mother don't worry, she's got a garden we're planting together
mother remember the night that the dog had her pups in the pantry?
blood on the floor & the fleas on their paws
and you cried 'til the morning
so may the sunrise bring hope where it once was forgotten
sons are like birds flying upward over the mountain
Passing Afternoon
There are times that walk from you like some passing afternoon
Summer warmed the open window of her honeymoon
And she chose a yard to burn but the ground remembers her
Wooden spoons, her children stir her Bougainvillea blooms
There are things that drift away like our endless, numbered days
Autumn blew the quilt right off the perfect bed she made
And she's chosen to believe in the hymns her mother sings
Sunday pulls its children from the piles of fallen leaves
There are sailing ships that pass all our bodies in the grass
Springtime calls her children until she let's them go at last
And she's chosen where to be, though she's lost her wedding ring
Somewhere near her misplaced jar of Bougainvillea seeds
There are things we can't recall, Blind as night that finds us all
Winter tucks her children in, her fragile china dolls
But my hands remember hers, rolling around the shaded ferns
Naked arms, her secrets still like songs I'd never learned
There are names across the sea, only now I do believe
Sometimes, with the window closed, she'll sit and think of me
But she'll mend his tattered clothes and they'll kiss as if they know
A baby sleeps in all our bones, so scared to be alone
Resurrection Fern
In our days, we will live like our ghosts will live
Pitching glass at the cornfield crows and folding clothes
Like stubborn boys across the road, we'll keep everything
Grandma's gun and the black bear claw that took her dog
And when Sister Lowery says "amen", we won't hear anything
The ten-car train will take that word, that fledgling bird
And the fallen house across the way, it'll keep everything
The baby's breath, our bravery wasted and our shame
And we'll undress beside the ashes of the fire
Both our tender bellies wound in baling wire
All the more a pair of underwater pearls
Than the oak tree and its resurrection fern
In our days, we will say what our ghosts will say
"We gave the world what it saw fit and what'd we get"
Like stubborn boys with big green eyes, we'll see everything
In the timid shade of the autumn leaves and the buzzard's wing
And we'll undress beside the ashes of the fire
Our tender bellies wound around in baling wire
All the more, a pair of underwater pearls
Than the oak tree and its resurrection fern
Sodom, South Georgia
Papa died smiling
Wide as the ring of a bell
Gone all star white
Small as a wish in a well
And Sodom, South Georgia
Woke like a tree full of bees
Buried in Christmas
Bows and a blanket of weeds
Papa died Sunday and I understood
All dead white boys say, "God is good"
White tongues hang out, "God is good"
Papa died while my
Girl Lady Edith was born
Both heads fell like
Eyes on a crack in the door
And Sodom, South Georgia
Slept on an acre of bones
Slept through Christmas
Slept like a bucket of snow
Papa died Sunday and I understood
All dead white boys say, "God is good"
White tongues hang out, "God is good"