Iron & Wine's New Arrangement of "Flightless Bird, American Mouth"–The "Wedding Version"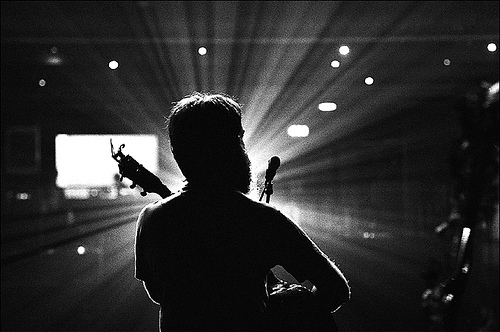 For those who don't like Iron & Wine's recent turn to a fuller, more-varied sound on "Kiss Each Other Clean" and on tour, check out the video below.  It's not exactly Creek-Drank-the-Cradle-simple, but it's slow and its sweet.
In a career-enhancing coup, Iron & Wine managed in 2008 to somehow wine and dine its way onto the soundtrack for the first Twilight film with their track Flightless Bird, American Mouth.  VH1 has now posted a video of the band's new "Wedding Version" treatment of the song for some new Twilight film (Breaking Dawn: Part 1) soundtrack.  Done in black-and-white, with strings and an even more laconic pace, it's ravishing and does not suck.  Check it out.