Manassas–A Lost Masterpiece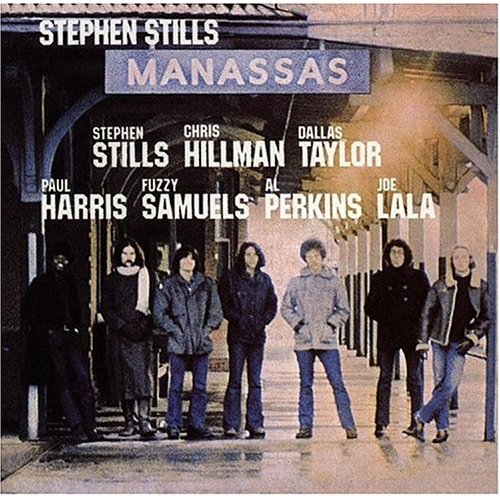 We are nearing the 40th anniversary of the release of one of the (largely) forgotten masterpieces of modern music–the eponymously titled debut album of Stephen Stills' band, Manassas.  The record was released in 1972 during what was a watershed year in modern music.
Stills had gained his fame as an integral part of Buffalo Springfield and Crosby, Stills & Nash (& Young), but following a CSN&Y hiatus he gathered together a group of great musicians (featuring ex-Byrd and Flying Burrito Brother Chris Hillman and Al Perkins on pedal steel guitar, and the others shown on the album cover above) and cameo artists (the Rolling Stones' Bill Wyman and Byron Berline, amongst others), and created a multifarious  masterpiece that was not (in scope) unlike the Stones' "Exile on Main Street" or Wilco's "Being There."  Stills and his band were not afraid to dabble in multiple genres, and the Manassas album featured rock, country, folk, blues, and even some Latin music.  And while this sounds like a potential hodgepodge disaster (especially given the amount of drugs and booze being consumed at the time by certain members of the band), the album held together extremely well.  Stills had the sense to group the songs together somewhat by genre.  Side One of the record was titled "The Raven," and was a brash mix of rock and Latin influences.  Side Two of the record was titled "The Wilderness" and was focused mostly on country and bluegrass, and included great songs such as Colorado and So Begins the Task.  Side Three of the record was titled "Consider" and was predominantly folk and folk-rock, and featured some of the album's most compelling songs:  Johnny's Garden, It Doesn't Matter and Move Around, the latter song incorporating one of the earliest uses of a synthesizer in rock music.  Side Three ended with The Love Gangster (co-written by and featuring Bill Wyman on bass) which rockingly segued into Side Four.  The final side of the record (Side Four) was titled "Rock & Roll Is Here to Stay," and was a rock, funk and blues set that featured the song The Blues Man which was dedicated to (at the time) recently demised Jimi Hendrix, Al Wilson and Duane Allman.
One doesn't hear this record's praises sung very often, and we think that's a crying shame.  While the sound has aged a bit in the 40ish years since it was released, the instrumental playing, coupled with Stills', Hillman's and the others' stellar harmonized vocals, is still very impressive.
Check out a few of the songs (presented in the order found on the album) from this masterpiece and consider adding it to your collection.  And below those songs are some rare videos of the band more raw and live on a European music show.
Manassas–Colorado

The harmonies heard in the chorus are alone worth the price of admission, not to mention Al Perkin's pedal steel and other picking.
[audio:https://www.thelefortreport.com/blog/wp-content/uploads/08-Colorado.mp3|titles=08 Colorado]
Manassas–So Begins the Task

A great song later covered by Stills' ex-girlfriend, Judy Collins.  Again, the harmony vocals are beauty, and Perkins conveys the song's emotion well.
[audio:https://www.thelefortreport.com/blog/wp-content/uploads/09-So-Begins-The-Task.mp3|titles=09 So Begins The Task]
Manassas--It Doesn't Matter

One of our favorite songs on the album and sounding like it came right off of a CSN&Y album.
[audio:https://www.thelefortreport.com/blog/wp-content/uploads/12-It-Doesnt-Matter1.mp3|titles=12 It Doesn't Matter]
Manassas–Johnny's Garden

Many thought this song referred to John Lennon.  Regardless, we liked this stanza:
"As the swift bird
Flies over the grasses
Dipping now and then
To take his breakfast
Thus I come and go
And I travel
And I can watch that bird
And unravel"
We too have unravelled.
[audio:https://www.thelefortreport.com/blog/wp-content/uploads/13-Johnnys-Garden.mp3|titles=13 Johnny's Garden]
Manassas–Move Around

We love the segment found from 1:18 to 1:45 where, in the lyrics below, Stills almost seems to be singing in tongues.
"A superb point of reference detected
becomes absurd with a moments reflection
leaves one a simple thought
not sagging with the excess weight of excess baggage
and we move around
We move around"
[audio:https://www.thelefortreport.com/blog/wp-content/uploads/16-Move-Around.mp3|titles=16 Move Around]
Manassas–The Love Gangster
The sound, we'll grant you, is dated.  But it is classic early-70s rock, replete with wah-wah pedal, cowbell and Bill Wyman (the song's co-writer) on bass.  We especially espouse the group vocals.
[audio:https://www.thelefortreport.com/blog/wp-content/uploads/17-The-Love-Gangster.mp3|titles=17 The Love Gangster]