Graham Nash and David Crosby–Two Lost Masterpieces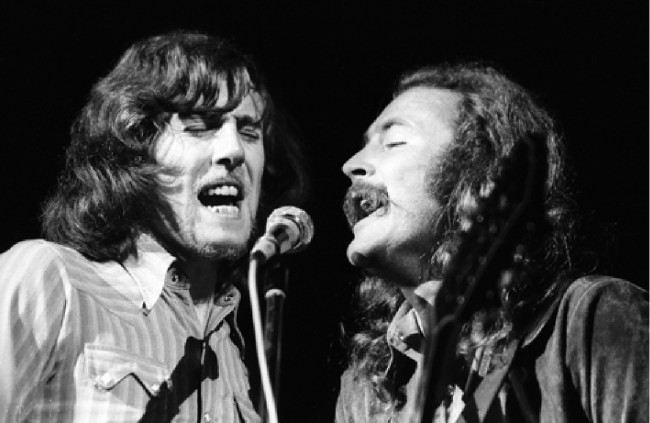 A couple of weeks ago David Crosby and Graham Nash showed up on The Letterman Show to perform their older song, Taken At All, which you can check out way below.  For us, however, the performance served primarily as a reminder of the great sounds these two musicians have made solo, together, and with fellow musical denizens, Stephen Stills and Neil Young. Their music was the scintillating soundtrack to our formative years, and we can't let it go.  We've covered Stephen Stills and Manassas in the past, and are still assessing if we will ever be able to give a fitting tribute to the all-timer, Neil Young (who for us sits atop a mountain of musicians).  For now, we give you Graham Nash and David Crosby.
Whether as CSN&Y, CS&N, the duo Crosby & Nash, or solo, a generous portion of our juvenile years were spent listening in to these fine musicians and their vocalisimmos.  We have a particular soft spot for two masterful albums that seem to have slipped through the seams in the musical pantheon.  We hold Graham Nash's "Songs for Beginners" and the eponymously entitled, "David Crosby/Graham Nash" albums in the highest regard.  If you haven't heard or haven't recently listened in, they merit your ears.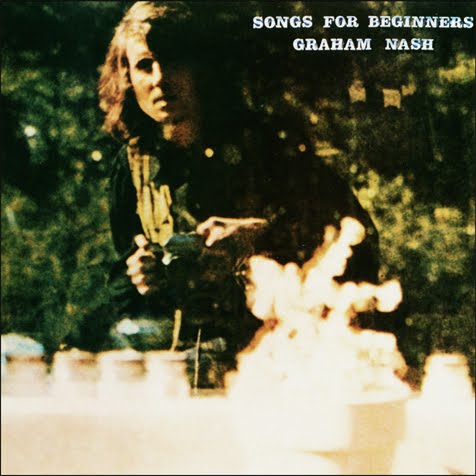 Following the initial break-up of CSNY, Graham Nash decided to go it alone and in 1971 put out his first solo album, "Songs for Beginners."  Thematically the album bears signs of the turbulent political and personal state of Nash in the aftermath of Nash's traumatic (duh!) breakup with Joni Mitchell.  Graham Nash has given us a seeming millennium of great, melodic music, first in the Hollies and then in CSN&Y.  But what many forget is the particularly prolific period between 1971 and 1972 when Nash put out this first solo album and then consorted with Crosby for their first album together as a duo.  Nash's songs on these two albums are witness to his pop-song savvy, his authentic emotional lyrics, and his political activism, and all of which boast his tenor lead vocals and harmonies.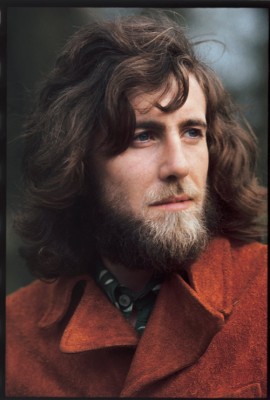 Songs for Beginners featured many fine musicians such as David Crosby (who that same year released his seminal solo album, "If I Could Only Remember My Name"), Jerry Garcia, Phil Lesh, Dave Mason, David Lindley, Rita Coolidge and Neil Young (under the Joe Yankee pseudonym), and some of the best songs from the early '70s.  Check out some of our faves below. First is Military Madness, which is particularly fitting 40 years later (check the lyrics below the song), particularly as compared with the "hit" political song off the album, Chicago, which we'll leave off.  Military Madness features Rita Coolidge's background vocals and Dave Mason's stellar electric guitar.  Next up is the confessional Simple Man (via a phenomenal, "ancient" live performance accompanied by Crosby).  Then check out Better Days (with its McCartney-esque feel and flourishes), I Used To Be A King (an obvious ode to Joni with supreme pedal-steel guitar from Jerry Garcia), and There's Only One (with Rita Coolidge on piano and Clydie King and choral crew on backing vocals).
"In an upstairs room in Blackpool
By the side of a northern sea
The army had my father
And my mother was having me
Military Madness was killing my country
Solitary Sadness comes over me
After the school was over and I moved
To the other side
I found a different country but I never
Lost my pride
Military Madness was killing the country
Solitary sadness creeps over me
And after the wars are over
And the body count is finally filed
I hope that The Man discovers
What's driving the people wild
Military madness is killing your country
So much sadness, between you and me
War, War, War, War, War, War"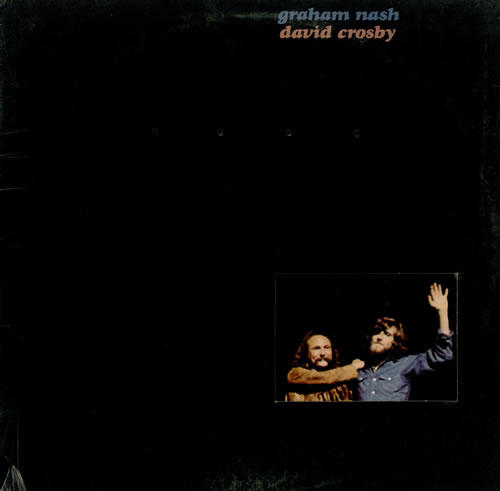 Following the release of their solo albums, Nash and Crosby then collaborated on their "David Crosby/Graham Nash" album, which was released in 1972.  The album's and these musicians' many gifts still (knowingly or unknowingly) influence manifold musicians of our current music scene.  Once again this album featured backing from Dave Mason and members of The Grateful Dead (Jerry Garcia, Phil Lesh and Bill Kreutzmann) and The Section (Craig Doerge, Danny "Kootch" Kortchmar, Leland Sklar, and Russell Kunkel), the members of which dominated the California music studios at the time. The songs on the album confirm/extend Nash's pop songwriting abilities (including the album's hit, the well known ode to the US Immigration Service, Immigration Man), and Crosby's complicated and introspective compositions that explored mood via augmentation and diminishment.  All of the songs on this fine album are delivered with the duo's usual complicated vocal arrangements and heavenly harmonies.  The commercial success of this album eclipsed their two solo albums.
Though the entire album shines, check out favorites from the album.  First check out Nash's Southbound Train, featuring an elegiac pedal steel guitar solo from Jerry Garcia.
Crosby & Nash–Southbound Train
[audio:https://www.thelefortreport.com/blog/wp-content/uploads/01-Southbound-Train.mp3|titles=01 Southbound Train]
Then compare and contrast the two musicians' stylings by checking out Crosby's Page 43 (possibly Crosby's finest song, vocals and lyrics–"The river can be hot or cold, and you should dive right into it, else you'll find it's passed you by; Pass it around one more time, I think I'll have a swallow of wine, life is fine even with the ups and downs, and you should have a sip of it, else you'll find it's passed you by") and Where Will I Be (Dear Fleet Foxes:  Listen in at 2:27 and hear that which you can attempt to copy, but will never attain).
Crosby & Nash–Where Will I Be
[audio:https://www.thelefortreport.com/blog/wp-content/uploads/05-Where-Will-I-Be_-LP-Version.mp3|titles=05 Where Will I Be_ (LP Version)]
Crosby & Nash–Page 43
[audio:https://www.thelefortreport.com/blog/wp-content/uploads/06-Page-43.mp3|titles=06 Page 43]
Then we return to two Nash compositions, Stranger's Room (with its French Horns and fine lyrics–"Where do I go from here, help me, I wish I could disappear and go away, from the knowing, that you've known me far too long, when I find a different tune, I guess I'll sing a different song") and Girl to Be On My Mind (with its sorrowful search for still-lost love–haunted even two years later by Joni Mitchell).
Crosby & Nash–Stranger's Room
[audio:https://www.thelefortreport.com/blog/wp-content/uploads/04-Strangers-Room.mp3|titles=04 Strangers Room]

Crosby & Nash–Girl to Be On Mind
[audio:https://www.thelefortreport.com/blog/wp-content/uploads/09-Girl-To-Be-On-My-Mind.mp3|titles=09 Girl To Be On My Mind]

And just for fun, check out The Hollies and Nash performing their biggest US hit, Bus Stop.