Skippy Dies by Paul Murray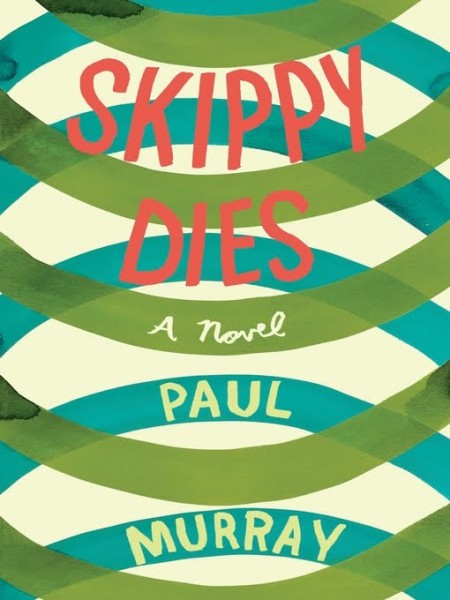 We just finished the thoroughly engaging novel, Skippy Dies, by Irish author, Paul Murray.  Skippy Dies was nominated for the 2010 Booker Prize and a National Book Critics Circle award in Fiction, and was prevalent on many "Top Books of 2010" lists.  And for you cinemistas, we understand that the book is to be adapted for the big screen by none other than Neil Jordan.
No Spoilage Alert: We won't be giving anything away by telling you that Skippy, the main character in this fine novel, in fact perishes early in this book.  By page 5 in fact.  After this skeletal opening segment, Murray goes back in time to flesh out the body of the story and provide the circumstances that lead to the passing of the innocent, sweet Skippy—a 14-year-old student at a venerable Catholic boys' prep school in Dublin.  In time we are introduced to Skippy's adolescent prep school chums and nemeses, his young and old teachers, his girlpop-loving love-interest, the schools' callous administration (there's a shocker), and the neurotic parents of these teenagers.  We also learn of the unexpectedly viral consequences of Skippy's death, get a feel for contemporary Irish life and history, and learn a great deal about the theoretical intertwining of science (quantum physics, string theory, etc.) and metaphysics.  Murray has delivered a very ambitious and dense coming-of-age novel that is at times hilarious and at other times harrowing and heartbreaking.
In short, it's life writ large.
You can read a well-done review by Dan Kois in the New York Times here.
Paul Murray has said this to say about the book elsewhere:
"I started writing Skippy Dies in 2002. The book is set in a school in South Dublin in Ireland. It revolves around a group of fourteen-year-old boys, Skippy being the hero, or the antihero, who falls for Lori, a (dangerously) beautiful girl from the convent school next door. In the opening scene, he dies during a doughnut-eating race with his roommate, Ruprecht, and writes Lori's name on the floor in strawberry syrup; the book then tracks back to discover how his death came about.
Writing about teenagers was liberating in many ways, because their emotional lives are so dramatic and so unconcealed. They could plausibly say or do almost anything; you could really push things to the limit. I worked hard to capture the intensity of feeling you experience as a teenager – the sense of connection you can feel for your friends, to the point of turning into each other, the sense of adoration you can have for a girl or a boy you hardly know, the loneliness and confusion and despair you can feel for no reason at all."
One of the most touching passages of the novel (excerpted below) involves music (another shocker).  Four of Skippy's friends are called upon to play as a quartet in the prep school's 140th anniversary celebration.  These friends decide to use their playing of Pachelbel's Canon in D in homage to Skippy and for purposes greater than the school's anniversary.
Excerpt from Skippy Dies:
"And the music, when it begins, sounds so beautiful. Pachelbel's familiar melody, worn threadbare by endless TV commercials for cars, life assurance, luxury soap, by street-performers in black-tie, mugging for tourists in high summer, by any number of attempts to invoke the Old-World Elegance, accompanied by haughty waiters bearing trayfuls of tiny cubes of cheese – tonight it seems to its audience entirely new, to the point of an almost painful fragility.  What it is that makes it so imploring and so sweet, so disconcertingly (for the older members of the audience who have come tonight expecting merely to be pleasantly bored and now find themselves with lumps in their throats) personal? Something to do with the horn that large boy [Lefort–Skippy's roommate and friend, Ruprecht] in the silver suit is playing, perhaps, a new-fangled instrument that looks like it must have been run over by a truck, but produces a sound that's like nothing you've ever heard – a hoarse, forlorn sound that just makes you want to …
And then the voice comes in, and you can actually see a shiver run through the decorous crowd.  Because there is no singer on the stage, and given Pachelbel's Canon does not have a vocal part, listeners could be forgiven for mistaking it for a ghost's, some spirit of the hall roused by the music's beauty and unable to resist joining in, especially as the voice – a girl's – has an irresistibly haunting quality, spare, spectral, carved down to its bare bones…  But then one by one the audience members spot beneath the mike stand over to the right, ah, an ordinary mobile phone.  But who is she?  And what's she singing? [Lefort–it's in fact melancholy Lori, the love of Skippy's life, singing a song by Bethani (a fictional singer we surmise representative of Britney Spears) from her room.]
You fizz me up like Diet Pepsi
You make me shake like epilepsy
You held my had all summer long
But summer's over and you're gone
Holy smokes – it's Bethani!  A new murmur of excitement, as younger spectators crane their necks to hiss in the ears of parents, aunts, uncles – it's  '3Wishes', the song she wrote after she broke up with Nick from Four to the Floor, when there were all those pictures of her at her mum's wearing skanky clothes and actually looking quite fat – some people said that was all just part of the publicity, but how could you think that if you listened to the words?
I miss the bus and the walk's so long
I got split ends and my homework's wrong
There's a hole in my sneaker and gum on my seat
And the world don't turn and my heart don't beat
– which the girl who's singing now fills with such longing, such loneliness, only amplified by the crackling of the phone, that even parents who viewed Bethani with suspicion or disapproval (often coloured, in the case of the dads, by a shameful fascination) find themselves swept up by its sentiments – sentiments that, separated from their r'n'b arrangement and grafted onto this melancholy spiraling music three hundred years old, reveal themselves as both heart-rending and also somehow comforting – because their sadness is a sadness everyone can recognize, a sadness that is binding and homelike.
And the sun don't shine and the rain don't rain
And the dogs don't bark and the lights don't change
And the night don't fall and the birds don't sing
And your door don't open and my phone don't ring
So that as the chorus comes around once more, you can hear young voices emerge from the darkness, singing along:
I wish you were beside me just so I could let you know
I wish you were beside me I would never let you go
If I had three wishes I would give away two,
Cos I only need one, cos I only want you
– so that for these few moments it actually seems that Ruprecht could be right, that everything, or at least the small corner of everything that is the Seabrook Sports Hall, is resonating to the same chord, the same feeling, the one that over a lifetime you learn a million ways to camouflage but never quite to banish – the feeling of living in a world of apartness, of distances you cannot overcome; it's almost as if the strange out-of-nowhere voice is the universe itself, some hidden aspect that rises momentarily over the motorway-roar of space and time to console you, to remind you that although you can't overcome the distances, you can still sing the song – out into the darkness, over the separating voids, towards a fleeting moment of harmony…"
In this passage, Murray has managed to perfectly capture and evince the transcendental magic of music and its potential for harmonizing effects on young and old alike (and together).  And Pachelbel, coupled with a Britney-like voiceover?  It's the ultimate emotional mashup.  Heck, we just might have to go back and listen closer to some Britney.  Well played, Mr. Murray.  Well played.