"Heaven Help the Child"–Mickey Newbury's Lost Americana Masterpiece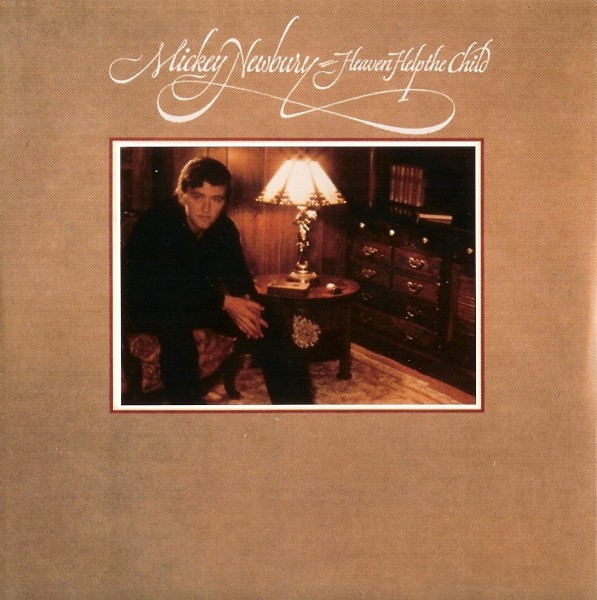 We grew up listening to Mickey Newbury's masterpiece, "Heaven Help the Child," at a time when, amongst other things, children were being drafted into war.  The title song conveyed well the loss of innocence and a bit of the era's angst, and it never fails to deeply affect us.  And through that great song we came to know and appreciate Mickey Newbury, one of America's under-appreciated songwriters who was revered by many, and in particular by his fellow songsmiths and singers (see tributes below).  Unfortunately, Newbury's output fell precipitously after attaining these lofty heights and, though he continued to release music, he gradually disappeared from the scene and passed away in 2002.
Heaven Help the Child was released in 1973 and was the exclamation point on a three-peat of albums that started with 1969's "It Looks Like Rain," and was followed by 1971's "'Frisco Mabel Joy."  He wrote subtly brilliant songs and was an extraordinary singer.  Given his prodigious talents, we have never understood why he wasn't as well-known as Willie or Waylon, or at least as well known as Kris Kristofferson or Townes Van Zandt.  The mystery remains.
The original Heaven Help the Child album has never been released as a CD and went out of print.  We have thankfully held on to our vinyl copy, though it's a bit wizened.  Fortunately for Americana music lovers, the smart citizens over at Drag City Records have finally realized the music-industry's grave mistake and will re-release five of Newbury's missing albums, including Heaven Help the Child, on May 17th.  The re-releases are digitally re-mastered direct from the original analog tapes found in an Elektra Records vault (previously thought to have been destroyed by fire).
In the meantime, we've hacked into a digital turntable (if you will) and converted our 1973 vinyl to 2011 digital for your listening pleasure so you don't have to wait until May 17th (pops, clicks, early stops and warts included–and all, gratis).  Below you can listen in to a few songs off of Heaven Help the Child.  Just like in some of Patsy Cline's best recordings, the Nashville strings and choral treatment may strike you as too "smooth" or peg your "Cheeze-O-Meter."  We can't quarrel with you at a certain level.  But just like in Patsy's recordings, Newbury's stellar songs and singing overcome.  It doesn't hurt that the likes of Chet Atkins (guitar) and Vassar Clements (violin) play alongside the strings.  And oh, the boy could sing.  Oh, how the boy could sing.
Mickey Newbury–Heaven Help the Child
[audio:https://www.thelefortreport.com/blog/wp-content/uploads/05-Heaven-Help-the-Child.mp3|titles=05 Heaven Help the Child]
Heaven Help The Child, the title track, wins a poignancy prize with lyrics tagging Park Avenue in 1912, 1920's Paris, the ubiquitous Newbury freight trains and, pertinently, war.  This stanza always sticks with us:
"War is hell to live with
I said to the general
As we made the battle plan
Out for the day
This will be the last one
Only God be willing
We will go back home
This time to stay."
Oh that it were so.  Instead we war and fight still.
In addition to Heaven Help The Child, check out Newbury's Sweet Memories and San Francisco Mabel Joy.
Mickey Newbury–Sweet Memories
[audio:https://www.thelefortreport.com/blog/wp-content/uploads/08-Sweet-Memories.mp3|titles=08 Sweet Memories]

In Sweet Memories, Newbury lamented a lost love, with this stanza resonating in particular:
"My world is like a river
As dark as it is deep
Night after night
The past slips in
Gathers all my sleep."
We feel the pain.
Mickey Newbury–San Francisco Mabel Joy
[audio:https://www.thelefortreport.com/blog/wp-content/uploads/04-San-Francisco-Mabel-Joy.mp3|titles=04 San Francisco Mabel Joy]

And in San Francisco Mabel Joy, Newbury gave us a sordid, sort-of Romeo & Juliet saga, the entire lyrics of which are worth setting out below:
"Lord his Daddy was an honest man
Just a red dirt Georgia farmer
His Momma lived a short life
Havin' kids and bailin' hay
He had fifteen years
And he ached inside to wander
He jumped a freight in Waycross
Wound up in L.A.
The cold nights had no pity
On that Waycross, Georgia farm boy
Most days he went hungry
Then the summer came
He met a girl known on the strip
As San Franciscos Mabel Joy
Destitution's child
Born of an L.A. street called 'Shame'
Growing up came quietly
In the arms of Mable Joy
Laughter found their mornings
It brought a meaning to his life
Lord on the night before she left
Sleep came and left that Waycross country boy
With dreams of Georgia cotton
And a California wife
Sunday morning found him standing
'Neath the red light at her door
Right cross sent him reeling
Put him face down on the floor
In place of his Mable Joy
He found a Merchant mad Marine
Who growled, "Your Georgia neck is red
But Sonny, you're still green"
He turned 21, in a grey rock
Federal prison
The ole judge had no mercy
On that Waycross, Georgia boy
Staring at those four grey walls
In silence Lord, he'd just listen
To that midnight freight
He knew could take him back
To Mabel Joy
Sunday mornin' found him lying
'Neath the red light at her door
With a bullet in his side, he cried
"Have you seen Mabel Joy'"
Stunned and shaken, someone said,
"Son, she don't live here no more"
She left this house four years, today
They say she's lookin' for
Some Georgia Farm Boy"
We hope that you'll visit Drag City and check out some of these great albums of Mickey Newbury's.
If you won't take our word on him, then check out the high praise of Newbury from some of our best below:
Steve Earle: "Mickey is the godfather of all of us Texas writers."
John Prine: "Mickey Newbury is probably the best songwriter ever."
Sam Phillips (Presley-style, not the chanteuse): "One of the greatest songwriters and performers… a rare talent."
Willie Nelson: "He was one of the best writers we've ever had and one of the best friends I've ever had."
Rodney Crowell: "When I first arrived in Nashville, I was really transformed by Mickey, and for many years, I emulated Mickey Newbury."
Waylon Jennings: "If you don't like to hear Mickey Newbury, you're not American." (Waylon also sang, in his great Luckenbach, Texas song, of "Hank Williams' pain songs and Newbury's train songs….")
Johnny Cash: Mickey's neighbor on Old Hickory Lake referred to Mickey as a "poet" and in 1971 on national TV, Johnny introduced him as "one of the finest writers in the country."
Joan Baez: "There was something very special about Mickey. He wrote endlessly… beautiful, heart-wrenching, sad scores of music, and I'm not sure where all that came from; he was very pleasant. I just considered him a friend."
Kris Kristofferson: "God, I learned more about songwriting from Mickey than I did any other single human being. To me he was a songbird. He comes out with amazing words and music… I'm sure that I never would have written Bobby McGee, Sunday Morning Coming Down… if I had never known Mickey. He was my hero and still is."
R.I.P. Mickey Newbury.
And finally, check out this great video vignette below.
http://www.youtube.com/watch?v=N7U3Y8p4A_8&feature=player_embedded