Rehearsals for Departure–Damien Jurado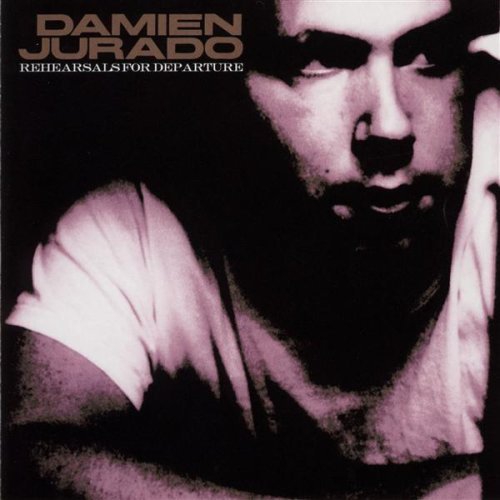 After Damien Jurado released his saintly "St. Bartlett" album last year, we had no choice but to revisit his earlier recordings.  Jurado is justly revered for his intense and emotionally authentic songs that have slowly coagulated into one of the strongest singer-songwriter catalogs around.  We're still working through his steadily and quietly assimilated discography, but one of his earliest albums, 1999's "Rehearsals for Departure," is stuck in our jukebox and is refusing to depart, no matter how much rehearsing we do.
This fine album was ably produced by the Posies' Ken Stringfellow, who added a plateful of instruments ranging from guitar, organ, and piano to mellotron and concertina.  But the focus here is on Jurado's melodies and subtly-simple, but perfect, lyrics and singing.  And there is good variety with great upbeat pop love-songs (Letters and Drawings, Honey Baby–the latter heard below), and beauteous ballads (the title track, Ohio, Curbside–the latter two heard below).  Check out a few of the songs off this album and then do yourselves a favor:  delve into Jurado's back-pages and give a good listen.  You will be justly rewarded.
Damien Jurado–Ohio
[audio:https://www.thelefortreport.com/blog/wp-content/uploads/01-Ohio.mp3|titles=01 Ohio]

First up is Ohio, which we have loved from the moment we first heard it (Coco Rosie's haunting cover, which you can hear here, and which was recorded on an answering machine, which devices and found-recordings thereon have been an infatuation of Jurado's).  On Ohio, Jurado tells the terrifying tale of a woman abducted as a child by her "father's hired men" while her mother was asleep, and her longing to return to her mother and Ohio, together with his lament of her inevitable departure.  The song is filled with laudable lines such as: "She stands on the sidewalk/ Just waving at taxis/ Like horses and parades in passing," in which he craftily conveys the resulting stunted growth of this woman.  And when Jurado sings "It's been a long time, a real long time," the pain is palpable.  We love Richard Smokavich's (name and) harrowing harmonica and how it alternates between a wail at moments and, at 2:36, the seeming chug of the train that might carry Jurado's love back to Ohio.  Stunning.
Damien Jurado–Honey Baby
[audio:https://www.thelefortreport.com/blog/wp-content/uploads/04-Honey-Baby.mp3|titles=04 Honey Baby]
Next up is the more musically upbeat pop-rocker, Honey Baby. Despite the rocking backdrop and the leavening love within, even here Jurado can't dismiss his fatalistic concerns about the possibly short-lived love.  You sense he's been burned before in his asking:  "Is this the first time baby, is this the last time, well maybe?" We love the chorus repeat:  "I spent the last night in your room/Kickin these wishes to the moon."
Damien Jurado–Curbside
[audio:https://www.thelefortreport.com/blog/wp-content/uploads/03-Curbside.mp3|titles=03 Curbside]
Finally, in the beautiful ballad, Curbside, Jurado tells an Everyman's coming-of-age love story and brings alive the sense of loss for youth's days and loves that "slowly slipped away."  And when Sarah Shannon joins on the chorus at 1:32 it's as if Damien's lost love is singing along from afar.  Nice touch.  Who among you hasn't hung on the curbside under streetlights when another's "words would amaze"? You can't go back, but at times you can nearly taste the moments.  Ultimately, there is reality:  "Where are you know, you're with another."  Jurado has said that he very rarely plays the song live since he "can't get through a performance of it because it is too personal."  Legit.
We hope you'll check out Rehearsals for Departure and make your way into Jurado's great discography.