The Mountain Goats at Soho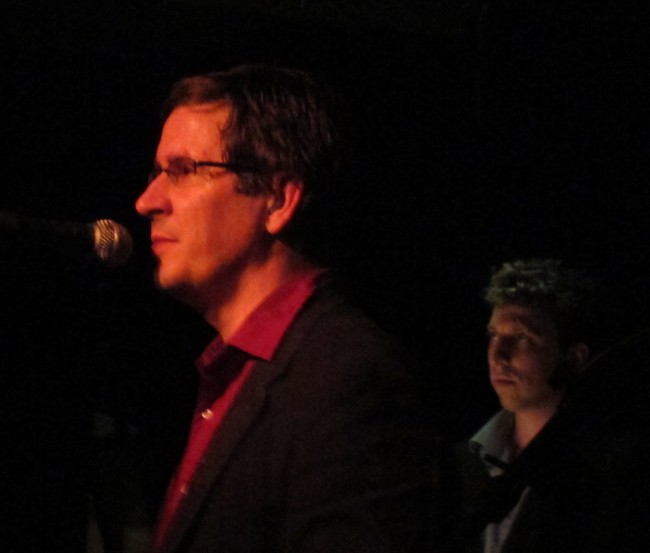 The Mountain Goats came all the way from Durham, North Carolina to Santa Barbara, and despite illness and the ill-conceived absences (without leave) of Santa Barbara's music fans, the band took over Soho and took us to the musical mountaintop.  But we were also deftly guided by voice (leader John Darnielle's) back to the realities of life at sea level (and some depths further below).
The Mountain Goats 0riginally consisted of only John Darnielle, but now have swelled to a whopping three "permanent members" including Peter Hughes on bass and Jon "Funny Man" Wurster on drums (with Yuval Semo added on tour on guitar and piquant piano).  The band has had a cult following for quite some time, but its fan ranks have exponentially expanded since 2002 following album releases such as "Tallahassee," "The Sunset Tree," "Get Lonely," and especially this year's stellar "All Eternals Deck." The Mountain Goats have long been universally lauded by rock critics, with the uber-prolific Darnielle (over 600 songs to date) being hailed as one of America's best lyricists and songwriters.  The New Yorker went so far as to call Darnielle "America's best non-hip-hop lyricist."  We agree, but only if the "non-hip hop" qualifier is removed.  In addition to being well-crafted, Darnielle never fails to hit a heartstring or twenty with his lyrics, which oft-times sing of good and bad family members (his abusive step-father falling into the latter category and finding his way into Darnielle's songs).  And any band Colbert loves is OK by us.
Having never seen the band before, we were a little concerned when they came on at Soho last Friday and Darnielle let us know that he was sick with a fever.  But Darnielle quickly allayed those concerns by slipping into his best "Show Must Go On" guise and giving a particularly strong reading of Liza Forever Minnelli, and continuing to gather momentum and strength thereafter.  Liza Forever Minnelli was a great reminder that Darnielle actually grew up in San Luis Obispo and lived in and attended college in Claremont/Pomona before forming the band and eventually moving to Durham, North Carolina.  In Liza, Darnielle laments his inability to divorce himself from his California upbringing and some of its trappings ("Never get away never get away I am never ever gonna get away from this place").  And as we have grown so sick of the hoary chestnut, we particularly love the line:  "Anyone here mentions 'Hotel California' dies before the first line clears his lips."  Absolutely agreed.
Throughout their set the Mountain Goats vacillated between feverish verve and slow, rending rounds of sound that were carried by Darnielle's impassioned vocals and strident strumming on guitar (despite his fever), Jon Wurster's drilling drumming, and Peter Hughes' subtle bass and harmonies.   Set highlights included San Bernardino, Southwood Plantation Road, Birth Of Serpents, Damn These Vampires, Up with Wolves and Boxcar (Jawbreaker cover).
But the night was rendered revelatory by a few songs in particular.  Darnielle introduced Tyler Lambert's Grave by telling the story of a women who had passed away.  Tyler Lambert was her homeless son who in turn left far too soon.  A poignant song and moment that you can listen to below.  Darnielle has said about the song:  "In 1993 or '94, I wrote a song about Dana Plato, who was then a former child star on a downward slide; her story seemed so sad to me. She died young, a few years later, leaving a son behind. His name was Tyler Lambert, and he took his life last year, and the news stories I read ran a picture of this young man looking like young men often look: full of hope and promise, at the beginning of life. My heart broke for all the pain in that family, and I wrote the song."  You can read more about the song, and it's context and meaning at Seattle Weekly's Reverb blog HERE.  The lyrics follow:
"Steal the last across the country under moonlight soft and wet
And at the dead of night I hear from things you can't forget
spend daylight in dark tunnels where the demons rave
One day closer everyday to Tyler Lambert's grave
Shoplift when you have to, keep your visor low
If your hunger shames you never let them know
Feel your sadness lifting, ride it like a wave
That sets you gently down beside Tyler Lambert's grave
Fall into a pattern, never get unstuck
Anyone who can't relate should thank God for his love

Young man in a yellow tie, hair gel in his hair
No context for the picture, just kind of standing there
Tyler, step outside the shadow of your great catastrophe
Dream all night of freedom, never wake up free"
Also hard hitting were All Eternal Deck's best song, Never Quite Free, and the band's crowd-pleasing "anthems", This Year and No Children.
But the song that most took us aback was Matthew 25:21.  Darnielle explained that this song described the last time he had been in  Santa Barbara (having flown across country to visit his mother-in-law in her last, cancer-ridden days).   Check out the lyrics and a performance of the song below (in the video Darnielle noticeably cracks at the word "cancer").  As he sang it at Soho, there was not a dry eye in the place (and particularly not in our 24″ x 24″ floor space).  These are the places where heart and art rarely meet.
"They hook you up
To a fentanyl drip
To mitigate the pain a little bit
I flew in
From Pennsylvania
When I heard the hour was coming fast
And I docked in Santa Barbara
Tried to brace myself
You can't brace yourself
When the time comes
You just have to roll with the blast
And I'm an eighteen-wheeler headed down the interstate
And my brakes are going to give
And I won't know till it's too late
Tires screaming when I lose control
Try not to hurt too many people when I roll
Find the Harbor Freeway
And head south
Real tired
Head kind of light
I found Telegraph Road
I'd only seen the name on envelopes
Found the parking lot
And turned right
I felt all the details
Carving out space in my head
Tropicanas on the walk way
Neon red
Between the pain
And the pills trying to hold it at bay
Stands a traveler going far away
And I'm an airplane tumbling wing over wing
Try to listen to my instruments
They don't say anything
People screaming when the engines quit
I hope we're all in crash position when we hit
And at last came to your bedside
And as it turns out
I'm not ready
And then as though
You were speaking through a thick haze
You said hello to me
We all stood there around you
Happy to hear you speak
The last of something bright burning
Still burning
Beyond the cancer and the chemotherapy
And you were a presence full of light upon this earth
And I am a witness to your life and to it's worth
It's three days later when I get the call
And there's nobody around to break my fall"
And of course we would be remiss to not include the passage from the song's title:
"His master replied, 'Well done, good and faithful servant! You have been faithful with a few things; I will put you in charge of many things. Come and share your master's happiness!'"
We would also be remiss if we didn't give a little "pep-talk" at this point to Central Coast music lovers. Look people, the Mountain Goats packed the Fillmore in San Francisco and the El Rey in LA just days before they played Santa Barbara.  Where were you SB?  You don't want to get a reputation as a weak musical place packed with old people (and their parents) that don't attend great concerts do you?  Let's go!
Check out some other great examples of the band live below, and the Soho setlist way below.
JOHN DARNIELLE | Autoclave — A Take Away Show from one shot seattle on Vimeo.
Mountain Goats – Woke Up New (Directed by Rian Johnson) from rcjohnso on Vimeo.
Soho Setlist:
Liza Minnelli Forever
Jeff David County Blues
Estate Sale Sign
San Bernardino
Southwood Plantation Road
Quito
Birth Of Serpents
Tyler Lambert's Grave (With Yuval)
•solo•
Color In Your Cheeks
Going to Cleveland
You Were Cool
Up The Wolves
Matthew 25:21
•Full Band•
Damn These Vampires
Broom People
Age Of Kings
Prowl Great Cain
Never Quite Free
This Year
•Encore•
Boxcar
No Children
Opening for the Mountain Goats were Durham, North Carolina's Midtown Dickens, who played with alternating composure and frenzied abandon, and whose energy and harmonies tickled the dickens (both the midtown, but also the upper eastside portions) out of us.  Check 'em out below at Soho.