Jess Walter's "Beautiful Ruins"–a Beautiful Read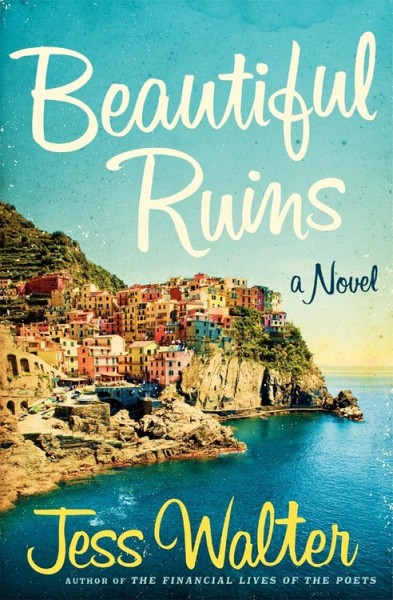 It's been a long time since we took time to tout a tome.  It's not like we've stopped reading, but there just simply aren't enough posts in a day (reasonable minds may differ). Simply put, Jess Walter's most recent book, Beautiful Ruins, is the most enjoyable read we've had in quite some time.  If you need a great novel to finish out the summer's days, this is it.
Jess Walter is an award-winning storyteller (Citizen Vance, The Zero) who is facile in all genres, including non-fiction.  But with Beautiful Ruins, he's outdone himself.  Walter introduces us to a dozen characters whose lives are, knowingly and unknowingly, intertwined over a span of 70 years, ranging from a dying actress and Richard Burton on a movie set and elsewhere in Italy in 1962, to an Italian innkeeper, to a Hollywood producer, to the producer's idealistic assistant, to a heartbroken World War II veteran.  Together with their spouses, lovers, progeny and friends, Walter weaves a tale of success, failure, heartbreak, resignation and resolve.  You know:  life.  In the course of doing so, Walter uses every literary trick in the proverbial book to capture the human condition, though all in service of the story and never merely for show.  Early on, the chapters alternate between the various eras to great effect.  Eventually Walter uses virtually all literary tropes available to tell the tale:  poetry, short story, movie pitch-piece, memoir, play, screenplay…they're all there.  And all are used in service of the captivating storylines.  If it sounds at all mechanical, it is not.  The highly entertaining pages fly by.  Walter is at his best capturing conversation and using pathos and bathos (some of Burton's lines had us laughing aloud) to illumine the characters and their interlaced lives.  And he does it so well and so deftly that you won't realize how entertained you've been in the process.
We will be shocked if, as a result of this must-read novel, Walter doesn't take home many of the literary prizes available for 2012.