Watch Destroyer's Official Video for "Bye Bye" Off Impending "Five Spanish Songs" EP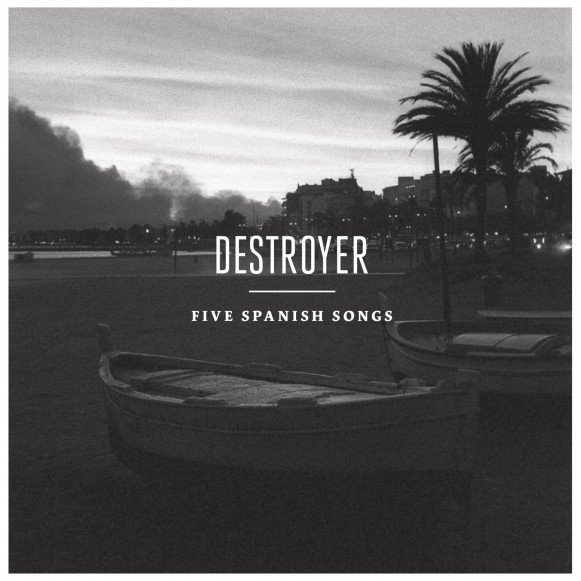 Destroyer and its leader Dan Bejar (also of The New Pornographers) are amongst our long-standing favorites. It's been nearly three years since the band released its last, masterful album Kaputt, which was our No. 3 Best Album of 2011. Bejar's melodies and world-weary vocals (reminiscent in ways of Bowie and the late, great Lou Reed) always win us over.
Destroyer recently announced that they will release their Five Spanish Songs EP on December 2, 2013 on Dead Oceans (in Europe) and Merge (US).   The new EP consists of songs written by Spanish musician Antonio Luque of the band Sr. Chinarro and features Nicolas Bragg, David Carswell, John Collins (also of The New Pornographers), Stephen Hamm, and Josh Wells (also of Black Mountain, Lightning Dust).
About the new release, Bejar writes, "It was 2013. The English language seemed spent, despicable, not easily singable. It felt over for English; good for business transactions, but that's about it. The only other language I know is Spanish, and the only Spanish songs I really know are those of Sr. Chinarro, led by Antonio Luque. I've been a decades-long fan of how he conducted his affairs, his strange words, his melodies that have always felt so natural (this is important), his bitter songs about painting the light. Something about them, I knew I could do it…"
Today the band has released the first official video for song Bye Bye from the EP.  Watch below as Bejar strums tranquilly and sings in a pastoral setting while watching and eating chickens (for the record: not alive while eaten).  After watching the video, you can listen below it to another, decidedly different song from the EP, El Rito.
Destroyer (Bejar solo, backed by other bands as listed at bottom) is out on tour now in the US (including at the Masonic Lodge at Hollywood Forever Cemetery tonight and tomorrow night), and Bejar will go on a solo tour in Europe in support of the EP in December.
TOUR DATES:
11/05-06 – Los Angeles, CA – The Masonic Lodge at Hollywood Forever *
11/07 – Chicago, IL – Old Town School of Folk Music ^
11/08 – Winnipeg, Manitoba – Park Theatre
11/09 – Toronto, Ontario – The Great Hall *
11/10 – New York, NY – Bowery Ballroom *
11/11 – Washington, DC – Sixth & I Historic Synagogue *
11/12 – Philadelphia, PA – Johnny Brenda's *
11/13 – Allston, MA – Brighton Music Hall *
11/14 – Montreal, Quebec – II Motore *
11/20 – Denver, CO – Larimer Lounge
11/21 – Columbus, OH – Wexner Center
* with Pink Mountaintops
^ with Azita
Bejar Solo:
12/1 – Le Guess Who? Festival, #Utrecht (NL)
12/2 – Bush Hall, #London (UK)
12/3 – Jazzhouse, #Copenhagen (DK)
12/4 – Skwer, #Warsaw (PL)
12/5 – Hau1, #Berlin (GER)
12/6 – Musicbox, Lisbon (POR)
12/7 – CCVF, Guimaraes (POR)
12/9 – Sala Apolo, Barcelona (ES)
12/10 – Gazteszena, San Sebastian (ES)