Watch The National on Fallon's Tonight Show and at BBC Music Festival–On SNL This Saturday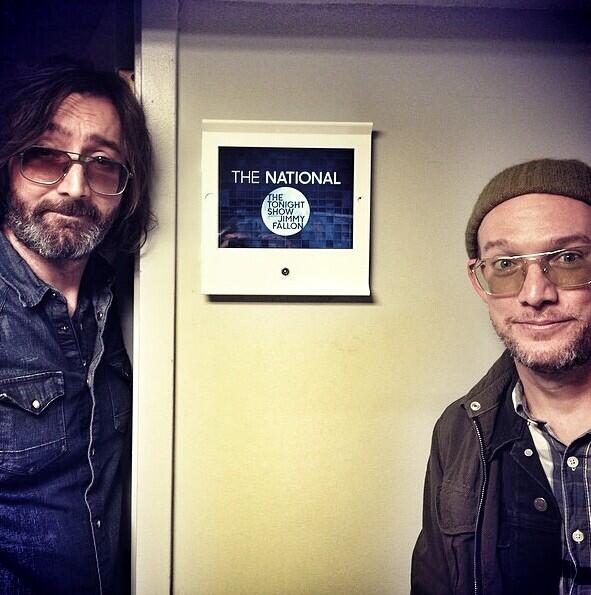 This has been and will continue to be a fully Nationalized week.  The boys have been getting around, still in support of 2013's Album of the Year, Trouble Will Find Me, on 4AD.
After they headlined last weekend in Manchester, England at the inaugural BBC 6Music Festival, on Tuesday we caught the band's concert and showing of Tom Berninger's engaging/entertaining documentary Mistaken For Strangers at the Shrine Auditorium in LA, last night they appeared on The Tonight Show Starring Jimmy Fallon, and this Saturday will be the musical guest on Saturday Night Live (a repeat of their great showing earlier this month).  Whew.  Jet.  Setting.  We assume all is merely preparation for their most important concert date, their first headlining of the Santa Barbara Bowl on April 24th (get tickets HERE).
Despite the sound, size and squalor of the otherwise beautiful Shrine, the band put on a fantastic show in LA on Tuesday.  We trust that after this week, they will rest up and come to the Santa Barbara Bowl invigorated and throwing hard like the hallowed that have come before them (Bob Marley, The Band, Joni Mitchell, etc.).  To get a feel for The National, check out below their superb performance of This Is the Last Time on The Tonight Show last night.  The supplemental string quartet added vigor and spectrum to their already full sound.  Afterwards, you can watch their whole performance at the BBC 6Music Festival HERE, and check out their vilifying version of Graceless below.  We can't wait for April 24th.