Watch Elbow's New Video for "My Sad Captains" from New Album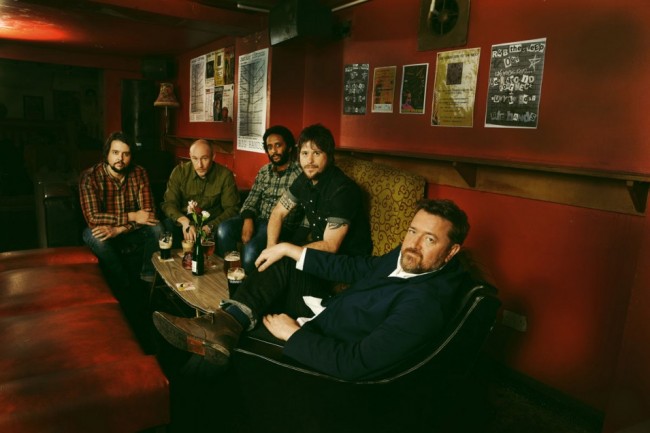 Brit super-band Elbow has today released its subtly-affecting official video for My Sad Captains from their fantastic new album, The Take Off And Landing of Everything.  Watch below and listen for the horns heralding one of the outstanding "One Day Like This" moments on the new album (the other being New York Morning), with its building handclaps and Shakespearean allusions.  What a waste of perfect time indeed.  Here's to all our pals of yore and 'morrow!
Before headlining (yet again) at the Glastonbury Festival in June, the band is coming to America next month (see tour dates at bottom) for a scant twelve dates, and we can't wait to catch them on that special day, May 28th, at The Wiltern in LA, and hear Guy Garvey sonorously deliver My Sad Captains.  Without doubt the show will be one of the highlights of this concert year.  We only pass this way once.
The song's lyrics follow the video.
"I'm running out of miracles
Oh my soul
And the streets are lined with one-man shows
Oh my soul
Corner boys were moved along
Oh my soul
We're plummeting like crippled crows
Oh my soulOh, long before
You and I were born
Others beat these benches with their empty cups
To the night and its stars
To be here, and now, and who we areAnother sunrise with my sad captains
With who I choose to lose my mind
And if it's all we only pass this way but once
What a perfect waste of timeThe BMX apothecary
Oh my soul
The architect of infamy
Oh my soul
For each and every train we miss
Oh my soul
A bitter little Eucharist
Oh my soulOh, long before
You and I were born
Others beat these benches with their empty cups
To the night and its stars
To be here, and now, and who we areAnother sunrise with my sad captains
With who I choose to lose my mind
And if it's all we only come this way but once
What a perfect waste of timeAnother sunrise with my sad captains
With who I choose to lose my mind
And if it's all we only pass this way but once
What a perfect waste of timeAnother sunrise with my sad captains
With who I choose to lose my mind
And if it's all we only pass this way but once
What a perfect waste of timeWhat a perfect waste of time"
11TH MAY – WASHINGTON, DC, 9:30 CLUB –
SOLD OUT
12TH MAY – BOSTON, MA, ROYALE NIGHTCLUB –
SOLD OUT
13TH MAY – PHILADELPHIA, PA, ELECTRIC FACTORY –
TICKETS
16TH MAY – NEW YORK, NY, WEBSTER HALL –
SOLD OUT
17TH MAY – TORONTO, ON, DANFORTH MUSIC HALL –
SOLD OUT
19TH MAY – CHICAGO, IL, HOUSE OF BLUES –
SOLD OUT
20TH MAY – MINNEAPOLIS, MN, FIRST AVENUE –
TICKETS
23RD MAY – VANCOUVER, BC, COMMODORE BALLROOM –
SOLD OUT
24TH MAY – PORTLAND, OR, WONDER BALLROOM –
SOLD OUT
25TH MAY – QUINCY, WA, SASQUATCH MUSIC FESTIVAL –
TICKETS
27TH MAY – OAKLAND, CA, THE FOX THEATER –
TICKETS
28TH MAY – LOS ANGELES, CA, THE WILTERN –
TICKETS
Top photo by Tom Sheehan