Watch Courtney Barnett Perform Songs and Cover Lou Reed (with Billy Bragg) on WFUV, RocKwiz and Nowness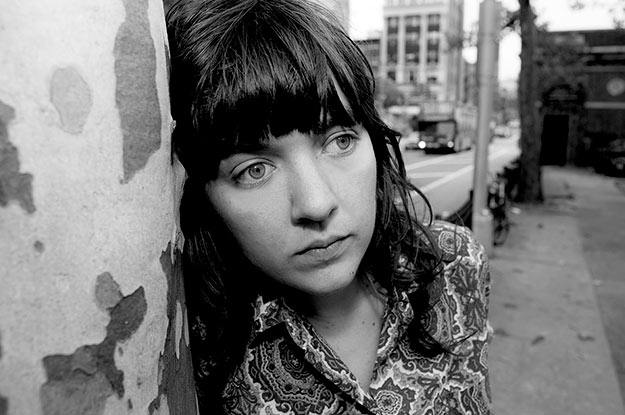 As mentioned repeatedly on these pages, we are huge fans of Melbourne's upstart artist Courtney Barnett.  Her staccato delivery of deadpan, well-wrought lyrics is a refreshing change borne of Lou Reed/Velvets/Dylan/Pavement influences (in other words: the best there is).   All the while during her current tour, we've been receiving rave reviews from afar of Ms. Barnett's and her band's sets as openers for Phosphorescent.  If you've missed any of those dates, all remaining tour dates are listed below.  Get 'ye there.
To give you a feel for what you've/we've been missing, WFUV has today released two rousing performances by Barnett and trio performing tracks David and Avant Gardener (sorry for the multiple vantages of the latter, but it bears repeating) off of her fantastic The Double EP: A Sea Of Split Peas.  Check 'em out below.
Afterwards, watch as Barnett and the illustrious Billy Bragg perform Velvet Underground's/Lou Reed's Sunday Morning on the awesome Aussie TV show, RocKwiz.  And finally at bottom, watch Barnett's Nowness/Yours Truly session (get the picture? barn and Barnett?) where she performs Ode to Odetta and scrabbles regarding Los Angeles appearing to be one big movie set.  Yeah.  So?
Courtney Barnett is a bright new talent on the scene, and with any justice she will take over the world's airwaves.  Elle est tres charmant, non?  Oui!  Bien sur.
North American Tour Dates /
06.12.14 – Georgia Theatre – Athens, GA *
06.14.14 – Music Hall Of Williamsburg – Northside Festival – Brooklyn, NY **
06.15.14 – The Surf Lodge – Montauk, NY
06.17.14 – Bowery Ballroom – New York, NY **
06.18.14 – The Sinclair – Cambridge, MA **
06.19.14 – Firefly Festival – Dover, DE
06.20.14 – 06.22.14 – Silver Dollar – NXNE Festival – Toronto, ON
06.24.14 – Varsity Theater – Minneapolis, MN **
07.01.14 – Larimer Lounge – Denver, CO ^^
07.02.14 – Urban Lounge – Salt Lake City, UT ^^
07.04.14 – Fortune Sound Club – Vancouver, BC ^^
07.05.14 – Neptune – Seattle, WA ^
07.07.14 – The Triple Door – Seattle, WA
07.30.14 – Schubas Tavern – Chicago, IL
08.01.14 – Lollapalooza – Chicago, IL
08.02.14 – Osheaga Festival – Montreal, QC
08.03.14 – Pickathon Festival – Happy Valley, OR
08.07.14 – Casbah – San Diego, CA
08.08.14 – Pappy and Harriets – Pioneertown, CA
08.08.14 – 08.10.14 – Outside Lands Festival – San Francisco, CA
11.07.14 – Fun Fun Fun Fest – Austin, TX
* w/ Phosphorescent
** w/ Benjamin Booker
^ w/ Sharon Van Etten
^^ w/ Your Friend