It's Spoon Week: Watch Full Performance on KEXP and Attend Hollywood Forever Cemetery Show This Friday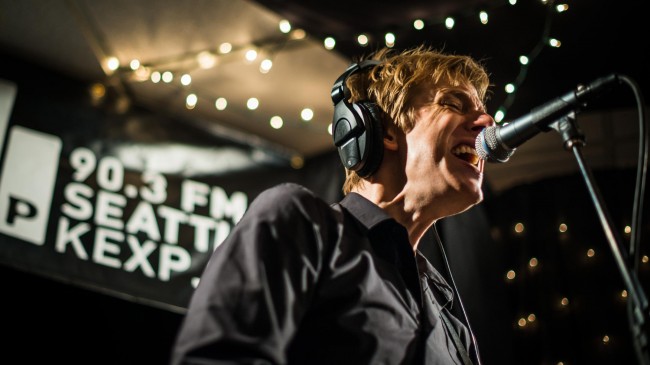 In these attention-deficit days during which pixels and pronouncements fly by un-apprehended, four years can be a millennium in the life of a rock 'n roll band.  So forgive us if we had briefly forgotten the importance of the band Spoon.  They are simply one of the great (indie) rock bands extant and have been so for 20 years (we've been fans since we first caught them opening for Guided By Voices in SF in 1996).  It had been four years since they released their last proper album, but this week the band finally dropped its outstanding new, Dave Fridmann produced album They Want My Soul (you can buy it HERE).  The new album was well worth the wait and deserves your undivided attention.
Spoon is out on tour now in support of the new album (check the dates HERE), including what should be one of the LA shows of the year this Friday at the Hollywood Forever Cemetery (sold out, though tickets are available at the usual sources–just be aware that if you buy second-hand tickets, you will not get in at HFC unless you go in with the original purchaser that has ID).  They also played the Tonight Show on Monday and opened for Arcade Fire in San Diego last night.
For those that can't make the HFC show or other dates on their tour, we thankfully have the nine-song, in-studio set to view below via KEXP.  During the set, the band mixes it up with a few superb songs off of They Want My Soul and some older songs.  Superb performances all, with their trademark guitar-crunch (Gang of Four-influenced), and smirks and snarls.  The setlist is below.  Enjoy.
Knock Knock Knock
Rent I Pay
Who Makes Your Money
Rhthm & Soul
The Ghost of You Lingers
Rainy Taxi
Small Stakes
Metal Detektor
Got Nuffin