Listen to Courtney Barnett's Great New Song "Depreston"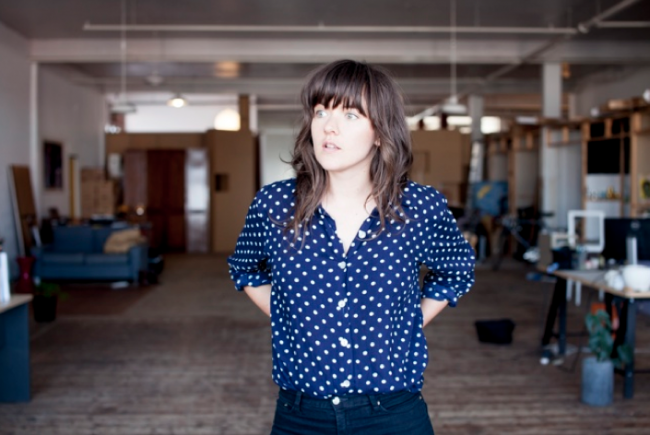 Last year we fell hopelessly in love with the music of Courtney Barnett.  Her song Avant Gardener was easily one of the Best Songs of 2014.
Barnett recently announced the release of a new album entitled, Sometimes I Sit And Think, And Sometimes I Just Sit, to be released on March 23rd.  Never to sugar-coat things, we were not overly impressed by the first sample from the album, the punkish track Pedestrian At Best.  But thankfully all is good again in Barnett-world with the release of the acutely-finessed new song Depreston.  Check it out below as it chugs along with Barnett's wistful lyrics.  And as always, Barnett gets heart-achingly personal and incisive, and lulls you further in with the coda's repeated mantra.  It's what she does so well.  We can't wait for the new album!
Barnett is soon out on tour, and you can see the dates at bottom.
The song's full lyrics are below the video.
"You said we should look out further,
I guess it wouldn't hurt us.
We don't have to be around all these coffee shops.
Now we've got that percolator,
never made a latte greater.
I'm saving twenty-three dollars a week.
We drive to a house in Preston,
we see police arresting
a man with his hand in a bag.
How's that for first impressions?
This place seems depressing.
It's a "Californian bungalow in a cul-de-sac."
It's got a lovely garden,
a garage for two cars to park in
("or a lot of room for storage if you've just got one").
And it's going pretty cheap you say?
"Well it's a deceased estate…
aren't the pressed metal ceilings great?"
Then I see the handrails in the shower,
a collection of those canisters for coffee, tea and flour,
and a photo of a young man in a van in Vietnam.
And I can't think of floorboards anymore,
whether the front room faces south or north,
and I wonder what she bought it for.
(If you've got a spare half a million, you should knock it down and start rebuilding)"
03-07 Meredith, Australia – Golden Plains Festival
03-08 Launceston, Australia – A Festival Called Panama
03-17-18 Austin, TX – South By Southwest
03-25 Paris, France – Le Divan Du Monde $
03-27 Brighton, England – Concorde 2
03-28 Bristol, England – The Fleece
03-29 Leeds, England – Brudenell Social Club
03-30 Sheffield, England – The Leadmill
03-31 Newcastle Upon Tyne, England – Newcastle University
04-02 Glasgow, Scotland – Art School
04-03 Manchester, England – Gorilla
04-04 Dublin, Ireland – Whelan's
04-05 Nottingham, England – Bodega
04-07 Cambridge, England – The Junction
04-08 Norwich, England – Waterfront
04-09-10 London, England – Electric Ballroom
04-12 Berlin, Germany – Heimathafen
05-01 Adelaide, Australia – The Gov @
05-02 Perth, Australia – The Bakery @
05-08 Sydney, Australia – The Metro @
05-09 West End Qld, Australia – The HiFi @
05-15 Melbourne, Australia – The Forum @
05-18 Boston, MA – The Sinclair *
05-19 New York, NY – Bowery Ballroom *
05-20 New York, NY – Bowery Ballroom *
05-21 New York, NY – Bowery Ballroom *
05-23-25 George, WA – Sasquatch Festival
05-27 Morrison, CO – Red Rocks #!
05-29 Napa, CA – Bottle Rock Napa Valley
05-30-31 Los Angeles, CA – The Roxy Theatre *
06-02 San Diego, CA – Casbah *
06-05 Austin, TX – The Mohawk *
06-06 Dallas, TX – Club Dada *
06-07 New Orleans, LA – One Eyed Jacks *
06-09 Atlanta, GA – Vinyl *
06-10 Cary, NC – Koka Booth Amphitheater $
06-11 Manchester, TN – Bonnaroo Music Festival
06-13 Washington, DC – 9:30 Club *
06-15 Philadelphia, PA – Union Transfer *
06-18 Kansas City, MO – Uptown Theatre ^
06-19 Pemberton, British Columbia – Pemberton Music Festival
07-19 Chicago, IL – Pitchfork Music Festival
07-24 Oro Medonte, Ontario – WayHome Festival
07-25 Newport, RI – Newport Folk Fest
08-12 Oslo, Norway – Oya Festival
08-13 Gothenburg, Sweden – Way Out West Festival
08-22 Biddinghuizen, Netherlands – Lowlands Festival
@ with Teeth & Tongue
$ with Sallie Ford
* with Chastity Belt and Darren Hanlon
# with Spoon
! with The Decemberists
^ with Belle & Sebastian
$ with Alabama Shakes