A Must See: Jose González's Compelling Tiny Desk Concert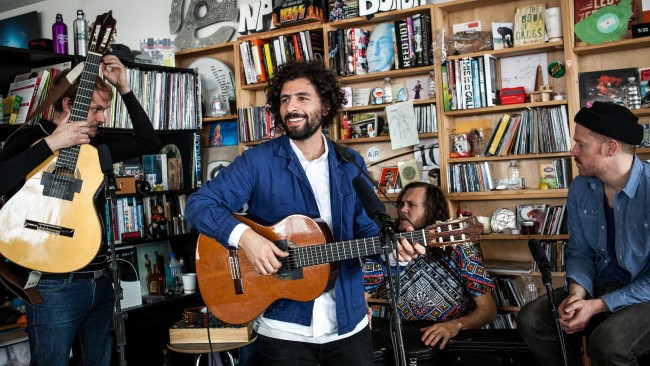 Until we finally gave his music its due attention a few years back, we couldn't fully comprehend the depth, beauty, sagaciousness and humility in the music of Sweden's Jose González, whether solo or as a part of his fine ensemble Junip (watch a live sample of the latter below). You too might need some more time and a good introduction to González too. We can't think of a better intro, with his ever-present nylon-stringed guitar and international backers, than the Tiny Desk Concert released today by NPR.  Throughout his oeuvre, González  asks (and attempts to answer) big questions and calmly cajoles the listener to contemplate bigger issues.  Put another way:  you probably won't hear González's songs covered on Modern Country Radio.
His latest album, Vestiges & Claws, continues his superb string of recent solo and Junip albums, and is a must for your collection.  Watch below as González and fine supporters perform three gems of the new album, including With The Ink of A Ghost (see the worthy lyrics at bottom), which González recently dubbed his favorite song.  On this song, in particular, the ensemble delivers superb harmonies (at times realizing the unrealized promise of the Fleet Foxes, at others sounding like the finest touchstone, Simon & Garfunkel).  They close with one of our favorite songs of 2015 so far, Every Age.  It's all not-so-simply mesmerizing.
González is currently out on a sold out tour including tonight and tomorrow in Los Angeles.
Set List:
Open Book 0:00
With The Ink Of A Ghost 3:03
Every Age 8:49
"Idle as it seemed
Trudging through the mist
Following the creeks
Erasing dim lines on the list
Eager to arrive
Leaving footprints in the clay
Reading rocks and vines
Telling indigo from grey
Telling indigo from grey
Scattered rays of light
On dust grains in the air
All berries in the tree
Earn a steady flare
Among the mirrors of the scene
Some appear frail and incomplete
In a vast field of bales she runs
From the deepest valley past the sun
Opening up the vault
To find spinning tops in play
Embedded nested yarn
Diverting from the gates
But once the faint elusive moans
Evaporate in the morning light
All deserted yearnings come to life
Surface from the dark to realize
How in a vast field she runs
From the deepest valley past the sun
All this time
Witness to the changing tides
All the while
Finding ways how to make sense of all the lights
To shake the winds
To shake the currents and the rigid hives we're living in
All this time
Witness to the changing tides
Idle as a wave
Moving out at sea
Cruising without sound
Molding what's to be
Serene between the trails
Serene with the time and ink of a ghost"