Watch Janelle Monae Stretching Her Talents on Jimmy Fallon Show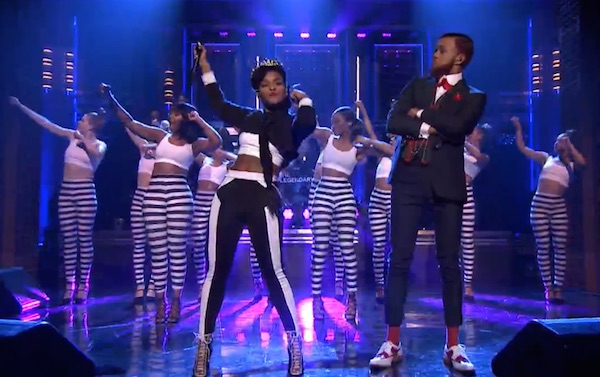 Whoa…it's been a crazy-busy time with all sorts of stuff goin' down.  Chief amongst the "entertainment stuff" going down is David Letterman's retirement after tonight's last show of his 30+ year rein. Dave's had a gaggle of great guests on the past few weeks in particular (the high point being the inimitable Tom Waits last week). And all the while the other talk show host have been paying tribute to Dave (Jimmy Kimmel's choked-up tribute last night was sweet) and plying their wares.
For example, on Monday night Jimmy Fallon had on the highly entertaining Janelle Monae.  We've been touting Monae since 2010 so it's great to see her finally getting her due and scoring big.  On Fallon, with superb support from The Roots and her pal Jidenna, she simply took over the studio and scintillated with her new track Yoga.  The song is as catchy as SARS and, to our ears, takes a page out of M.I.A.'s estimable songbook.
Check it out and if you want more, watch her desk-stomping performance on the Letterman Show in 2013 HERE.
After the Fallon vignette, check out the official video for Yoga.