Watch Julia Holter's New Video for Masterful Song "Sea Calls Me Home"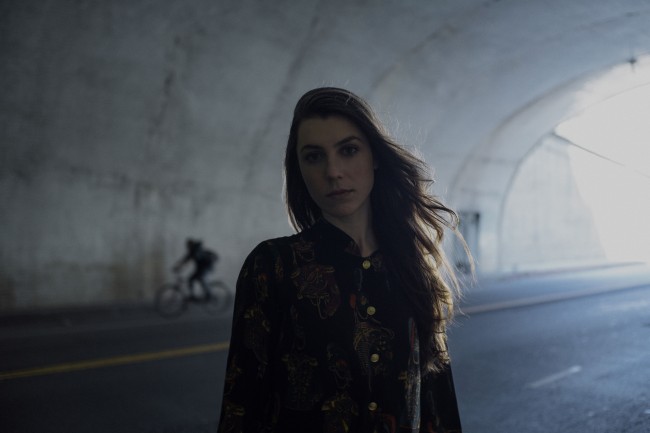 At last–some great new music!  Today Julia Holter dropped her new video for savory song Sea Calls Me Home off of her impending album Have You In My Wilderness, one of our most highly anticipated albums this season.  Like prior song/video Feel Free,  Sea Calls Me Home draws you in immediately with its complex, but comforting, melodies and searching lyrics (see below video).  More so than the songs themselves, the videos seem to speak to everyday consolations (a pet or the salty escape of a familiar ocean-scape) that can help point us back "home" as we wonder [sic] about this world.
With its harpsichords, bass-tones and heavenly harmonies, Sea Calls Me Home recalls the shimmering Beach Boys' compositions circa Holland (high praise in our book–highly recommended to the uninitiated). Later in the song, whimsical whistling is unhinged by honking horns and strutting strings that lead into the cove of the treacly coda: "I hear small words from the shore, no recognized pattern."  We may not find what we're looking for, but the familiar may provide the framework needed to reach and resolve.  A masterful use of 2:57 in song.  Brava!
Check the song/video (with its California sea-scenes) out below, and go HERE to pre-order Ms. Holter's Have You In My Wilderness. You won't regret it.
Sea Calls Me Home
"I don't need no one to follow, feathers full
Get up early just to charm unawakened souls
when the sea called me home
I can't swim. It's lucidity. So clear!
It's no wonder they're shipping all my clothes
Wear the fog, I'll forget the rules I've known
Look in cloud's mirror,
when the sea calls me home
I can't swim. It's lucidity. So clear!
I hear small words from the shore
No recognized pattern"
Photo above by: Tonje Thilesen