Great Music Moments on TV–Watch Red Hot Chili Peppers on David Sanborn's "Night Music" Show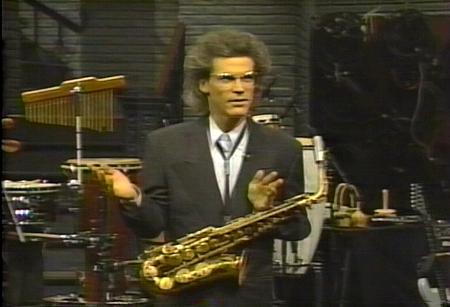 After Merle Haggard's passing yesterday, we ventured down the nostalgia hole for a bit. While plunging, we recalled some of the great musical shows on television over the years (Elvis Costello's sadly-defunkt Spectacle, Later…with Jools Holland, 120 Minutes, Austin City Limits, Soul Train, The Johnny Cash Show, all the talk and awards shows, etc.) and many of the fantastic musical performances thereon (Tom Waits on Fernwood, The Mike Douglas Show and Letterman, Warren Zevon on Letterman, Jesse Winchester on Spectacle, The Clash and U2 on The Tom Snyder Show,  etc.).
We had almost forgotten David Sanborn's (and Jools Holland's) Night Music show that ran from 1988-89. Like Costello and Holland, Sanborn had impeccable taste in musical guests. During its too-short tenure, Night Music featured musical giants such as Miles Davis, Dizzy Gillespie, Pharaoh Sanders, Lou Reed, Todd Rundgren, Pere Ubu, Mary Margaret O'Hara, Leonard Cohen, and Curtis Mayfield.
But the most memorable performance on Night Music happened when Sanborn brought on and played with the then-ascendant Red Hot Chili Peppers. At the apex of their creative arc, RHCP performed an incendiary, funkified Subway to Venus on the show. Watch below as Sanborn prepares the audience for the onslaught, and then the band meets and raises the warning. Check out the ripping RHCP players, which that night included the great sax players John Lurie (Lounge Lizards) and Sanborn.  Watch as Anthony Kiedis inflects and stalks in fine form, Flea (in stuffed-animal pants–natch) plays like the jazz-funk boss he is, John Frusciante rages on guitar (his solo at 4:02 slays), and Chad Smith proficiently rages on drums (not to mention the sax playing of Lurie and Sanborn). It was outrageous and a performance for the ages, but the capper would come at the end with Kiedis's backwards handstand-walk into Frusciante mid-solo, all as culminated by Flea's primal-scream closing. How could it not be all downhill from there? Too good.