On Sunday: Watch Andrew Bird Perform "Capsized" and "Roma Fade" on KCRW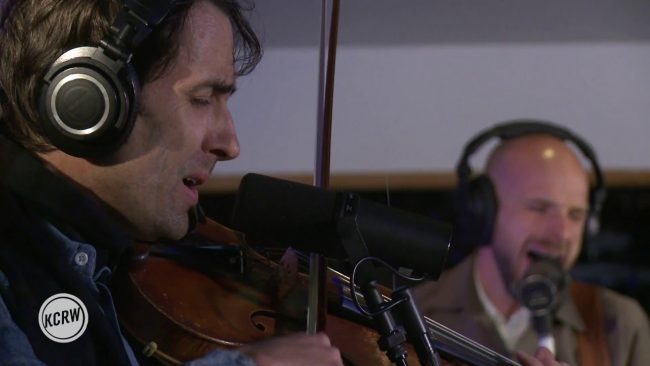 Regrets, we've had a few more. We've never managed to catch the gifted singer-songwriter Andrew Bird live and couldn't connect this go-'round either. To stave off any similar regrets watch the multi-talented Bird and great band on KCRW perform Capsized, a great break-up song off his recent album Are You Serious. This is an inspired version that sounds less like Bill Withers than the recorded version.
About the song (lyrics below), Bird wrote, "I wrote a version of the song 15 years ago but certain lines came following a breakup years ago where I kind of walked out of our apartment and wasn't coming back. It was a Saturday night in Chicago. It was a strange time. I just felt like I had a target on my head." And about the Jesus verse, Bird wrote, "'Jesus Is A Dyin' Bed-Maker' is a spiritual song from the 20's by Charley Patton (listen at bottom). I was really struck by that line. A lot of those old spirituals have somewhat cryptic or violent imagery to it. The line is meant to be comforting, but it's saying death is your only comfort. So it's a pretty sorry attempt at comfort, I guess."
While we're at it, check out the additional KCRW performance of the driving, pizzicato Roma Fade (a song about meeting his wife and partially inspired by a drive on the 5 from LA to San Francisco–who does that? Stay on the 101!).
Go pick up Are You Serious HERE.  Bird will kick off another leg of his tour at Bumbershoot in early September.  Check out all the dates HERE.  No mo' Cali, however.
Capsized:
"Now when you wake up
Night's falling someone is by your side
Pull it together, darling you're not alone
But when you break up
Sky's falling, no one is on your side
Spoon dirty laundry, darling you're all alone
And when you wake up, another sunrise
Another break up, this ship is capsized
And when you wake up, another sunrise
Another break up, this ship is capsized
Just keep your lamp on
Now he's a dyin' bed maker
He's a dyin' bed maker Jesus gonna make my…
It's a holy ghost, holy ghost religion
It's a holy ghost religion Jesus gonna make my…
And when you wake up, another sunrise
Another break up, this ship is capsized
And when you wake up, another sunrise
Another break up, this ship is capsized
And when you wake up
Night's falling, someone is by your side
Pull it together, darling you're not alone
But when you break up
Sky's falling, no one is on your side
Spoon dirty laundry, darling you're all alone
Spoon dirty laundry, darling you're all alone
Spoon dirty laundry, darling you're all alone
And when you wake up, another sunrise
Another break up, this ship is capsized"