Watch the Multi-Talented Margaret Glaspy's "Emotions and Math" Video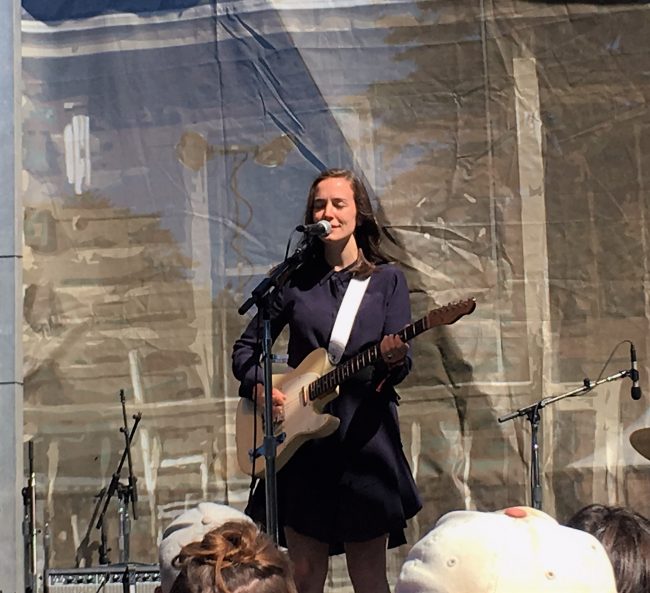 Superb singer/songwriter/gifted-guitarist Margaret Glaspy is getting lots of deserved attention these days. Her deft new debut album Emotions and Math is receiving due acclaim, oracles are proclaiming her a Best New Artist, and she's been featured in a popular NPR Tiny Desk Concert.
We've featured her before, but for a quick primer on Glaspy check out below her new video for the title song from her album. Like many of Glaspy's songs, there's a nimble melody, well-honed lyrics, adroit vocals and artful and tasteful guitar-playing. It's a winning concoction that we can't help going back to. The song Emotions and Math smartly surveys life apart from loved-ones, and the video features a love-lorn Glaspy at a desk job, pinning up mementos (including a "Santa Barbara" mini-sombrero knick-knack–Glaspy recently played here), counting down days until reuniting, and incapable of staying focused on her job. Great stuff from Glaspy and director Claire Vogel.
Glaspy was one of our favorite performers at this year's Hardly Strictly Bluegrass Festival in San Francisco, where she wowed the crowd with her sultry vocals and vivid guitar playing. She's out on a world tour now (see dates HERE), and you can bet she's got emotions and doing the math while away. Catch her if you can.
And do yourselves a favor and go buy Emotions and Math HERE.