Watch Broken Social Scene's Commanding Performance of Uplifting "Halfway Home" on Colbert's Late Show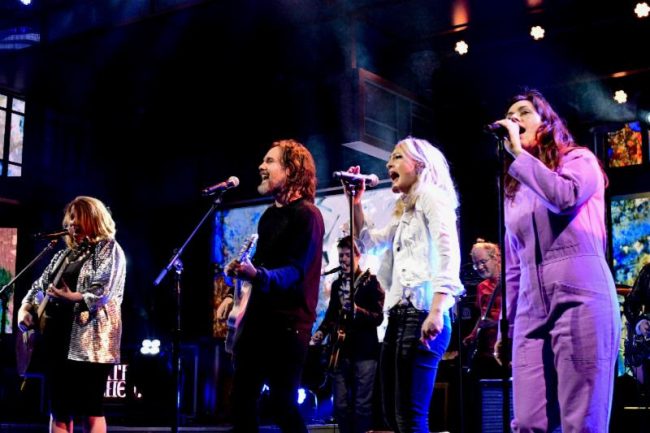 Broken Social Scene yesterday released their first new song in seven years, Halfway Home. The song (easily our Song of the Week) is a powerful and propulsive resurrection of the band's signature sounds, teamed with uplifting lyrics and resounding chorus. It's been a long wait, but the new song is a tour de force return from this Canadian collective. As Drew says at song's start: "Turn it up!!"
Leader Kevin Drew said this week in a SiriusXMU interview: "It's been 17 years together as a band, and you just pick up where you left off. It's always been that way. We've been working on this album on and off for the last year, and we thought that, since we're an anthemic band, we wanted to bring the celebration with this first song. We wanted this to be unity, and we wanted this record to be all of us. And that's what it is. At this time and in the state of the world as it is, the one thing we knew we could do is come back as friends. It was important for all of us to come together because it's the only thing we can politically do at this moment in time." Amen!
Last night the thirteen-member band (including four horns) took over Colbert's Late Show studio and performed Halfway Home. The electrifying performance included band members Kevin Drew, Brendan Canning, Justin Peroff, Andrew Whiteman, Charles Spearin, Sam Goldberg, Ariel Engle (purple jumpsuit), Metric's Emily Haines (white jacket) and Jimmy Shaw, Stars' Amy Millan (silver jacket) and Evan Cranley, David French, and Dave Hodge. The only person missing was Leslie Feist, who's busy readying her own new album for release. Maybe next time.
On Colbert, the joyful interplay, first between Engle and Haines, and then between Engle and Millan, interlaced with the vocals and chants of Drew and Haines, is simply infectious. And that chorus!
Drew closed out the performance by reminding: "Friendship, ladies and gentlemen, friendship!" Indeed.
You can stream Halfway Home on Spotify – http://spoti.fi/2nRTwGS or download it on Apple Music – http://apple.co/2nmyeNU