Aldous Harding Releases Playfully Apocalyptic Video–Coming to The Echo in LA Tomorrow Night (6/22)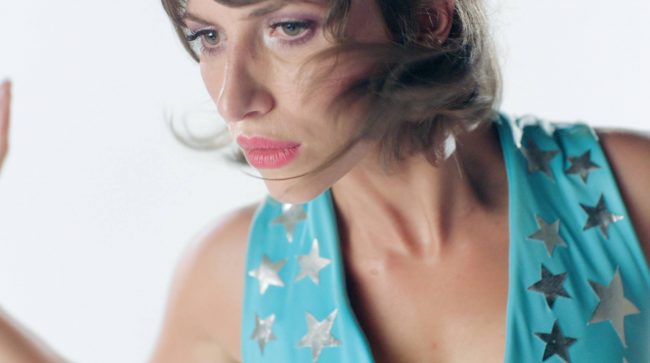 Having just discovered the talented Aldous Harding a while back, we now have a much better feel for this extraordinary performer. Harding has received rave reviews from her current tour and recently stole the stage on Later with Jools Holland (watch below after the new video). Now Harding has released the official video for scintillating song Blend off of her critically-acclaimed new album, Party. About the video (directed by Charlotte Evans), Harding has said, "The concept is based on that awful scene from 'Apocalypse Now' where the playmates pile out of the helicopter. The costume [Ed.: nearly identical to one of the Apocalypse Now playmates' get-ups] was handmade for me, it turned out great. It's in the bin. I spent eight hours dancing on a Lazy Susan, it was easy really. Obviously I know what it is… The song itself was written in an AirBnB in Bristol the night before going into the studio." Watch the alternately hilarious and beguiling new video below followed by her performance of Horizon on Jools Holland.
Check out and obtain tix for her Tour Dates afterwards (including tomorrow night-6/22-at the Echo in LA) and pick up Party HERE.
Tour Dates:
Wed 21 Jun 2017 Club Congress Tucson, AZ, US
Thu 22 Jun 2017 The Echo Los Angeles, CA, US
Fri 23 Jun 2017 Soda Bar San Diego, CA, US
Sat 24 Jun 2017 Swedish American Hall San Francisco, CA, US
Wed 12 Jul 2017 Montreaux Jazz Festival 2017 Montreaux, Switzerland
Thu 13 Jul 2017 – Sun 16 Jul 2017 Latitude Festival 2017 Southwold, UK
Sat 15 Jul 2017 – Fri 21 Jul 2017 Valkhof Festival 2017 Nijmegen, Netherlands
Sun 16 Jul 2017 Citadel 2017 London, UK
Thu 20 Jul 2017 Iveagh Gardens Dublin, Ireland
Fri 28 Jul 2017 Kilby Court Salt Lake City, UT, US
Sat 29 Jul 2017 The Olympic Venue Boise, ID, US
Sun 30 Jul 2017 The Tractor Tavern Seattle, WA, US
Mon 31 Jul 2017 Biltmore Cabaret Vancouver, BC, Canada
Wed 02 Aug 2017 Palomino Smokehouse & Social Club Calgary, AB, Canada
Thu 03 Aug 2017 The Bartlett Spokane, WA, US
Thu 03 Aug 2017 – Sun 06 Aug 2017 Pickathon 2017 Happy Valley, OR, US
Fri 11 Aug 2017 Haldern Pop Festival 2017 Haldern, Germany
Sun 13 Aug 2017 Ypsigrock Festival 2017 Castelbuono, Italy
Thu 17 Aug 2017 – Sun 20 Aug 2017 Green Man Festival 2017 Brecon Beacons, UK
Tue 22 Aug 2017 Hana-Bi Marina di Ravenna, Italy
Thu 24 Aug 2017 Circolo Magnolia Segrate, Italy
Fri 25 Aug 2017 – Sat 26 Aug 2017 Sea Change Festival 2017 Totnes, UK
Wed 30 Aug 2017 Landmark Bergen Kunsthall Bergen, Norway
Thu 31 Aug 2017 – Sun 03 Sep 2017 End of the Road Festival 2017 Salisbury, UK
Fri 01 Sep 2017 – Sat 02 Sep 2017 Electric Fields 2017 Dumfries, UK
Thu 07 Sep 2017 – Sun 10 Sep 2017 Hopscotch Music Festival 2017 Raleigh, NC, US
Wed 25 Oct 2017 Musik & Frieden Berlin, Germany
Thu 26 Oct 2017 Nochtspeicher Hamburg, Germany
Mon 30 Oct 2017 Feierwerk / Kranhalle Munich, Germany
Wed 01 Nov 2017 – Sun 05 Nov 2017 Iceland Airwaves 2017 Reykjavík, Iceland
Sun 05 Nov 2017 Bogen F Zürich, Switzerland
Thu 09 Nov 2017 – Sun 12 Nov 2017 Le Guess Who? 2017 Utrecht, Netherlands
Mon 13 Nov 2017 Point Ephémère Paris, France
Fri 17 Nov 2017 The Art School Glasgow, UK
Sat 18 Nov 2017 Brudenell Social Club Leeds, UK
Sun 19 Nov 2017 Manchester Gorilla Manchester, UK
Mon 20 Nov 2017 Islington Assembly Hall London, UK
Tue 21 Nov 2017 The Haunt Brighton, UK
Wed 22 Nov 2017 O2 Institute3 Birmingham, UK
Fri 24 Nov 2017 SWX Bristol, UK