Updated: Watch Elbow's Live Performance of "All Disco" and its Official Video–Touring North America in November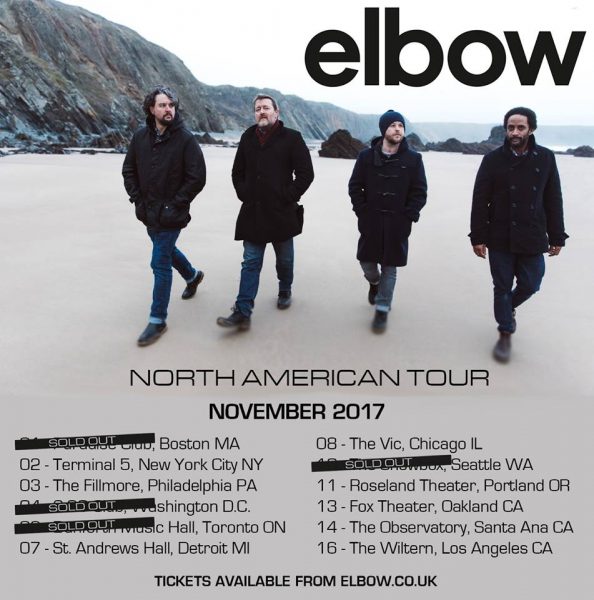 We last wrote about a new video for Elbow's altruistic song All Disco. Now comes a fantastic live performance of the song by the band for the BBC. Check it out below followed by the official video.
Early this year, the magnificent (we says) Elbow released new song All Disco, continuing the band's history of sonorous/observant anthems. At the time of the release in advance of their superb album Little Fictions, the band's leader Guy Garvey confessed that the song's title stemmed from The Pixies' Frank Black's claim that compared to other matters in life, whatever music you're fawning over it's just "all disco."  So it's fitting that All Disco's new video below features interviews with record shoppers on 2017's Record Store Day about music that moves them. It's a heart-warmer. Check it out below followed by the song's lyrics.
Buy or stream Little Fictions HERE.
Also, this fantastic live band will be touring in North America in November, and you can get tickets HERE.
Live performance on BBC:
All Disco:
"Who am I to tell you to care less
Wish I'd have met you never forget you
Young man with your bruised old soul
One snap to bring you back
Hands black with smudging the night into day
There's lemon and thyme in the alley you could slip away
But there are still fences to squeeze through
And I'll meet you
Spirits decanted
Come to the river son
Let your obsession go
What does it prove if you die for a tune
It's really all disco
Everything
Let's join the yellow eyed snug-flies
Rejoicing in choices they made
Let's be the burned
Laughing at not having learned
Let's be a hundred and five you and I
And sing out a tune of regrets and the moon
Perverted old-timers
I'll feed you one-liners
Come to the river son
Let the obsession go
What does it prove if you die for a tune
It's really all disco
Everything
What does it prove if you die for a tune
Don't you know it's all disco
EverythingI can hear how deep you're going
Pull the cord
I can feel your tempo slowing
Pull the cord"