Review: Mondo Cozmo Takes Crowd Higher and Higher at "Sound In Focus"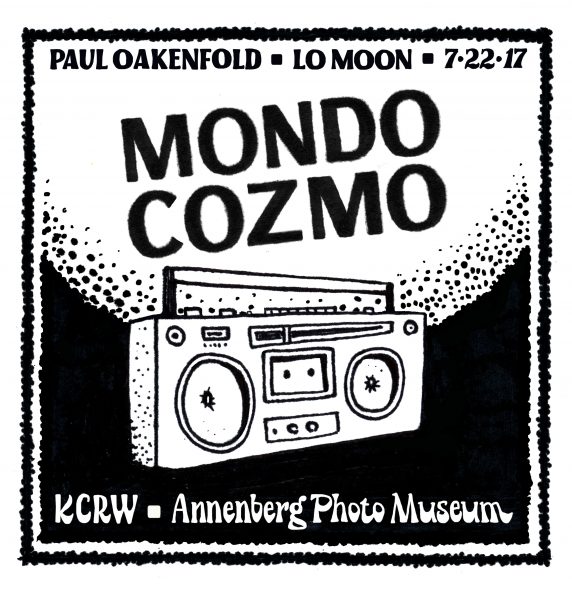 Where were you when you first heard Nirvana's Smells Like Teen Spirit? Many music fans can tell you (Ed.: Bay Bridge on-ramp). It's rare that a song and sound can come along and hit so hard. Though rare, lightning can strike more than once.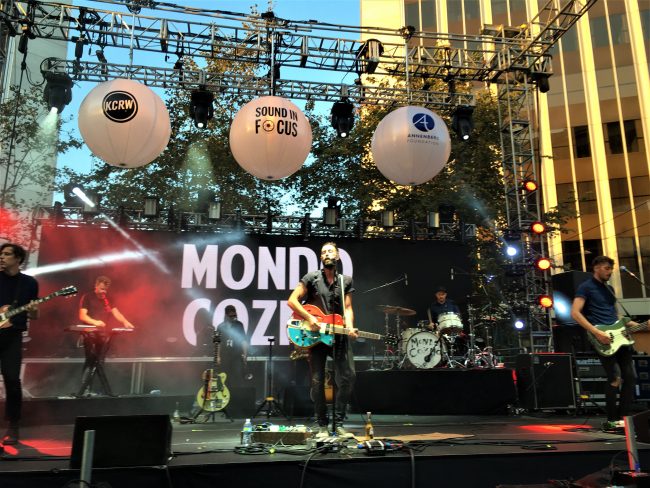 Fast forward to March 11th of this year when we were again driving and a song came over the radio-waves and seized us by the ears, demanding our full attention. The band was Mondo Cozmo, and the song was their enveloping ode Hold On To Me. We immediately flew off into the Mondo Cozmos and discovered a cache of catchy and evocative anthems, songs so good they demanded repetition. And so began our infatuation with this band fronted by Josh Ostrander (formerly of Eastern Conference Champions). For Ostrander and band, you just knew they would join those who, after working for 10-15 years, became overnight successes.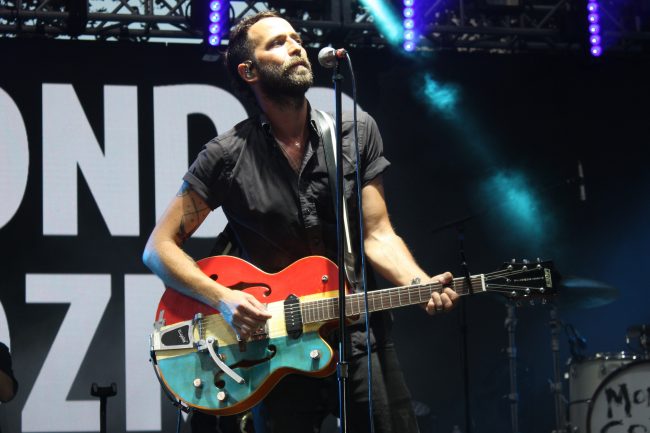 On Saturday we finally took in the live, soaring sounds of Mondo Cozmo at the Sound in Focus series put on by KCRW at the Annenberg Space for Photography. As the second-billed band (following Lo Moon and preceding Paul Oakenfold), Mondo Cozmo came out swinging on Chemical (with Ostrander sporting red-white-and-blue guitar), and then took the crowd higher on the himalayan Higher. They then mixed in a few new songs (including 11 Acre and the live debut of affecting ballad Angel), performed the great, languid rave-up Plastic Soul, and then covered Faces' seminal old singalong Ooh-La-La. Ostrander told how, in his own mind, he had planned to have Faces' Rod Stewart join Mondo Cozmo on-stage for Ooh-La-La, only to be brought back out of the cosmos to earth when Stewart's manager let him know that the Hall of Famer was out on tour and unavailable. Ostrander "had to learn, and that's the hardest way."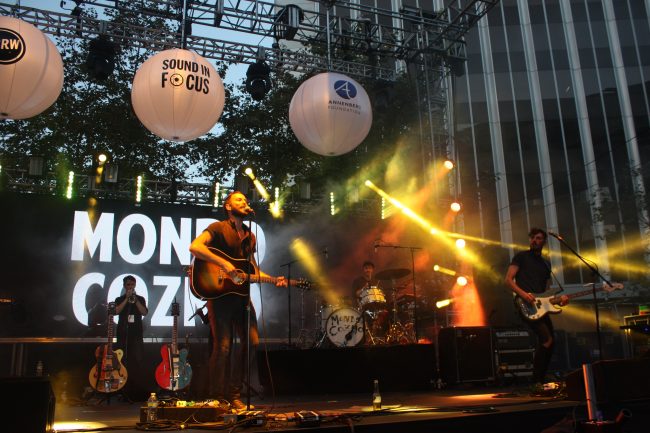 The band then shifted into overdrive to close out their impressive set with the titanic trifecta of Hold Onto Me, breakout hit and crowd-winning Shine, and the ridiculously catchy and powerful single Automatic. Ostrander was backed perfectly onstage by talented band members Drew Beck on guitar, James Gordon on keys/vocals, Chris Null on bass/vocals and Andrew Tolman absolutely roiling on drums. The band rounded out the stage with two talented horn players for a full "E-Street" (their words) sound.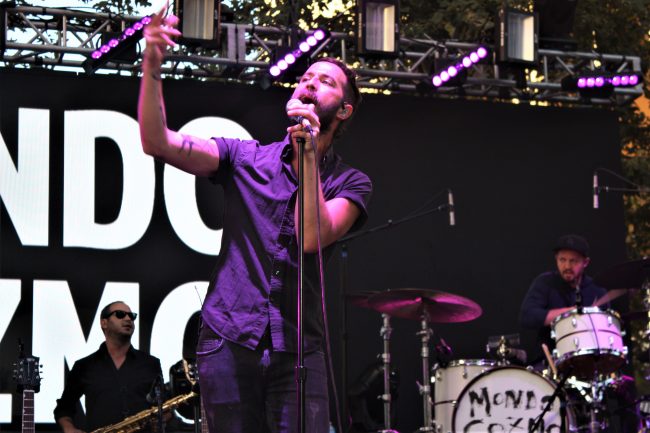 Given this was a "free" show graciously put on by the Annenberg and KCRW, you never know what you're going to get with a crowd. Despite this scenario and having started their set with only a small crowd up on their feet, by the time Mondo Cozmo closed their set they had the entire, enormous crowd on their feet clapping and jumping along with the band and its charismatic leader. Time will tell, but this band feels like the real thing. If they can keep crafting songs of similar high quality and verve, this talented band and the size of their audience are both going to go higher and higher. Catch 'em soon, before you can't. Locals' next chance is at the El Rey Theater on 9/26, and you can get tickets HERE.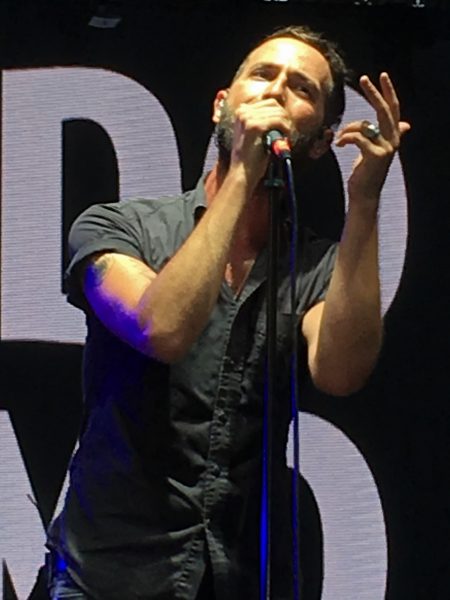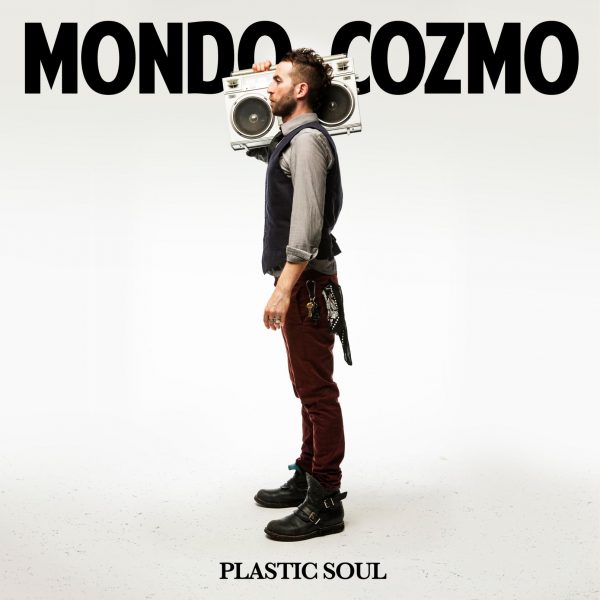 Their outstanding debut album Plastic Soul will be released on August 4th via Republic Records, and you can pre-order it HERE.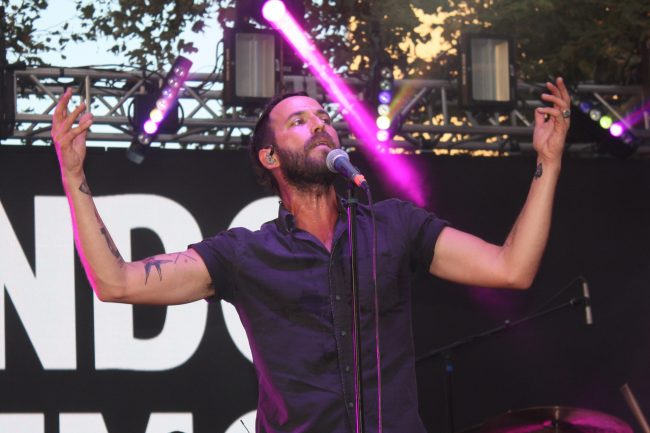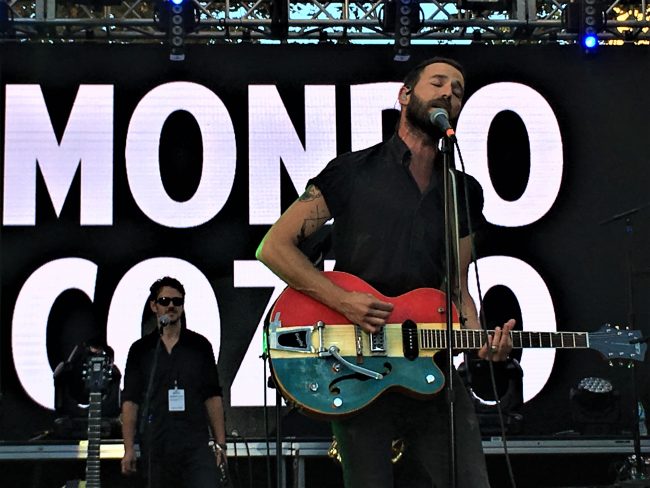 Artwork by Tad Wagner of Tad Wagner Studio.
Photos by LA Music Scene and Lefort.