S. Carey (Bon Iver) To Release New Album "Hundred Acres"–Listen to Gilded Song "Fool's Gold"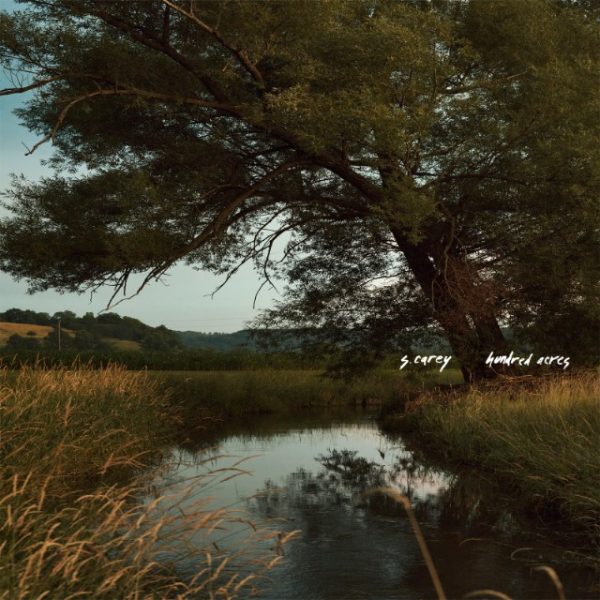 We've been singing the praises of the songs and recordings of S. Carey (the gifted multi-instrumentalist/songwriter cohort of Justin Vernon in Bon Iver) since his fantastic first solo album in 2010. More recently, Carey released new song Brassy Sun and alluded to a new solo album in 2018. And today Carey has revealed that he will release new album Hundred Acres on Jagjaguwar on February 23rd.  To whet the appetite, Carey has released the affecting song Fool's Gold, which you can listen to below. Fool's Gold was evidently the rare song birthed by Carey on guitar (rather than his usual keyboard approach). Says Carey, "This song is what started the whole record . . . everything came out of it and the vibe it created." As you will hear on Fool's Gold (lyrics at bottom) Carey is scary-skilled at sculpting songs centered around evocative incantations.
Fool's Gold bodes incredibly well for Hundred Acres, which features his longtime collaborators Zach Hanson, Ben Lester, and Jeremy Boettcher, along with Rob Moose (yMusic), Casey Foubert (Sufjan Stevens) and Sophie Payten (Gordi).
Bring on Hundred Acres! You can pre-order the album HERE.
Fool's Gold:
"No one came to take you
How could you leave?
Wrapped you in white paper
Then sent you downstream
Found your mama in the basement in the cold
What does heaven know 'bout fool's gold?
Oh
There are nights I see you
In big sister's hazy life
She'll be looking out for you
Underneath the Sand Fire skies
Found your mama in the basement in the cold
What does heaven know 'bout fool's gold?
Oh
Found your mama in the basement in the cold
What does heaven know 'bout fool's gold?
Oh"