A Reason To Get Out of Bed On a Wednesday (Updated): New Okkervil River Album Coming–Listen to New Song "Don't Move Back to LA"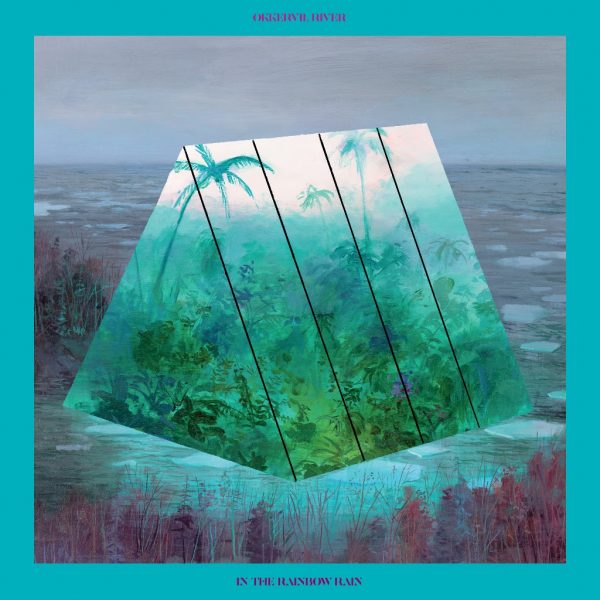 Woke on Monday morning and found a reason to get out of bed. Long-time Lefort-faves, Okkervil River, this morning announced the release of their next album In the Rainbow Rain in April, following on the heals of their superb last album Away.  To get a feel, check out below the swaggering swing of new song, Don't Move Back to LA (that drops a bit of dub in the break). The intermittently hilarious lyrics are at bottom (our best guess). The song bodes incredibly well for the new album. We can't wait!
Today, leader Will Sheff posted this explanatoin regarding the song: "I had pretty straightforward reasons for writing this song: I had a lot of friends all moving to LA around the same time and I didn't want them to go. I think the song is also me rooting for myself to get out of NYC, and I feel like it's also kind of about how you could make your hometown cooler if you went back and fought to elevate it. But one fun audio fact is that this is a first take. We recorded it once, it sounded good and we moved on to the next song."
Sheff also has this to say about the impending album:
"This time around everyone was in such a good mood that the music ended up capturing this new spirit of freedom and playfulness and joy and sounding totally different than Away, even though my working approach was similar. I didn't really fight it, because everything felt so good. It was a really happy and productive period of music-making during a very terrifying (and ongoingly terrifying) time period, and I felt like it was appropriate to try to make something uplifting and encouraging. As ever, the band is augmented with all of these great players including string arrangements by Rob Moose, Frank LoCrasto and Jared Samuel on keys, Sharon Jones' backup singer Saundra Williams leading a vocal trio, Alex Spiegelman on sax and Cole Kamen-Green on trumpet, the legendary Jonathan Meiburg of course, and my good old inanimate friend Mr. CR-78 laying down some rhythms here and there. The whole thing was mixed by the incredible Shawn Everett with crazy bold hairy technicolor bravado. I'm so proud of this thing – it's maybe the most fun Okkervil River record ever. And it's going to be great playing it live."
Speaking of which, new tour dates can be found HERE . The tour will include dates in Cali in late-May/early-June, where it's 70 out and we're living at the ocean's lip.  Tix go on sale this Friday, 2/16. Whatever you do, don't miss 'em. Their last two tours through these parts have been inspirational affairs.
You can pre-order In the Rainbow Room HERE.
Don't Move Back to LA:
"Don't move back to LA
Don't move back to LA
Don't move back to LA
Although it's 70 out
Don't move back to LA
You got a bigger house
Don't move back to LA
I know you're sober now
Don't move back to LA, my baby
In your place out in LA, my baby
I'm gonna send this out to Mistress Smike [?]
She knows who she is and what I like
I'm gonna send this out to Susan Sneeze
I'm gonna say thirty rosaries
I'm gonna tell her
Don't move back to LA
Don't get your license back
Don't move back to LA
Don't cut your in-take back
Don't move back to LA
You think it's bad?
It's actually worse out in LA, my baby
'Cause those West Coast cats
They're gonna tune, gonna turn, gonna turn, gonna turn you out
They're gonna chew you up and spit you out
They're gonna break, gonna break, gonna break, gonna break you down
They're gonna waste your time and watch you drown
They're gonna make, gonna make, gonna make, gonna make you die
You say I lost my soul or sold it out
But I told you, I warned you
I told you, I warned you
I told you now
Well, in two more weeks I'll drop this track
And you can have your New York City back
Well, I will send this out to Space Camp Chip
I saw him living on the ocean's lip
And I will send this to a lone Hot Crisp
He might not agree, but I'll insist
And I will tell him
Don't move back to LA
I said I'll move back to LA
You got a midwest song so sing it out
Don't move back to LA
You got a deep south song so sing it out
Don't move back to LA
You got a mountain song, just sing it out
I got a east coast song, I'll sing it out
Don't move back to LA
I won't move back to LA
my baby
Don't move back to LA
They're gonna tune, gonna tune, gonna tune, gonna tune you out
Don't move back to LA
You got a beach state song, country state song, wolverine state song
They're gonna break, gonna break, gonna break, gonna break you down
Don't move back to LA
So sing it out
Or fight it out, sing it out
They're gonna make, gonna make, gonna make, gonna make you die
Oh
Don't move back to LA"