Okkervil River Reveals Ravishing New Song "Pull Up The Ribbon" Via Video–New Album and Tour Coming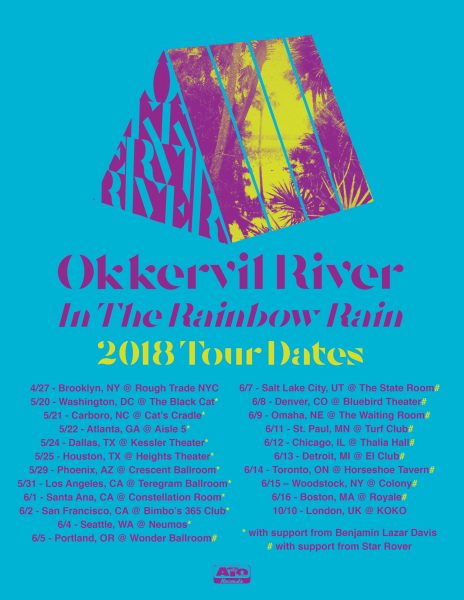 Okkervil River has today released the second song, Pull Up the Ribbon, from their impending album In The Rainbow Room, via the song's official video. The new song follows on the heals [sic] of last month's fantastic first song, Don't Move Back To LA, from the new album.
Watch the video below directed by Christopher Good featuring, among other things, Revolutionary-war-togged soldiers safeguarding and playing a golden guitar at ocean's edge, dressers filled with bones and other cataclysmic semaphores. The song's opening bars resemble (mimic?) recent War On Drugs sounds, but the signature vocals of leader Will Sheff kick in (aided and abetted by Lip Talk-Sarah K. Pedinotti) to take the song to another level. Sheff even tosses in a vocal turn at the 3:16 mark that would make Jim James proud (high praise in our book).
About the song, Sheff had this to say:
"When I first started working on "Pulled Up the Ribbon" I felt really excited about the melody and the chords in a way that made me nervous, because I felt pressure to write lyrics for it and nothing seemed quite right. I started with something quite dark and violent, and it felt like a good direction but I kept hitting creative dead ends. And then I realized there was something in the melody and phrasing that seemed like it was about destruction and doom but also something else that felt like it was about creation and birth. So I decided to try to write a kind of praise song for the force behind all of those things. The song started as a waltz ballad, briefly turned into a Motown-style number, and then we streamlined it and Will Graefe added that hook. I had heard some of the great vocal performances on our keyboardist Sarah's album with her project Lip Talk and knew I wanted her to sing on the song, and she elevated it further. And then, when I took the song to Shawn Everett to mix, he stripped out a lot of the padding from the track and made everything more aggressive and skeletal, with the drums and bass way up in the mix, the beauty amped up but also the spooky stuff. This was the only one of Shawn's mixes where there were no notes, no tweaking. He played me the track and said "whoa" and approved it and we moved on."
We can't wait for In The Rainbow Room (pick it up HERE) and the Okkervil River tour to ensue (coming to Cali in late May/early June–get tickets HERE).