Check Out Superb Songs and Videos from Wye Oak's Outstanding New Album "The Louder I Call, The Faster It Runs"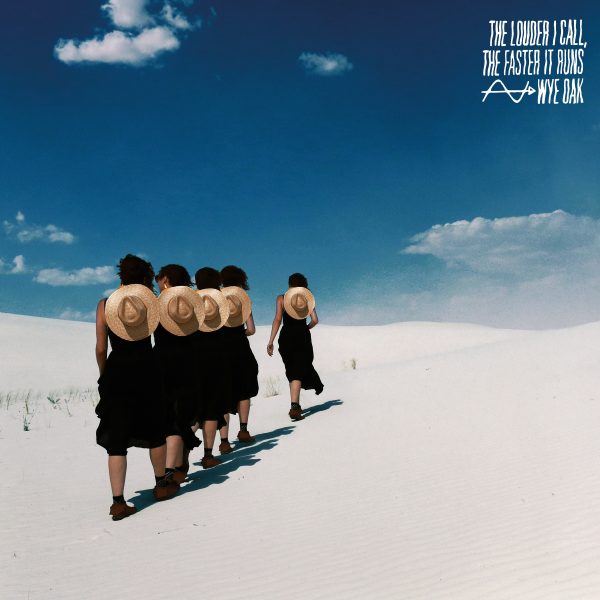 We have once again lost track of amazing musical talent. Wye Oak has always been a bright blip on our musical radar. Like many, we first latched onto them via their breakout 2011 album Citizen before they moved from that album's guitar-dominated sounds and shape-shifted into the synth-sounds of 2014's fantastic Shriek. In 2016 the band's lead singer Jenn Wasner also released (under the Flock of Dimes totem) a superb solo(ish) album entitled If You See Me, Say Yes.  All told, these albums comprise a very impressive discography. But we have a bit of the ADD, and so we lost track of the band and didn't pay attention when their outstanding new album, The Louder I Call, The Faster It Runs, was released in early April. Our bad. It's among the Best Albums of 2018.
The Louder I Call, The Faster It Runs combines the best of Citizen's guitar-grandeur and Shriek's synth-dominated gestalt, resulting in their best album to date. We hear great influences in the album, including Kate Bush and Peter Gabriel (It Was Not Natural), Laurie Anderson and LCD Soundsystem (the title track and Instrumental), Broken Social Scene (Lifer) and Joni Mitchell (I Know It's Real), to name a few.  No matter the fantastic mix of influences we hear, Wassner and colleague Andy Stack always make the sounds and songs altogether their own, and to powerful effect, with Wassner's vocals always a heady clarion call to the soul.
To get a feel, check out three great tracks off the album below. First up is the music video for It Was Not Natural, one of the album's strongest songs. After, check out the lyric video for heart-strung Lifer, followed by the official video for the title track.  These songs' superb, soul-baring lyrics are at bottom.
You can order The Louder I Call, The Faster It Runs HERE.  Or stream it on your favorite streaming source.
Wye Oak is out on tour in support of the new album, and you find dates/tickets HERE.
IT WAS NOT NATURAL
when i am tired
unbidden
i go for a walk
i have to walk
or else
i do not recognize myself
my foot uncovers
what my heart wishes
is a treasure
seemingly foreign
but somehow still it is familiar
it could be amber
it could be animal or antler
they do resemble
they do remember one another
it was not natural
all along
only human hands
could give us
something so
unforgiving
as i expected
with time
it hasn't gotten easier
i have to work now
at things
that used to be
like breathing
i try to focus
forgive myself
for having so much
i am too busy for it
or else i am not busy enough
when i think clearly
i know we share the same devotion
but joy is hungry
and you know i can't promise anything
it was not natural
all along
only human hands
could give us something
so unforgiving
LIFER
you worry i have given up
have lost direction for the cause
have traded truth for confidence
went back on all my promises
i am not old but i've become
afraid of things i never was
and stumbling on without a pause
can only go so long
did you say that i was the lifer
did you say that life could be better
it seems to those who know me best
my luck is wild and in excess
i don't know why some suffer so
and others never fear to go
i won't reduce myself to air
undo myself for your affair
i've shown you everything i am
you choose or not to understand
there is a logic to the rule
the end is kind, the mean is cruel
i have to love the life i make
make up for all the space i take
mistaken for an oversight
the absence of my appetite
the source of all my arrogance
i left it up to chance
i believed that i was the lifer
i believed that life could be better
i want to see you rise again
to see life in your eyes again
to feel your pulse is beating strong
to prove all of us wrong
will you say that you are the lifer
do you think that life could be better
will you say that i am the lifer
do you think that life could be better
THE LOUDER I CALL, THE FASTER IT RUNS
and we were jubilant
willing to pretend
we were not losing time
time wasted
like any other day
we will make the bed
thinking it is dead
it is finally dead
the louder i call, the faster it runs
the louder i call, the faster it runs
the quiet is ours, the work has begun
the louder i call, the faster it runs
i search for patterns
sense that isn't there
you can have everything
and still you have nothing
so i take them all apart
and then i put them back
sometimes it takes a long
long, long time
the louder i call, the faster it runs
the louder i call, the faster it runs
the longer the day, the nearer the sun
the louder i call, the faster it runs
the louder i call, the faster it runs
the louder i call, the faster it runs
the quiet is ours, the work has begun
the louder i call, the faster it runs