Watch Courtney Barnett and Band Ragin' on The Tonight Show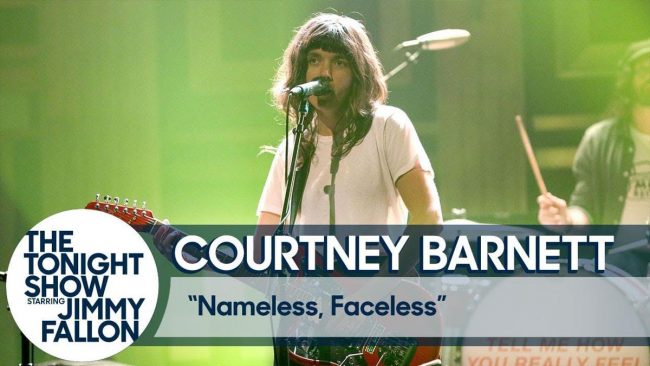 A week ago, we caught Courtney Barnett in full flight at the intimate Pico Union Project. Last night, in advance of today's release of her new album Tell Me How You Really Feel, Barnett and blazing band set The Tonight Show afire with their raging performance of Nameless, Faceless off the new album (lyrics at bottom). Watch below. We particularly loved the mix, with the vocals mixed way up and highlighting the band's harmonies. And of course Courtney's guitar playing was perfect throughout. Brava!
You can order/stream the fantastic new album HERE.
Nameless, faceless
Don't you have anything better to do
I wish that someone would hug you
Must be lonely
Being angry
Feeling over-looked.
You sit alone at home in the darkness
With all the pent-up rage that you harness
I'm real sorry
Bout whatever happened to you
I wanna walk through the park in the dark
Men are scared that women will laugh at them
I wanna walk through the park in the dark
Women are scared that men will kill them
I hold my keys
Between my fingers
He said "I could eat a bowl of alphabet soup
And spit out better words than you"
But you didn't
Man you're kidding yourself if you think
The world revolves around you
Yknow you got lots to give
N so many options
I'm real sorry
Bout whatever happened to you
I wanna walk through the park in the dark
Men are scared that women will laugh at them
I wanna walk through the park in the dark
Women are scared that men will kill them
I hold my keys
Between my fingers
Go on tell me
You're just kidding
He said, she said
Nameless, faceless