Jessica Lea Mayfield (at Hardly Strictly Bluegrass Festival)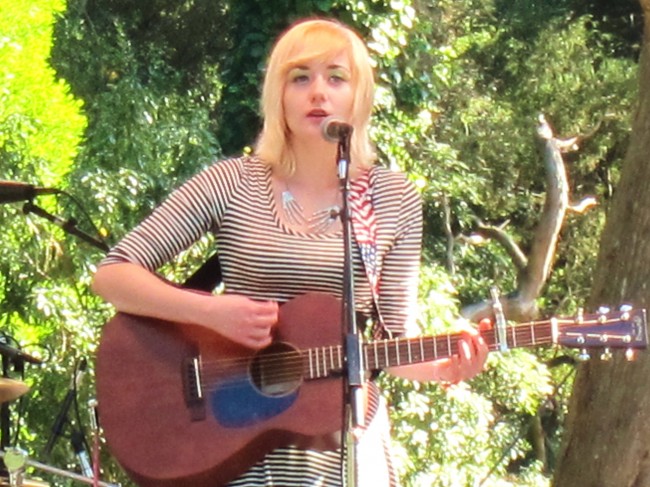 Prior to last Tuesday, when it came to Jessica Lea Mayfield, we had only heard one or two songs off of  her twangier first album, "With Blasphemy So Heartfelt."  And then we stumbled upon her pop-perfect 2011 album, "Tell Me," with its more varied sounds.  And since last week it's been hard to listen to anything else.  Produced by Dan Auerbach (of The Black Keys), "Tell Me" has vaulted into our Best of 2011 list and shows no signs of being removed.  It's a stunner from stem to stern.  Mayfield molds great melodies and pens penetrating lyrics, and then delivers them with laconic vocals that remind us of Lucinda Williams coupled with Neko Case.  The 22-year old Mayfield has been performing live since she was eight years old, and you gather that when you catch her slight swagger live.  She's earned it.
Speaking of her performing live, we had the good fortune to catch her simmering set at Hardly Strictly Bluegrass this past Sunday.  Mayfield's languorous vocals played perfectly against her tasteful backing band, which included kinetic referee-guitarist Richie Kirkpatrick, drummer Scott Hartlaub and brother David Mayfield on bass.
For a good flavor for Jessica check her out below at Hardly Strictly performing two songs off the new album, and then "For Today" off of her first album.  Our apologies for the sound on Blue Skies Again–we'll get that figured out one of these years.  And after, check out some other great videos of Mayfield in action.
First up is her moving new song, Sometimes at Night, with its rock-bottom tones and tales.  Unfortunately, we missed capturing the opening stanza, which includes one of our favorite sordid lines: "I broke the little cabana boy's heart, to let you fondle me in the dark; one of those city outdoor motels, in your bed swore I never would tell."  You can catch the entire song in the penultimate video way below.
Next up after the darkness of Sometimes at Night is the sunny uplift of her powerful pop song, Blue Skies Again.  If there were any rhyme or reason remaining for radio, Blue Skies Again would be a No. 1 hit across this land.  We love the following stanzas in particular:
"This heart of mine
Is ready for the spring
Open up my window
Winter bird, take wing
Suddenly I can see blue skies again
Beauty says nothing less than our hearts will mend
I promise you… they do"
And check out her performance of the older kiss-off song, For Today, from her first album, including these great lines:
"I could care less about you
Care less about you
And I love the sound of you walking away
And I can see clearer and I'm getting closer
To finding out just who I am without you in the way
So hold me
But only for today"
Moving on, check out Mayfield and Seth Avett of The Avett Brothers singing Is This Love? off her first album.
And then check out Mayfield's solo acoustic performance of the great Run Myself Into the Ground off of the new album.
And then check out two phenomenal HD videos of Jessica and band on KEXP performing Kiss Me Again and Sometimes at Night (including that great cabana-boy opening stanza we missed in our video above). So very good.  Filmed at Lance Armstrong's Mellow Johnny Bike Shop in Austin during this year's SXSW.
And finally, watch Jessica's network TV debut earlier this year on The Letterman Show, rocking Our Hearts Are Wrong with band and Dan Auerbach of The Black Keys.