Review, Photos and Video: Radiohead at the Santa Barbara Bowl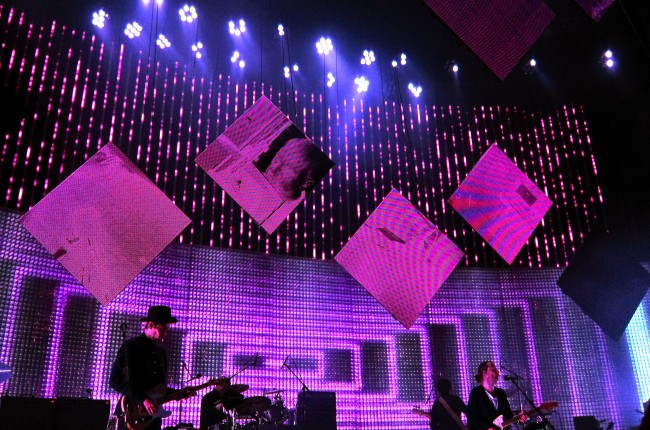 When it was announced (as we had predicted) that Radiohead, our favorite live band for the last 15 years (due respect to Arcade Fire, Elbow, The National, Bon Iver and U2), would grace the hallowed Santa Barbara Bowl on their 2012 tour, the show quickly became the most sought after show in Santa Barbara Bowl history.  Somehow those present Thursday managed to buy, beg, borrow or steal a Golden Ticket to the Bowl to see Radiohead.   As we walked into the Bowl, the first folks we met had just flown in from Hong Kong the prior day just for the show.  The second couple we met were newlyweds from Mexico City who had flown in to Santa Barbara from Japan as part of their honeymoon.  And so it went.  Radiohead are that kind of band, and the Santa Barbara Bowl is that kind of venue, and the two are a match made in heaven.  On Thursday night Radiohead continued its streak of commanding and unparalleled performances at the Bowl.
At 6:30 sharp, Oklahoma's Other Lives opened with a surprisingly grand set that showed they are learning well from their headlining brethren.  Since their last time through town (last July at Soho opening for The Rosebuds–how about that for career trajectory?), Other Lives have garnered critical praise and fans.  What couldn't helped being noticed this night was that the band has morphed from its fine chamber-rock sound at Soho into a larger arena-filling sound that at times sounded uncannily like Radiohead themselves.  Wily folks those Other Lives.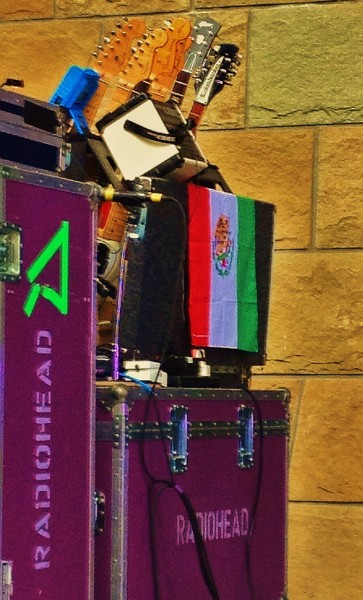 We hadn't missed any of Radiohead's legendary shows at the SB Bowl, and were ecstatic to attend again on Thursday.  While we had seen the band in the '90s in San Francisco at Justin Herman Plaza and at the Warfield, nothing had prepared us for the quantum leap made by the band when we caught their 2001 shows at the Bowl in support of Kid A and Amnesiac.  In those intervening years, Radiohead had ascended to the very top of the throne of live rock music.  They confirmed this when they returned in 2008 to the Bowl (with the most elaborate stage lighting we had seen until Thursday) in support of In Rainbows.  And then lead singer, Thom Yorke, returned to the Bowl as a part of Atoms of Peace (along with the Red Hot Chili Peppers' Flea on bass) and delivered the show of the year in 2010.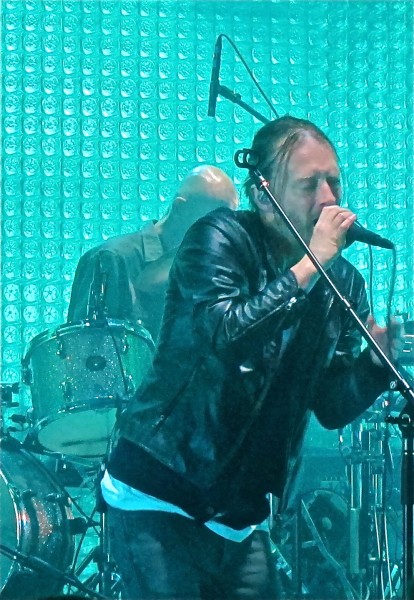 The stage was thus set for another historic performance by the band at the Bowl, and they would not disappoint.  Yorke and crew came out to rightful adulation and cacophonous-sound/bombast and immediately kicked into Bloom, the opening track to last year's Album of the Year, The King of Limbs.  Once again the stage lighting and sound were astonishing, and the band focused on its complex techno-rock sound and songs for most of the evening.  The full setlist can be seen below.  Sure, we hankered a bit for 2001's Bowl set-lists (no Fake Plastic Trees or Neil Young covers this time around), but this band refuses to play it safe and continues to evolve and re-invent itself.  And so that means those moving, singalong choruses have (mostly) gone by the wayside, having been largely supplanted by techno-dance numbers.  Make no mistake though, their audience still hears and mines the huge heart of this band amidst the lyrical haiku, the trembling wires and in Yorke's gear-shifting keyboard mallets.  And oh how the boys can sing!  Thom Yorke struggled ever-so-briefly early in their set Thursday, but he more than made up for it by then lifting his game and his voice heavenward.  With Yorke's vocalisms, the audience seemed to alternate between shivers and smiles.  And every time Ed O'Brien stepped to the microphone, we were overwhelmed by his harmonies (one particular encouragement for future tours:  forget the cowbell and give us more Ed!!). Check out the Idioteque video below for a sample of Ed's vocals.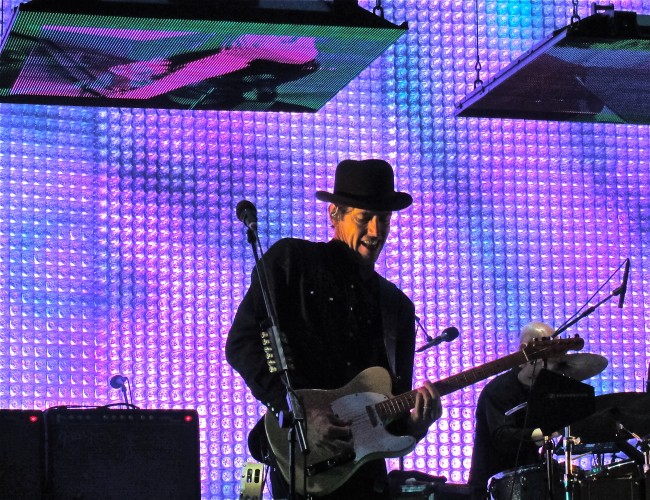 Though at times we wished they had added Karma Police, Lucky and/or Kid A (as they had done at other shows on this tour), the crowd fed off of the band's palpable joy in concentrating on their new songs and sound (Yorke and O'Brien had smiles on their faces nearly the entirety of the evening, and the songs are so new they had to use cheat-sheets at times).  Particular highlights of the evening were the new songs not even found on The King of Limbs, and especially Supercollider, Staircase, Daily Mail and Identikit.  Other highlights were Thom's vocals on Nude(see far below for a perfect snippet), the beautiful, piano-led Codex, dancefastic Lotus Flower (viewable at bottom–"unfurl" away Thom!), Myxomatosis, our Best Song of 2011 Separator, and the driving Little By Little.  And of course the crowd adored stalwart songs Idioteque and show-closer Paranoid Android (the latter's singalong chorus was particularly apropos on this rainy evening:  "Rain down, rain down, come on rain down on me, from a great height, from a great height, height").  And at that song's end, the skies opened up in answer.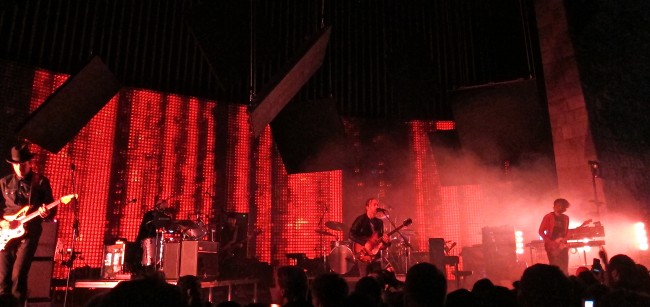 Other facets worth mentioning:  previously-derided and underrated bass player, Colin Greenwood, has really upped his bass-playing ante. We particularly enjoyed some of the minimalist arrangements featuring Colin's high-register bass playing.  And of course you can never go wrong adding a duel-drummer rhythm section, and particularly when comprised of band member Phil Selway and tour-helper Clive Deamer.  Further, Yorke's superbly scratchy guitar-playing has rightfully come forward in the mix.  Unfortunately, Jonny Greenwood has slipped himself a bit more into the background (at least on stage).  This is is unfortunate given Greenwood's intelligence and mega-talent, which was still seen aplenty including on bowed guitar and twisted knobs.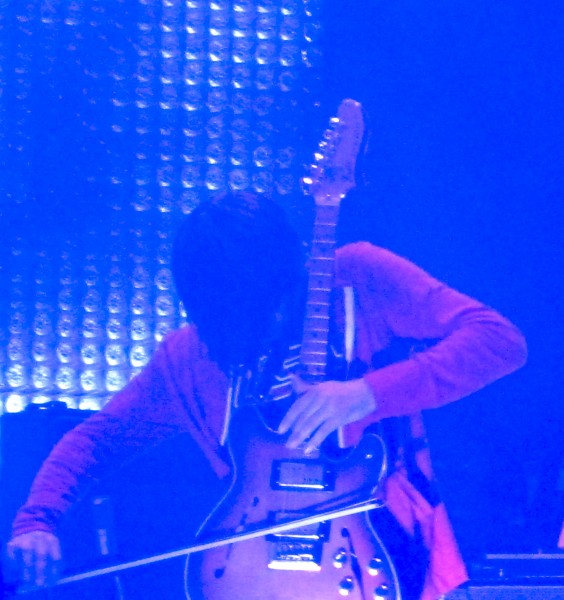 It all added up to what will undoubtedly be our show of the year for 2012.  We can't wait for their return to the Santa Barbara Bowl.  Check out more pictures and our favorite found videos (in sequence) of the band at the Bowl below.  In addition, check out most, if not all, of the set via the stream at U Stream TV below (via At Ease).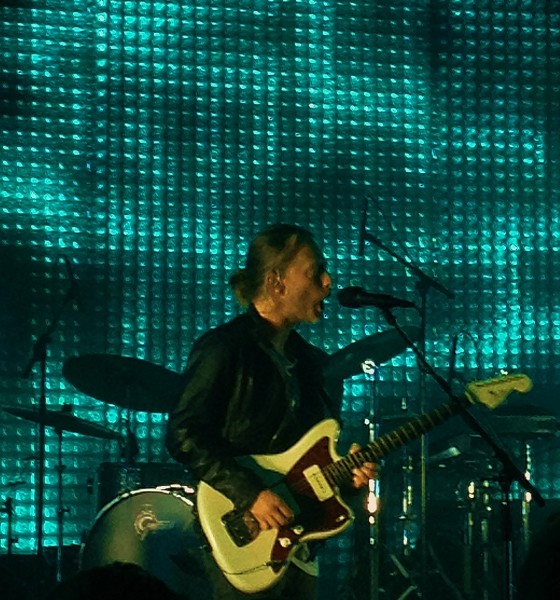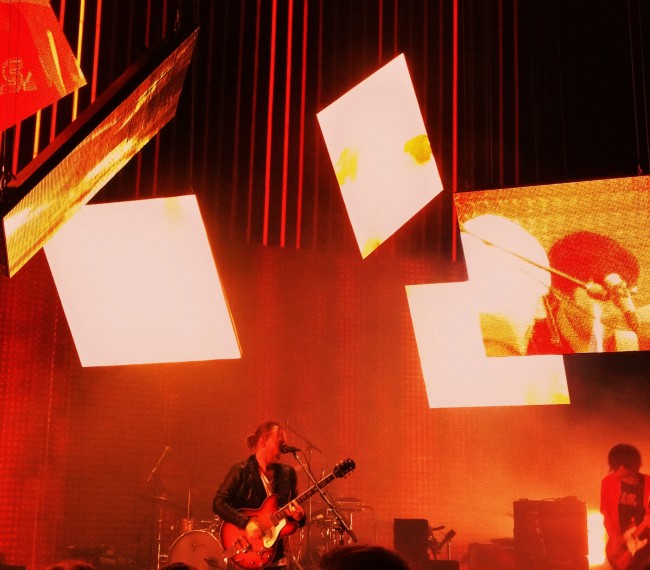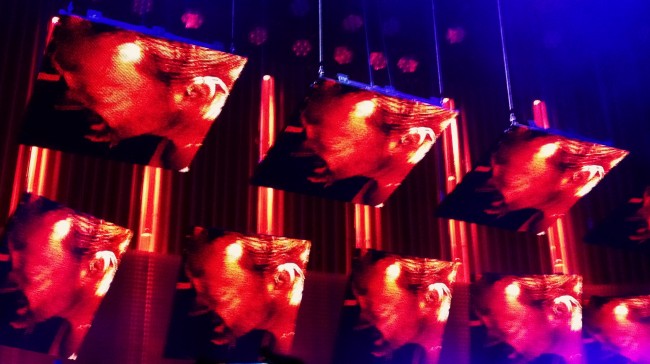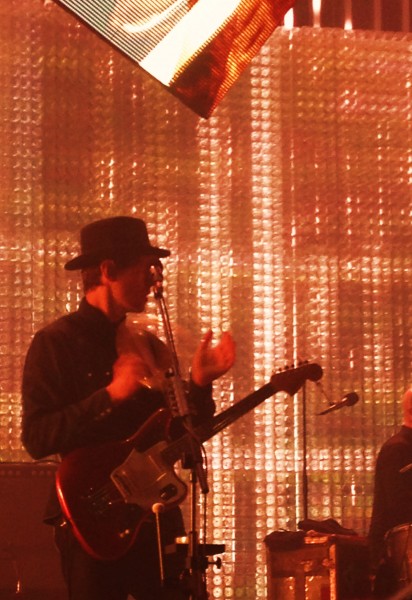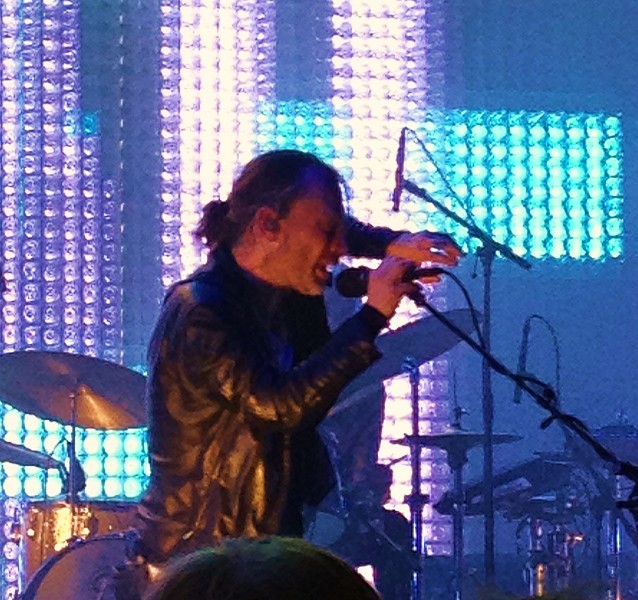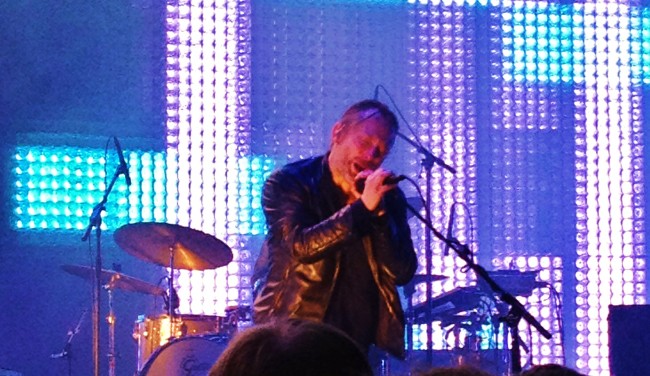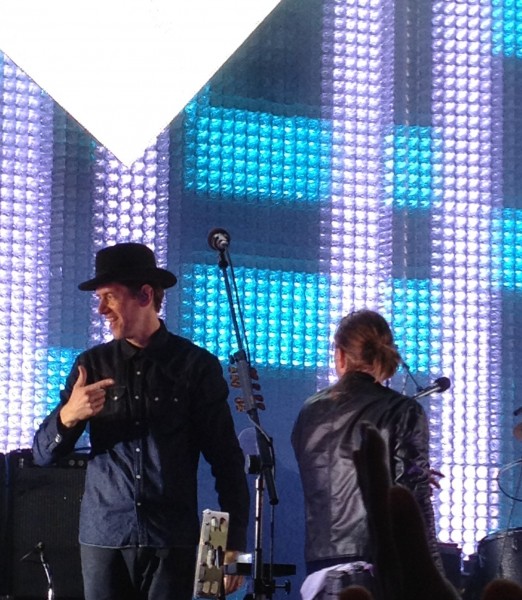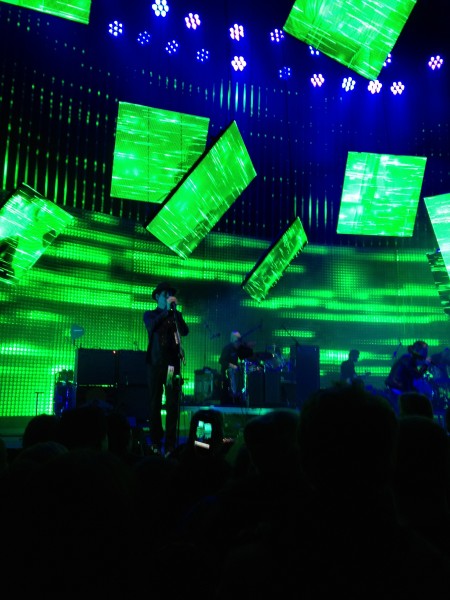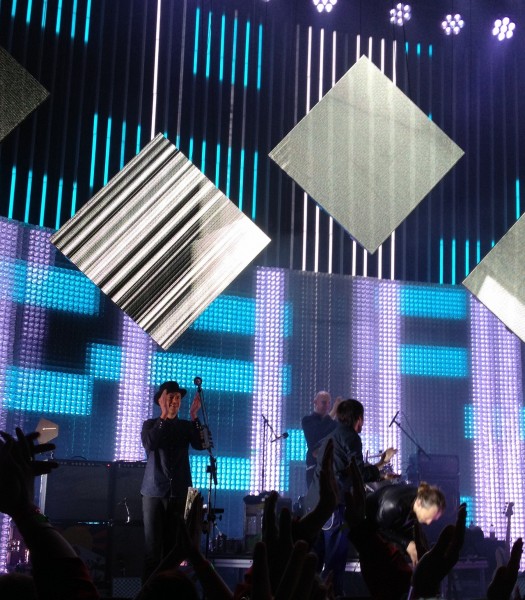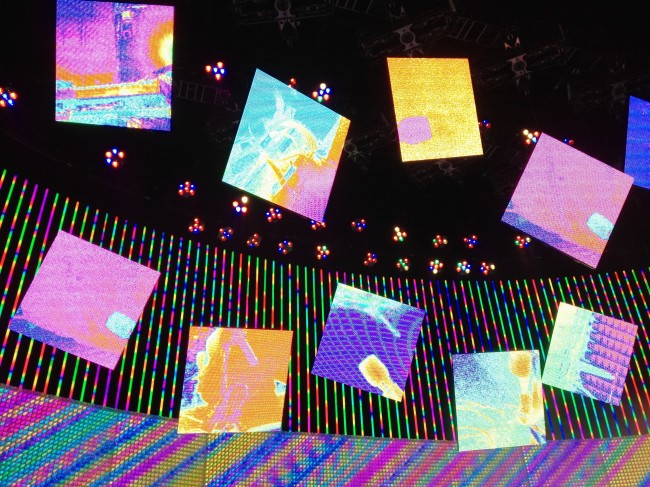 Daily Mail at the Bowl:
Pyramid Song at the Bowl:
Supercollider at the Bowl:
Lotus Flower at the Bowl:
Weird Fishes/Arpeggi at the Bowl:
Idioteque at the Bowl:
Full Nude (if you will) followed by key snippet at the Bowl:
Reckoner at the Bowl:
Paranoid Android at the Bowl: