The Best Concerts of 2012
The Best Concerts of 2012
While many of our favorite bands did not release new albums in 2012, a number of them continued to tour behind their stalwart 2011 albums.  Below were our favorite concerts of 2012, listed in order of preference.
1.  Radiohead at Santa Barbara Bowl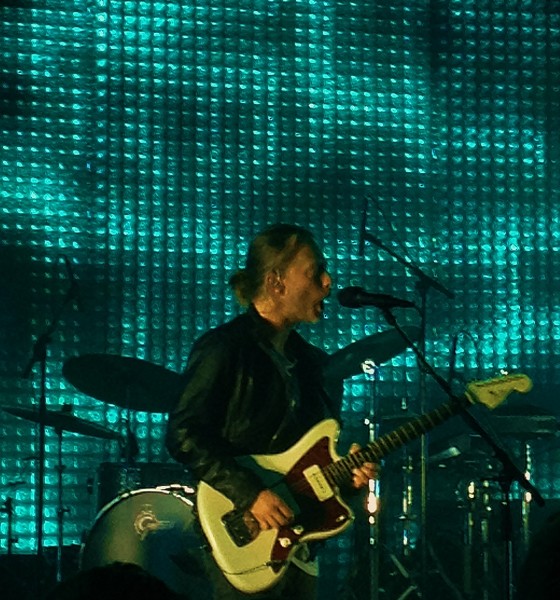 Radiohead is the best band currently on the planet (due respect to Arcade Fire, U2, Springsteen, Neil Young & Crazy Horse, and others listed below), and nowhere is this more evident than on stage where their complex, nonpareil songs, arrangements and playing provide the perfect foil to Thom Yorke's huge presence and visceral voice (not to mention the harmonies of Ed O'Brien and the boys).   Their show at the Santa Barbara Bowl was the most sought after ticket in the entire history of the Bowl's hallowed grounds.  Fans flocked from around the globe (Hong Kong, Mexico City, Japan, etc.) to catch the band play in the smallest venue of their entire tour.  And the band did not disappoint.  Read our full review HERE.  While they won't be coming back in 2013, we take heart that Yorke,  Radiohead-producer Nigel Godrich, Flea and the rest will soon release a new Atoms For Peace album.  And unless history does not repeat itself, AFP should find their way back to the Bowl in 2013.  We can't wait.  It will be the show of the year.  Again.  Below is a clip from the Radiohead Bowl concert.
2.  Bon Iver at Santa Barbara Bowl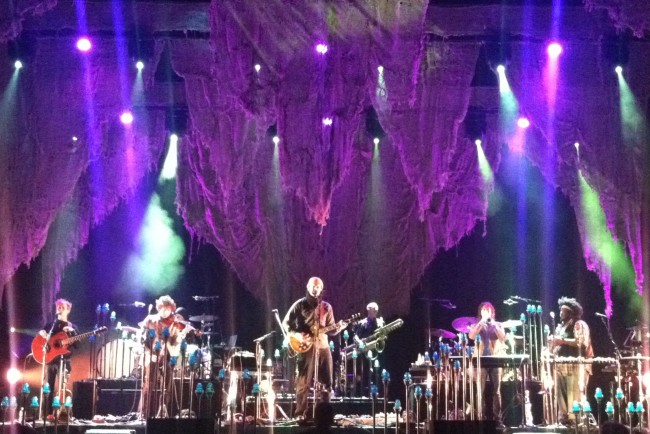 Running a close second for Concert of the Year was the big-banded Bon Iver.  For their 2012 tour, Justin Vernon, Sean Carey, Mike Noyce and brethren surrounded themselves with an enormous band of enormously talented players (Colin Stetson, Reggie Pace, etc.).  By the time they got to the Bowl (ten full months after the release of their eponymous album and incessant touring) we were slightly concerned the band would merely go through the motions at the Bowl.  We couldn't have been more wrong.  Vernon and band have made a meteoric leap from 2008's cabin-in-the-woods motif (including a concert that year at the venerable, but tiny Muddy Waters in Santa Barbara that year).  Vernon's exceptionally well-crafted songs, coupled with impeccable and moving ensemble playing left the Bowl crowd in awe.  Despite the length of their tour, if anything the band continued to gather strength and imbue the songs with newfound power, intricacies and heights (this was borne out when we watched, from afar, the final show of their tour in NYC–six months after the Bowl show–when the band seemed to have taken "it" up yet another notch).  At tour's end, Vernon was noncommital about the band's future, implying a possible break-up.  For the sake of music, we pray it ain't so.  You can read our review of the concert HERE, and watch a vignette below.
3.  Sufjan Stevens at the Henry Fonda Theater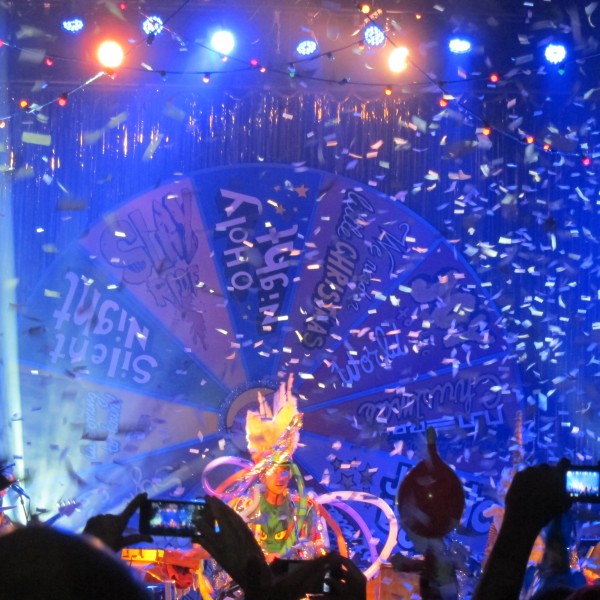 We almost didn't attend Sufjan Stevens' Christ-mess Sing-A-Along show in Hollywood at the Henry Fonda Theater.  It was early in the Christmas season, and our hearts weren't revved up for singing Christmas carols with a throng of LA-ers.  If we had given in to first-urges, we would have missed the most entertaining concert of the year.  Sufjan Stevens, Rosie Thomas and capable, shambolic crew came out and completely captivated the rapt crowd.  The show had something for everyone, ranging from comedy, to Christmas carols, to confetti cannons, to confessional paeans, to cataclysmic cacophonies.  While we had caught the fantastic Age of Adz tour, the Christmess tour was a whole different animal, filled with humanity's best attributes.  There were the moving banjo/guitar "real songs" of yore (Gacy, Widows, Vito, etc.), hilarious and reverent Christmas carols, and stunning new originals (Christmas Unicorn's segue into the confetti-ed crowd-sing of Joy Division's Love Will Tear Us Apart was one of the highlights of the entire concert year). In short, 'twas heaven on earth.   You can read our review HERE and watch a vignette below.
4.  Band of Horses at the Troubadour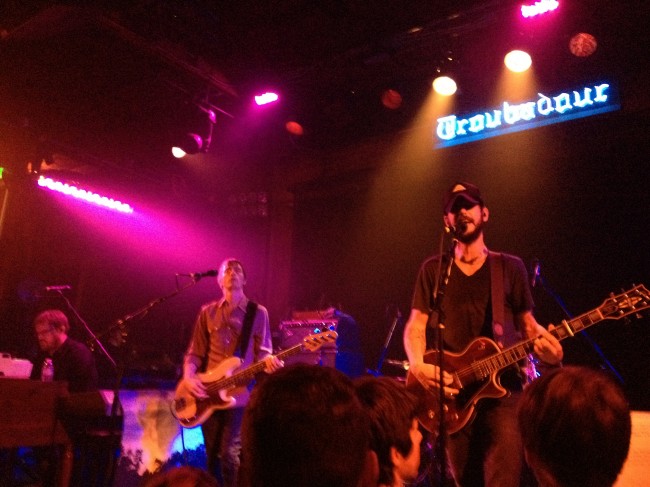 We had waited nearly a decade to catch indie-rockers Band of Horses, one of our favorites.  So when we managed to corral tickets to the comparatively tiny Troubadour for a first viewing, we jumped at the chance.  And we were not disappointed.  Leader Ben Bridwell, Tyler Ramsey and the boys came out raging and didn't let up for 21 magnificent songs, including covers of two of our favorite artists of all-time–Gram Parsons (A Song For You) and Neil Young (the nonpareil Powderfinger).  Along the way they played most of the band's fans' favorites and played with powerful aplomb.  Most surprising was Ben Bridwell's supple but strong vocals, but also the band's energetic drive.  They played more songs at the Troubadour than at any other (save, maybe, one) venue on their entire tour.  A phenomenal, intimate show that you can read more about HERE.  And for a sampling, check the vignette below.
5.  Hardly Strictly Bluegrass Festival at Golden Gate Park in San Francisco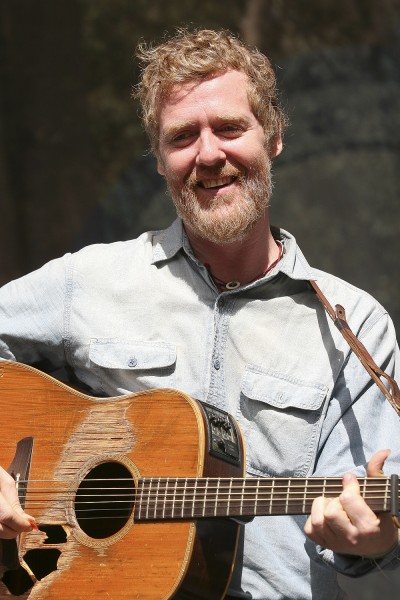 While 2012's (free!) Hardly Strictly Bluegrass Festival could not possibly touch the hallowed heights of 2011 (with Elbow, Broken Social Scene, Gomez, Devotchka, etc.), there's never a bad year for HSBF and such was the case yet again in 2012, which featured perfect weather throughout and a superb lineup.  While many in the crowd were agog at the presence of Led Zeppelin's Robert Plant and John Paul Jones (both of whom sat in on various sets), our highlights were varied and plentiful.  On Friday, highlights were Chuck Prophet, Ben Kweller, Jenny (Lewis) and (Johnny and) the Watson Twins, and Conor Oberst and the Mystic Valley Band.  You can read our full review of Day 1 HERE.  On Day 2, which you can read more about below in our unpublished post, highlights included a surprisingly-strong showing from much (by-the-young) loved The Head and the Heart, a resilient Dave (and Phil) Alvin and the ever-inspiring oldsters, The Flatlanders (Joe Ely, Jimmie Dale Gilmore, Butch Hancock).  And on the last day, highlights included a Best-of-HSBF set from Glen Hansard (with large band), Howe Gelb's gigantic and varied Giant Giant Sand, and ace songwriter/singer Nick Lowe.  Don't miss it next year.
Day 2:
On the second day of the ever-invigorating Hardly Strictly Bluegrass Festival, the great weather and magnificent music continued unabated.  We frankly had lower musical expectations for Saturday, but higher anxiety over the circus crowds.  In the end our musical expectations were far exceeded (except by one artist who sorely let us down–again), and though the crowds were daunting, they were not insurmountable (though we admit to having a rather high pain threshold on this front).
First, we caught a portion of the set by tremulous troubadour, Joe Pug, who played affecting, personal songs.  But we needed to get to the Rooster Stage so left and were treated upon arrival to the late, great Warren Hellman's grandchildren, assorted relatives and a band of supporters (including The Wronglers and Jimmie Dale Gilmore), all under the rubric of The Go To Hell Man Clan (get it?).  Spread out across the entire Rooster stage, they were a sight to see and a heartwarming way to begin the day.
Next up was one of the craftiest of song-crafters, Lloyd Cole, on acoustic guitar and accompanied only by his NYU-attending son, Will Cole.  The Coles played a great set that featured many of Cole's Commotion-gems, such as Rattlesnakes (featured below) and Are You Ready to Be Heartbroken? along with older solo songs (Best New Friend) and other wistful songs.
After Lloyd Cole's set, we ventured to the west end of the proceedings for Justin Towne Earle's fine set of folk-blues and poignant (and humorous) lyrics.  Earle has quite a quiver of songs, and is an adept player and singer.  A little blues-based for our tastes, but he wears it well.
Next up was one of the finest roots-rock performances of HSB–Dave Alvin &  the Guilty Ones.  Alvin can write a song and play roots-rock guitar like no one extant, and he delivered the most incendiary solos of the entire Festival on Saturday.  We were again impressed by his singing and storytelling, but his Telecaster-antics are not to be missed.  Catch him when you can!  To cap it off he brought out heart-attack-recovering brother, Phil Alvin, for a couple of blistering songs and a rousing version of Dave's chestnut, Marie Marie.
After, we fought the Rooster crowd to get to the front for the much-buzzed Lumineers.  By the time we got there, the crowd was in full-Lumineer-love mode.  Time will tell about this band.  While we get their crowd-pleasing ways, we will have to see whether or NOT they will  be able to hang with their genre's progenitors such as Mumford & Sons, Edward Sharpe & The Magnetic Zeros, and The Head and the Heart (more about them below).
Next up was the much-anticipated set by Patty Griffin.  And this was the disappointment to which we referred above.  While others were raving about the time-conflicting set of Jerry Jeff Walker, we were watching Griffin come out solo (a major disappointment given her usual musical friends) and immediately have sound problems (a recurring theme at the Rooster Stage in particular, but elsewhere too).  We grant Griffin her songwriting and winning vocal ways, but she certainly didn't wow solo and concentrated on new songs early in her set.  So we decided we'd wasted enough time (after catching Robert Plant join her for a new song–he added nothing of value to the mix from our perspective–though his head is 2-1/2 times the size of Patty's pinner-head).  So we scrambled over to catch The Head and the Heart (a daunting prospect given the multitudes) and on our sojourn caught the Cowboy Junkies' resounding covers of Sweet Jane and Neil Young's Don't Let it Bring You Down by the surprisingly big and raucous sounding band.
After navigating their adoring, young audience, we were pleasantly surprised by The Head and the Heart, who put on the set of the day, fully sating us and their fans.  This band is the real deal, with incredible ensemble and solo vocal skills and fine instrumental playing throughout.  It was a harmonic convergence of band, audience and setting that produced repeated chills during their set.  Catch them when you can.
Last up was the biggest surprise of the day, a completely heartwarming and winning set by the The Flatlanders (they are getting old enough to mistakenly be dubbed the The Flatliners, but let everyone know they had plenty of life left in them).  Joe Ely, Jimmie Dale Gilmore and Butch Hancock were backed by a crack-band of amazingly gifted players (especially the lead guitarist and accordianist) and gave the feelgood performance of the day.
6.  Kathleen Edwards at the "Majestic" Ventura Theater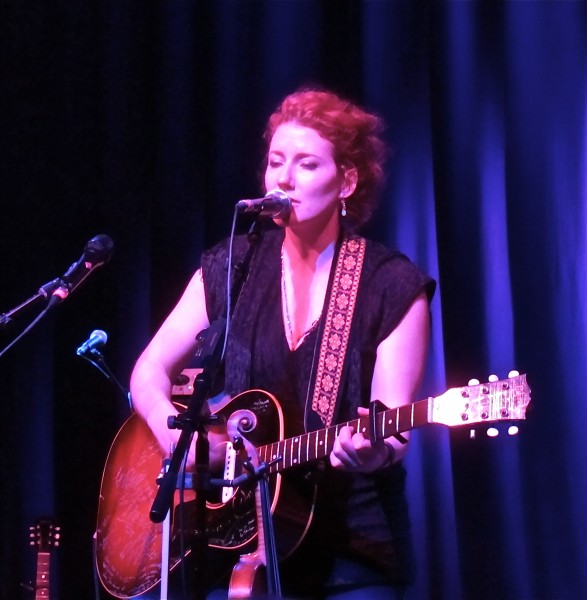 We had never seen Kathleen Edwards live until her show in April in Ventura.  Despite an embarrassingly small crowd, Edwards and her great band played as if the venue was filled with VIPs.  We were treated to songs from her phenomenal 2012 album Voyageur, but also favorites from throughout her tremendous songwriting career.  Edwards has a voice for the ages, and never fails to move with her words or her instruments.  As far as we could tell, despite the crowd-size she played more songs in Ventura than any other show on her tour.  With that kind of show-must-go-on attitude, she's bound to continue to be successful live.  You can read our full review HERE.
7.  My Morning Jacket/Iron & Wine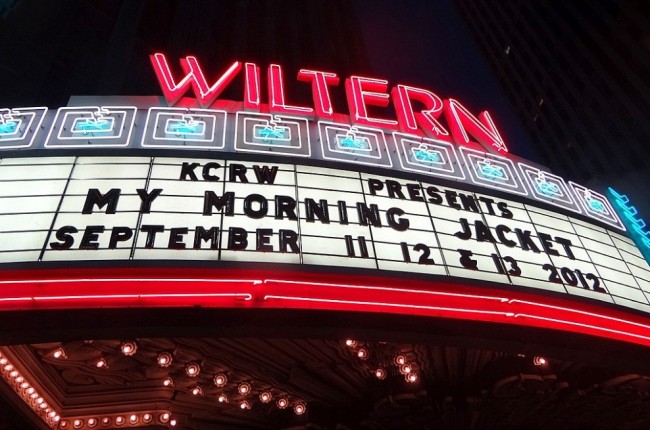 We caught the second night of My Morning Jacket's three-night, no-song-repeated stand at the Wiltern (with Sam Beam of Iron & Wine opening solo acoustic), and it was fantastic.  We later somewhat regretted our decision to attend this show instead of the highly-acclaimed Walkmen show at the Gibson Amphitheater the same night, but such is life.  And we wouldn't have traded anything to see Sam Beam saunter onto stage and absolutely disembowel us with his pantheonic song, The Trapeze Swinger.   After, MMJ came out and assassinated the crowd for 2-1/2 hours of phenomenal playing, and their ardent fans ate it up.  The two artists would later cross paths twice on stage.  The first was a joint cover of George Harrison's Isn't It a Pity (seen below) and then on a cover of The Clash's Rock the Casbah for which Sam Beam held the lyric cue cards for Jim James.  MMJ also covered Erykah Badu's Tyrone.   We wrote about the crossed-paths HERE.  Together, the two artists provided a great night of resonant, full-throttle music.  Check out a collaboration below.
8.  Wilco at Avila Beach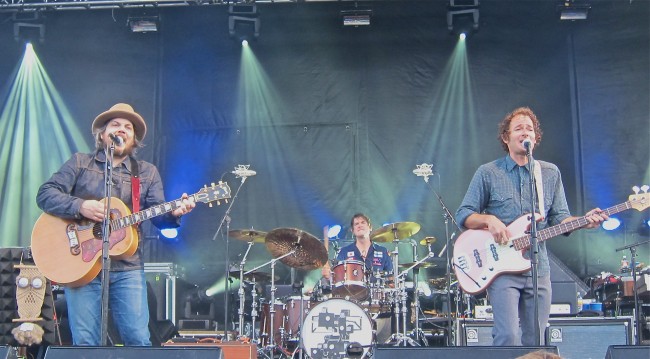 We missed Wilco's highly-acclaimed show at the Arlington in February so were pleasantly surprised when Wilco came back around to the Central Coast in the fall, playing at the Avila Beach Resort.  On a beautiful day, surrounded by our family and friends, Jeff Tweedy and band came out and gave the audience everything it wanted and more.  They played songs from throughout their discography, with our highlight being California Stars (can we just make this California's Official Song already, and require it be sung in all elementary schools?) You can read our brief review HERE.
Honorable Mentions:  Twin Shadow/Poolside at Soho; Electric Guest/Hospitality (in front of a tiny crowd) at Velvet Jones.
Biggest Disappointments:  Edward Sharpe & the Magnetic Zeros (can we just have Jane & the Magnetic Zeros next time and skip the Dirty-Shroud-Dude and his shamanic ways?) at the Santa Barbara Bowl; M. "Photo-Phobe" Ward at Soho.