Review and Videos of Elbow at the Wiltern; Listen to Their WXPN World Cafe Session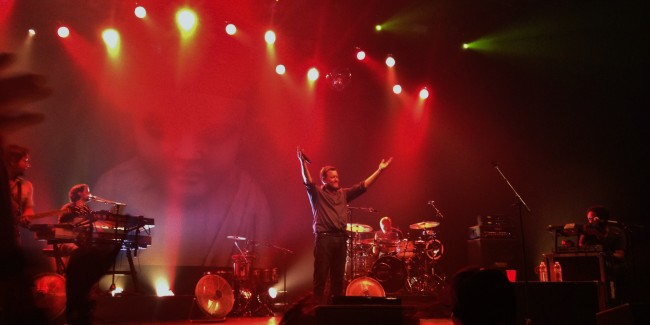 On a hallowed day (Wednesday) we attended Elbow's outstanding, U.S.-tour-ending show at the Wiltern Theater in LA.  There was joy abounding at the Wiltern while Guy Garvey and his fine fellows delivered their well-crafted songs with aplomb and held the audience in their sway (with its ever-swaying hands).  As usual, the gregarious Garvey cut a common-man figure and left everyone in the audience feeling as if he had sung each song just for them.  With his trademark point-and-nod, eye-contact acknowledgements, Garvey seeks to connect with his audience like few have.  And if that isn't enough, he'll pass a gin and tonic back to you if you're hot or sing a song for you if it's your first date ("Jimmy" and "Melanie" in this instance).  Mission accomplished, as they say.  In the end Garvey seemed to have sung at least six songs directly to us (or was it to Rob Corddry or Brendan Coyle—Bates from Downton Abbey–who were in attendance?).  Regardless, it's a particularly winning strategy when coupled with his sonorous vocals (which seem to impossibly improve with every year), the band's dynamic discography and their sound-perfect ensemble performances (percussionist Richard Jupp in particular stood out for his precise drumming acumen and cymbal-play, but also keyboardist/producer Craig Potter).  The core of Elbow was fleshed out superbly with the addition of two sylvan string players/back-up singers.
Highlights from their set included the fantastic new songs New York Morning and My Sad Captains.  If you haven't seen the official videos for each, check them out HERE (Dennis and Lois from the video were at the Wiltern and called out by Garvey) and HERE, along with older stalwarts including The Loneliness of a Tower Crane Driver, Grounds For Divorce, The Birds, Lippy Kids and (of course) the set-closing One Day Like This.  The middle of the set sagged a bit under the weight of its balladry and could use some shuffling, but we left knowing we had seen one of the best concerts of 2014.  Watch fan videos below of the band performing My Sad Captains, before which Garvey graciously brought out the band's road crew for a bow, and New York Morning.  The remainder of their set can be viewed on video HERE.  The Wiltern setlist (which did not vary the entire US tour) is at bottom.  If they come your way in the future, recall that "we only pass this way once" and don't miss 'em.
And yesterday Elbow was featured on WXPN's World Cafe.  Listen to it below the videos.  Host David Dye speaks with Garvey and great bassist/instrumentalist Pete Turner about the evolution of the band and the band performs acoustically Real Life (Angel), My Sad Captains, and The Blanket of Night.  Superb music as usual from one of the best bands extant.
Wiltern Setlist:
1. Charge
2. The Bones of You
3. New York Morning
4. Real Life (Angel)
5. The Night Will Always Win
6. Fly Boy Blue/Lunette
7. The Loneliness of a Tower Crane Driver
8. Great Expectations
9. Scattered Black and Whites
10. Mirrorball
11. The Birds
12. Grounds for Divorce
13. My Sad Captains
Encore:
14. Lippy Kids
15. One Day Like This
Photo by Lefort.