Review and Photos: Pandora Presents The Antlers at Mack Sennett Studios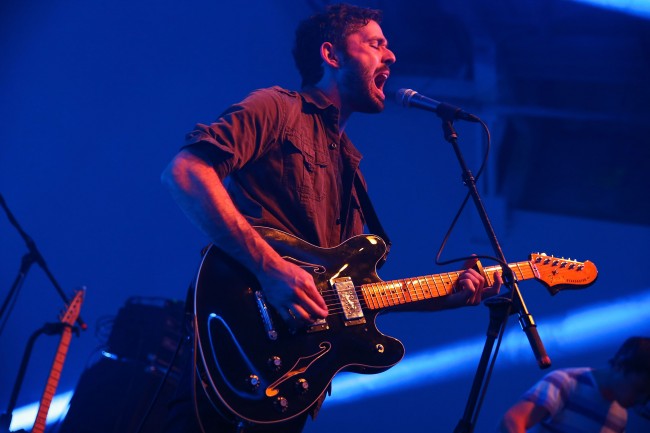 We were deeply chagrined to miss The Antlers when they played a series of sold-out shows in LA last month in support of their superb new album Familiars.  So we were thrilled to attend the invite-only show presented by Pandora and StubHub Friday night at the legendary Mack Sennett Studios in Los Feliz.
We have been huge fans of The Antlers (Peter Silberman, Darby Cicci and Michael Lerner) since 2009's devastatingly good Hospice album and catching them enthrall in San Luis Obispo and Los Angeles concerts while out on their tour in support of that album.   Hospice was followed by the brilliant Burst Apart, and then their 2012 EP Undersea.  Familiars is recently released on Anti- Records, and we will have a full (rave) review of it soon.  Suffice it to say that on Familiars The Antlers continue to write beautiful, emotion-laden melodies, and Peter Silberman's falsetto is set once again in the company of  angels.  But musically Familiars is a hornier album (as in employing more horns, ya guttersnipes) than prior albums, which helps to sell the mood evermore.  And on the album Silberman has newly adopted a two-sides-to-every-story, doppelgänger lyrical narrative that adds even more depth.
On Friday at the Mack Sennett Studios, the band came out and did what they do so well live:  melodically building their songs to intensely atmospheric climaxes, only to (oft-times) resolve in peaceful calm, all of which drives a crowd to emotional oblivion and back.  There were chills and tear-spills all over the set.  On stage, the band is led by Silberman's scintillating falsetto and guitar-play.  The comparisons of Silberman's vocals to Jeff Buckley are not inappropriate, though Silberman may have Buckley beat (we know, sacrilege, but we're sticking to it), and especially live where (unimaginably) he goes beyond the recorded evidence.  While Silberman only briefly exchanged words with the audience, throughout the set his eyes sought out and connected with in-close audience members, adding a personal touch that trite words could not convey.  Charmed, we're sure.
Their set was naturally dominated by Familiars' songs, with highlights being Palace, Hotel, Parade, Revisited, Director, Suffering and Refuge (alright, pretty much every song on the album), all of which benefited from their enhanced live delivery.  Familiars songs were interlaced with Hospice's touchstones Kettering, Sylvia, and Epilogue (one of their best quasi-anthems), and Undersea's Drift Dive.  The band then closed strongly with reverberating renditions of I Don't Want Love and Putting the Dog to Sleep off of Burst Apart.  Throughout the set, in keeping with the new album's hornier sound, the dual horn/keys accompaniment of arranger Darby Cicci and newly added Kelly Pratt lifted the songs to new emotional heights, matched always by the mood-perfect playing of Michael Lerner on drums.  Cicci and Pratt at times took turns on trumpet, at other times harmonized on horns (oft-times while one or both of them also played keyboard with their other hands), while at others Pratt would open songs with his resoundingly evocative French horn.  Throughout the set Pratt added jazz-inflected coloratura to the soaring sounds that would not be out of place on ECM Records (high praise in our book).
Minor quibble:  as much as we loved their set, we share the desires expressed by many fans:  here's to The Antlers adding additional moods and rhythms to their song palette to draw a broader audience to the deserving band.  But if not, we remain all-in on The Antlers.
And kudos to Pandora and StubHub for the perfectly staged and sound-mixed event, replete with custom commemorative posters screened on-site and complimentary t-shirts, all as set in the historic Mack Sennett Studios.
Check out the photos above and below courtesy of Imeh Akpanudosen/Getty Images for Pandora.
For those that could not attend, you can check out some recent, superb "live" (in studio) videos of this fine band in action by going HERE to see our post on their set at KEXP.